This article was published in the June 2022 issue of Pet Food Processing. Read it and other articles from this issue in our June digital edition.
There likely aren't many people in Perham, Minn., who aren't familiar with Tuffy's Pet Foods and KLN Family Brands. And most, likely consider the Nelson family a household name. After all, it was almost 60 years ago when Darrell "Tuffy" Nelson started Tuffy's Pet Foods with just 13 employees in the Minnesota community.
The legacy business that has been passed on to a second and now third generation of Nelsons has evolved from offerings of pet food to sweet and salty snacks, and back again. The family brand that has exerted its corporate and community influence on the city of Perham is now making its mark just three hours south, outside the Twin Cities, in the city of Delano.
Just shy of three years ago, the company broke ground on its 173,500-square-foot pet treat plant and, since then, operations have been in full force. With the pet treat production barely at full operational capacity, the company has already adjusted its original production plans and branched out into the unchartered territory of canned pet food production.
None of this would have been possible if the Delano facility had not been built with flexibility at the forefront of its design. Flexibility has been the name of the game from Day 1 at Tuffy's Treat Company.
"What we planned to do with this facility and what we did are totally different," said Mark Sailer, engineering director, KLN Family Brands. "Flexibility in the plant was key. Putting canning in a treat facility, when it wasn't the original plan, would never have been possible without built-in flexibility."
Family first
Flexibility has been part of the Nelson family's mantra long before the move to Delano. The family adjusted its business plans year after year following its start in 1964.
After starting in the pet food business in the '60s, the company added salty and sweet snacks to its repertoire when Barrel O' Fun Snack Food opened in 1973. By 1987, the company added candy to the lineup with the formation of Kenny's Candy & Confection (named after founder Darrell "Tuffy" Nelson's son, Kenny, who later served as chief executive officer of the family business). KLN Enterprises was created in 1995 and Tuffy's Pet Food, Kenny's Candy & Confection and Barrel O' Fun all became separate operating divisions.
The Nelsons moved away from the pet food game in the '70s after selling Tuffy's to new owners. After changing ownership several times through the years, Tuffy's Pet Foods was on the cusp of shuttering in 2001, when the owners at the time threatened to close the plant in Perham, Minn. At the time, Kenny was running the salty snack and candy business in Perham. Not wanting to see the pet food facility close and having around 150 employees in the community out of work, Kenny bought back the company and Tuffy's Pet Food lived on.
Around the same time, Kenny's son Charlie — the third generation of the Nelson family — joined KLN Family Brands and started to work on the pet food side of the business. One of his earliest accomplishments was helping to develop the company's flagship brand, NutriSource.
Tuffy's Pet Food, Inc., is now part of a 16-acre campus in Perham, featuring a 600,000-square-foot processing, packaging and warehousing facility, which now manufactures NutriSource, NutriSource PureVita, NutriSource Element Series and NutriSource Choice products for independent pet specialty retail stores and Supreme, Tuffy's and Tuffy's Gold brands, primarily for grocery stores. The six branded lines feature dry, wet and baked foods, biscuits, jerky and semi-moist treats for dogs and cats. Production at the Perham plant includes both company-owned brands and co-manufactured products for partners.
In 2015, Tuffy's opened a new $70 million, 180,000-square-foot dry pet food manufacturing facility. Since then, the company has also added an $8 million meat processing operation and a $35 million mill expansion and renovation. The Tuffy's name and its massive manufacturing campus is a prominent mainstay in Perham. The complex spans more than six city blocks in downtown Perham and runs parallel to the railroad tracks that run through town.
In 2019, when the company set out to expand into the pet treat side of the business and plans for expansion surfaced again, the company opted away from continuing to build onto the Perham plant. The plant was producing more than 150,000 tons of dry pet food annually and did not have room to expand cpacilities within the exisiting facility footprint. Additionally, employment in Perham was at an all-time high. So, the company began searching beyond its homebase to find a home for its newest endeavor — the Tuffy's Treat Company plant.
Three hours away
The search for a site for the new pet treat facility began in early 2019. Charlie Nelson, the current chief executive officer of KLN Family Brands, literally hit the road to find the plant's new home.
The company felt from a shipping and trucking perspective, the I-94 corridor would be an ideal location — near the metropolitan area of the Twin Cities, but also close to the agriculture side of the state.
"We drove around for a couple of months looking at towns and potential locations," Sailer said. "We would find a location and then started calling up city managers to find out if it was a good fit. We were looking for a small, progressive community — like Perham. And we found Delano. They were welcoming, with open arms, right from the start."
The size and location of the 6,000-person city, just three hours south of Perham, was exactly what they were looking for.
"It's right in the middle of the metro and the agriculture," Sailer said. "A perfect blend in the location. It was close enough to the metro to pull some workforce from there, if needed, but it also had a good employee pool to pull from in town.
"And it was the exact kind of community we wanted to be a part of and support," he added. "It's important for us to support local committees, local businesses, the schools — that's always been important to us. Being part of the community is a huge driver for our owners. It's about giving back."
In August 2019, KLN Family Brands broke ground on the new facility with their design-build partner, Kansas City, Mo.-based CRB, at their side.
Food safety and flexibility
From ground-breaking to operation, the new Delano pet treat plant was up and running in 14 months. The $65 million project was on time and on budget. The plant started running one shift, producing salable product, in October 2020.
"At this time, we were a semi-moist treats facility with infrastructure to grow," said Brian Garlick, general manager, KLN Family Brands. "Food safety and flexibility were the key priorities in the new plant."
Three months later, a second 12-hour shift was added and by nine months after startup, three 8-hour shifts were operating.
The majority of the pet treat production is co-manufacturing or private label — it's all about partnerships.
"Every contract and relationship is unique," Garlick said. "Some are very long term and detailed. We work with some of the biggest manufacturers in the world and we also work with 'Suzy' who is ramping up what she was cooking in her oven 6 months ago and now we're producing it and putting it in a bag for her to make it a bit more efficient than what she used to do on her own."
The pet treat capabilities at Tuffy's are almost limitless.
"We'll work with anyone on pretty much any product," Sailer added. "Our sales team sells the capability of our company and plant to potential partners, and we try to meet their needs as a part of that partnership."
The flexibility that was built into the Delano plant allows Tuffy's to take on new projects and products. Food safety standards that were also built into the facility provide the opportunity to offer high quality products to all their partners.
When CRB took on the assignment of designing the greenfield facility, the company was tasked with building a plant that could maintain segregation, cleanability and sanitation without risking efficiency.
Some of those plant features include two dedicated ingredient receiving docks — one for wet, one for dry — which allow ingredients to stay separate until they are added to formulations. Pre-kill and post-kill areas of the plant are also separated to help ensure cross contamination will be avoided throughout the facility. In fact, workers in the pre-kill and post-kill areas of the plant are separated from the time they come to work until the time they leave, with different entrances, breakrooms and locker rooms.
Supervisors who need to interact with both areas of the plant are able to do so through computer controls and cameras instead of crossing over from one side of the plant to the other.
Raw ingredients, most of which are pre-blended, are brought in super sacks into the pre-batch room. Dry blending is completed and then liquid ingredients, stored in totes, barrels and drums, are mixed in.
While many manufacturers use pre-blended meat slurries in their products, Tuffy's starts with 50-lb frozen meat blocks to create its own meat slurry recipes. The company incorporated a separate meat processing room into the facility so they could manage the product and keep it separate until it's ground, mixed and incorporated into the recipes. The operation features an automated system to add liquids to the meat slurry. Flow meters and automated load cells allow the addition of up to eight different liquids to the meat slurry, automatically.
Product mixtures then move to one of the two extrusion lines. The plant was originally built to have room for four separate extrusion lines, but some of the space was taken in the short-term to incorporate the new canning line. Currently, there is one single-screw and one twin-screw extruder running pet treat products, usually for different companies, on a daily basis. Each line can produce 9,000 lbs of semi-moist pet treats each hour. After extrusion, grilling and cooling, the product is sent directly to packaging.
In order to stay flexible and allow for product runs of all sizes to go through the facility, Tuffy's opted to incorporate six packaging positions into the new plant — three of which are designed for smaller batches and quick turnover. The company is currently running five of the lines and will soon add the sixth. The packaging distribution systems feeds, separates and weighs product before it is fed directly into pre-made, standup, resealable pouches or into one of two rollstock machines.
Packages are filled, weighed, inspected and put into cases before fulfillment. Tuffy's packaging capabilities were designed to blend both automation and flexibility, with hand-packed lines to allow for customization and flexibility, and automated lines for larger customers,  driving labor efficiency.
"We are lucky to have some of the best people working for us," Garlick said. "You don't start up a greenfield plant without it being a challenge — and we have the best people. We brought over some shift supervisors and packaging leads from our Perham plant, and many of the people who started two years ago when we opened the plant are still here. We've been very successful attracting great talent."
In the can
While Tuffy's pet treat production is running 24 hours a day on three shifts, the company is still growing and adding to the team, thanks to the addition of the new canning line that began production this February. Less than six months after the pet treat plant was commissioned, discussions about making changes started. The company had previously considered the idea of entering the canning side of the pet food business to expand their branded product offerings. However, co-manufacturing partners were hard to come by for canning, so the idea of doing it in-house came up repeatedly.
"We are the kind of company who would just as soon take matters in our own hands," Sailer said, "So, instead of beating down the very few doors there were out there for canning capacity, we decided to do it ourselves. There was market demand and, thanks to the flexibility at our plant, we were able to respond to that market demand quickly."
In January 2021, plans began to add the canning line. "First, we had to learn what canning was all about," Sailer said.
Parent company KLN Family Brands didn't have previous experience in the canning business. The company had developed some product formulations for canned items that had been produced by their co-manufacturing partners, which provided a basic understanding of ingredient functionality, but from a technical standpoint, canning was all new.
Tuffy's partnered with supplier partners and equipment engineers to plan the logistical side of the line.
Fifteen employees were hired to work on the current single shift of the canning operation. By the year's end, Tuffy's hopes to have an additional 30 employees running three shifts. The long-term goal is to have the canning line outgrow the Delano facility.
"If we haven't outgrown this line in the next two to three years, we haven't met our goals," Sailer said.
When that time comes, Tuffy's might opt to use the additional 20 acres it pre-purchased next door to the Delano plant, or it could build another plant elsewhere. For now, the plan is to add capacity and SKUs and to get more branded canned product on the shelves.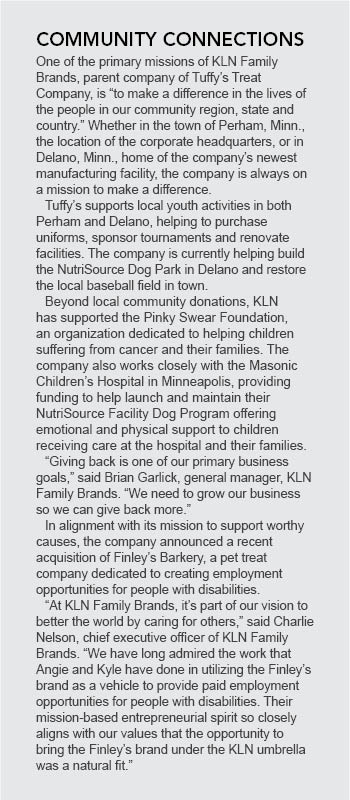 Canning is set up as a separate production and packaging line, with finished product stored at an off-site warehouse for fulfillment. All SKUs currently produced at the plant are Tuffy's branded NutriSource products, in 5 ½-oz and 13-oz cans for dogs and cats.
Empty cans come in on a pallet and are lined up to go through inspection before any product is added. Vision inspection systems look for dents or discoloration of the cans before the lidless cans are again lined up and filled with the meat "pâté." Before this stage, the meat is ground and mixed with other dry and wet ingredients to form the pâté and then precooked. After the cans are filled, lids are placed and the cans are sent through a checkweigher, can washer, x-ray machine and then code dated before being layered into baskets for retort.
While cook times vary depending on the moisture level of the product in the can, a typical cook and cool cycle in the retort/pressure cooker is around 1 ½ hours. After cooling, the cans move on to labeling and sorting. They go through a checkweigher once again before the final packaging and palletizing step.
With all canned product currently falling under the Tuffy's brand, it's easiest to store inventory and fulfill orders from an off-site warehouse, less than 10 miles away in Greenfield, Minn.
Even though the canning operation wasn't part of the original facility blueprints, the flexibility that was built into the original plant design allowed for adjustments and additions in a shorter timeframe.
"With the addition of our canning line, we can now offer our customers a full repertoire of the brands they trust," Garlick said. "We now have representation and space in all sides of the market — pet treats, canned meals and pet food."
The capabilities at the Delano Tuffy's plant, now and in the future, will allow the company to stay flexible and move into other areas of the pet food industry, if and when they're ready.
"Our customers know and trust our brands," Sailer said. "So, we feel confident that if they see a new product with our label, they will feel the same way about that product too."
Read more of our exclusive pet food and treat processor profiles.