TORONTO — A new pet food startup is bringing home-cooked meals to the table — for dogs. Dog Child officially launched in the Canadian market on July 14 with a novel approach to homemade, complete-and-balanced dog food with safety, sustainability and convenience in mind.
"When I wanted to start feeding my dog fresh whole foods, the lack of affordable options on the market led me to make home-cooked meals," said Nicole Marchand, a former impact investor, co-founder and chief executive officer at Dog Child. "But after I spoke to my vet, she warned me that not all recipes found online contained the essential nutrients dogs need. That's when I came up with the concept for Dog Child.
"I wanted to bring something new to the industry, and empower pet parents to make home-cooked meals by giving them options to feed their dogs with high-quality, nutritious ingredients that are within reach, easy to cook, and safe," she added.
The initial Dog Child range includes three Meal Mix formulas — Organic Oats & Berries, Mixed Veggie and Grain-Free — all of which include the Dog Child Essential Nutrient Mix to ensure dogs receive all essential nutrients. Pet owners can purchase extra lean meat proteins and other produce from the grocery store — or use produce already in their fridges — to incorporate with Dog Child's Meal Mixes. Each mix provides detailed instructions for portioning added ingredients, cooking and serving.
Pet owners can add up to 10% of their own ingredients into the diet and may choose from four protein options: chicken, beef, lamb and turkey. Using olive oil for red meats and fish oil for white meats, Marchand told Pet Food Processing that Dog Child Meal Mixes can be cooked in batches for the whole week and even portioned into loafs using a muffin pan. Each package notes to "just add protein, oil and water" to the meal mix for a complete-and-balanced meal.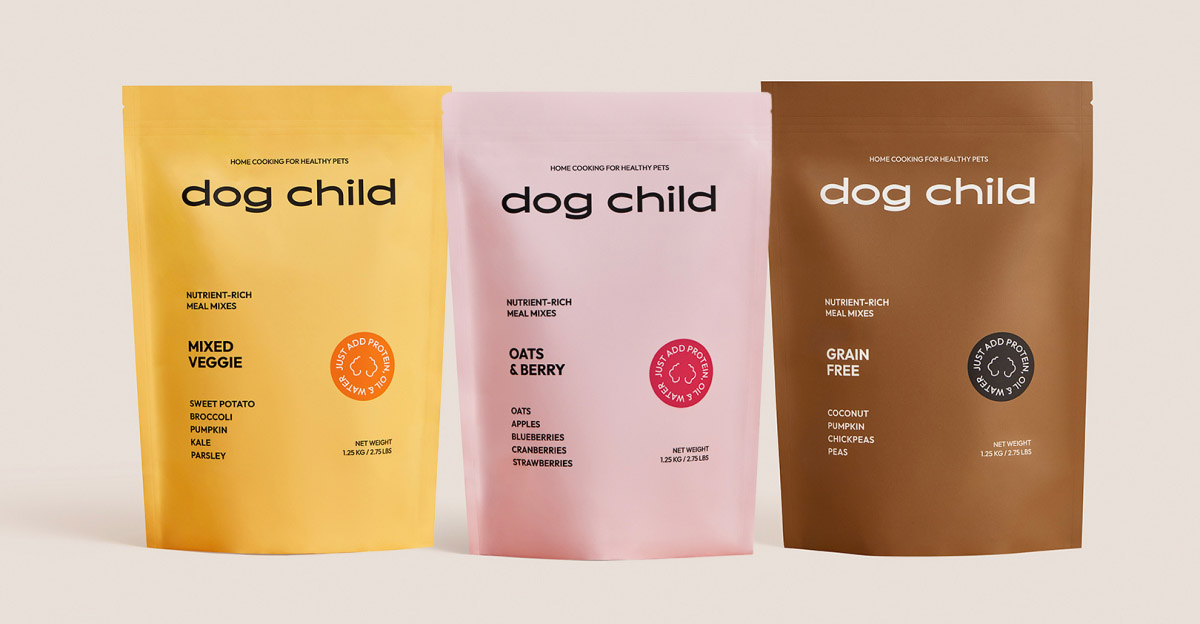 The Organic Oats & Berries Meal Mix includes organic oats, apples, cranberries and strawberries, as well as bananas and blueberries. The Mixed Veggie Meal Mix contains organic sweet potato, broccoli and parsley, as well as kale and pumpkin. The Grain-Free Meal Mix is formulated with organic coconut, chickpeas, pumpkin and peas.
Dog Child not only aims to revolutionize home-cooked dog food, but also to foster a community of dog owners through social platforms, providing educational content and resources on its website such as special recipes and how-to videos, while creating a space for Dog Child consumers to share tips and tricks with each other.
"We're dog people, and we were inspired to build a brand for our fellow dog parents that's thoughtful, sustainable and speaks to the core of our love for our pets," Marchand said. "For our community of customers, our dogs are like members of our family. We all want the very best for their happiness and health, and how we feed them plays a crucial part in this. When I began building this concept, I started by considering everything about a dog's needs in order to create a solution that would improve the quality of their life, and the feeding experience of their owners. Dog Child's first product range solves a gap in the market and is a modern-day luxury for dogs and pet parents alike — helping them make the best food choices by bringing them high-quality, nutritious options."
Dog Child partnered with pet nutrition experts and veterinary professionals to develop its Meal Mixes. The company is already planning an expanded product range and commercial presence for later in 2022 and will continue working to "cultivate its community of pet parents," Dog Child shared.
Marchand founded The Animals Kitchen in 2020, which became Dog Child in 2021.
Read more about new pet food and treat products.