CHARLOTTE, N.C. — Communication on the manufacturing floor is essential for keeping product moving smoothly and keeping employees and equipment operators safe and informed. With demand for pet food and treat products booming, on-floor communication is key for training employees and conveying instructions, ensuring both workplace safety and production efficiency.
PlantTours hopes to address this need with its in-plant communication systems. When the company first launched in 2005, the systems were primarily used to help processors, distribution centers and otherwise noisy environments give guided tours of their facilities. Today, PlantTours is focused on helping food and beverage companies streamline on-floor communication to help operators communicate clearly and with ease. Since its founding, the company has served more than 1,200 food and beverage facilities across North America, including 45 pet food manufacturing plants.
"Inherently, PlantTours' systems are designed for easy, simple and clear communication in virtually every environment, at any distance," said Rick Farrell, president and founder of Plant-Tours.com. "The advantage of our systems is ease of use. Food and pet food manufacturers have particularly high sensitivity levels with all types of health requirements and mandates that other industries do not have by virtue of the products that they're producing. We understand the pressure those employees and staff and management are under, and we take it very seriously. We want to make it effective, we want to make it easy, and we want to make their jobs simpler."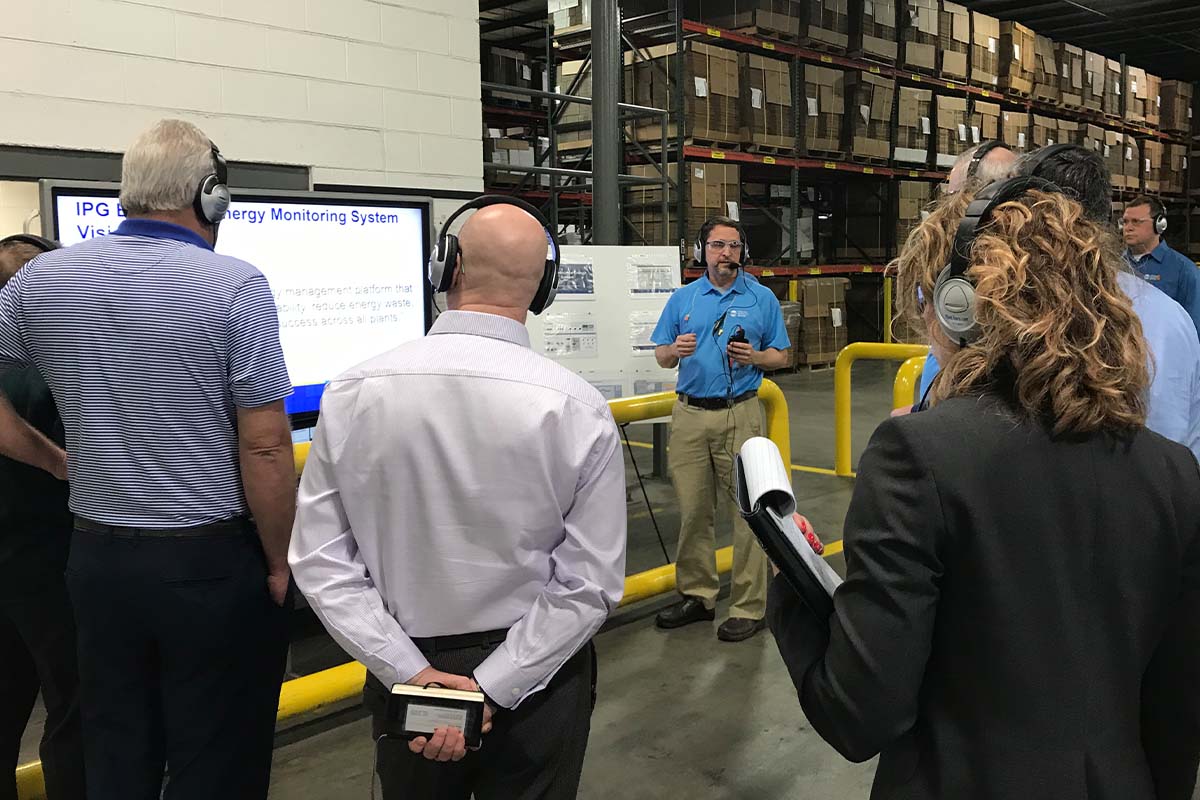 With the onset of COVID-19 in 2020, PlantTours was uniquely positioned to help companies address the "new normal." Social distancing and an increased emphasis on employee health and safety posed new obstacles for the industry and its workforce. Production couldn't afford to stop, and it was critical that facilities took extra precautions to keep employees healthy while maintaining plant operations.
"Some manufacturers had to retool the lines, create new processes, and some had to completely change the types of products that they were providing – pulling back on some, pushing forward on others," Farrell said. "The advantage we had was letting them know they could do all that with us, and could execute a lot easier than they could before. It was, at least, removing some of the complexity from what they do under the constraints in which they found themselves in a very short period of time… But we were ready, because that's what we've always done."
In today's manufacturing environment, faced with labor shortages and riddled with supply chain challenges, communication is king. Not only does it play an important part of the onboarding process, but also in day-to-day operator safety. According to Farrell, safety is "paramount over everything" on the production floor.
"There cannot be any ambiguity – ambiguity makes mistakes and leads to problems and misunderstandings." — Rick Farrell, president and founder of Plant-Tours.com.
"Especially today, in the tight labor market, you're relying on your staff and new hires to do a lot more," Farrell said. "They have to bring more skill sets to the table, or they need to learn more skills. The only way to do that in a noisy factory is to be able to speak to them, and for them to hear you clearly. There cannot be any ambiguity – ambiguity makes mistakes and leads to problems and misunderstandings. We're in the business of preventing misunderstandings."
Plant-Tours.com offers a variety of headsets and transceivers fit for a myriad of processing environments. The company's communication technology has an average range of half a mile, which Farrell believes covers the size and scope of most manufacturing facilities. The transceivers operate on multiple channels, which can be divided into multiple departments if needed. There are multiple headset options for various noise levels, from very light-noise to very high-noise environments.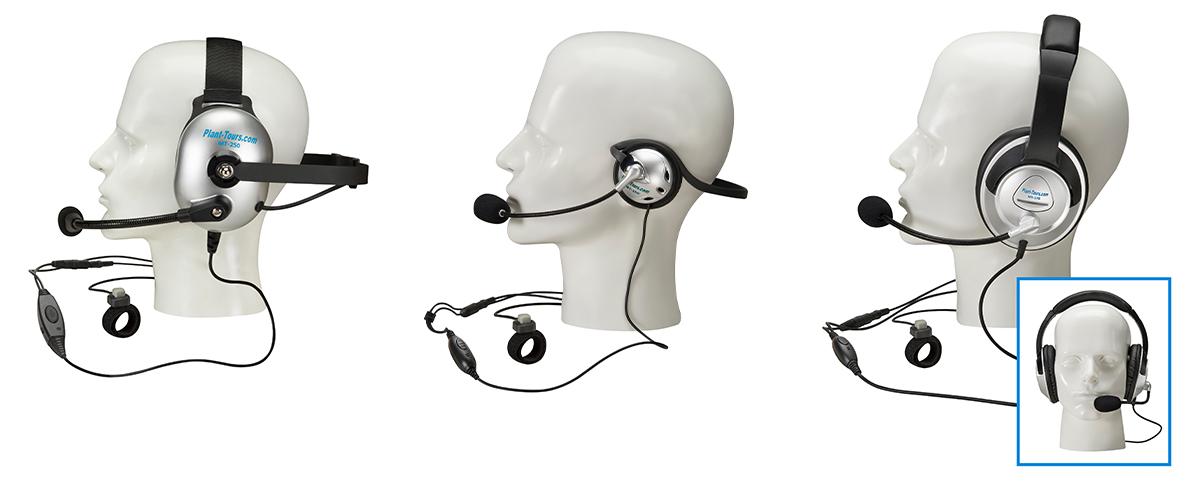 These communication headsets are designed to be lightweight and comfortable. They are available in several designs, including on-ear and over-the-ear formats and even those that can be worn underneath a hardhat or other PPE headgear. PlantTours also offers charging stations and accessories, as well as a sanitation station, to keep the headsets and transceivers clean and ready for use day after day.
"They're small, they're compact, they're easy to use – the headset used is strictly based on the level of noise in the area in which the staff member needs to communicate, and the aesthetic and comfort level that they desire for that particular person and audience," Farrell said. "…It's completely assembled so when they receive this system from us, it can be pulled out of the box and it's ready to go. We've pre-programmed everything, and there are private line codes to each of the channels to eliminate any outside interference."
Because PlantTours has fully stocked warehouse of equipment ready to ship all over North America, the lead time from ordering to receiving is just how long it takes that package to get to its destination.
"Probably 50% of our inquiries want it yesterday," Farrell said. "We have a deep breadth of knowledge to know what will work ideally for each customer. We interview them to find out what they're doing, where they're doing it, for what length of time, the people involved, the types of products in the facility, and everything in between."
Once a recommendation has been made, PlantTours offers a free Demo Kit so processors can test the equipment before investing. Companies can take all the time they need to test the system and, as Farrell described, "put it up against the most punishing conditions in their facility."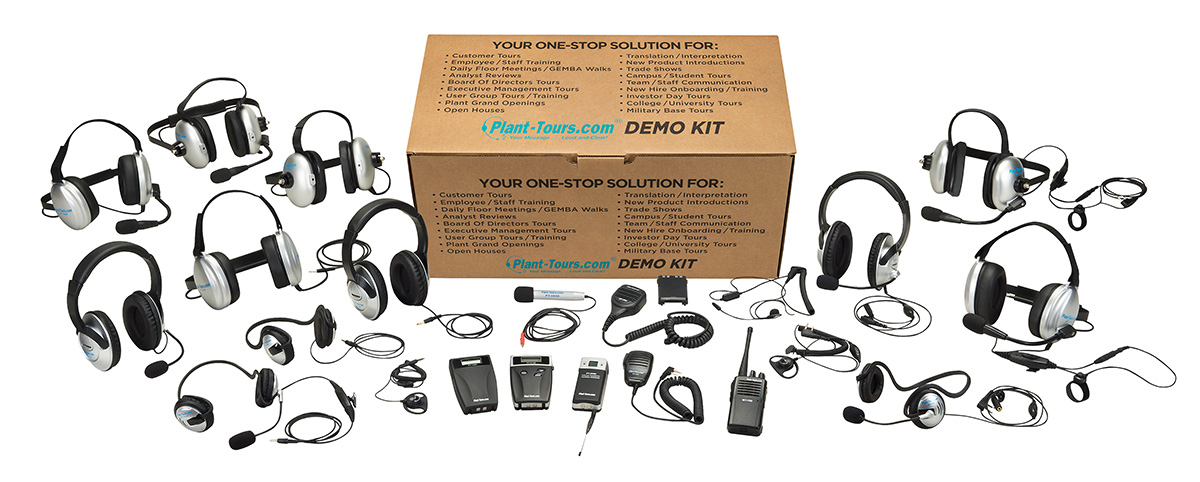 "The advantage of our systems is to allow new people to ramp up quicker than ever," Farrell said. "This allows supervisors and plant management to more quickly evaluate the skills and performance of new operators and make shifts and adjustments more quickly."
As the company continues to serve food, beverage and pet food manufacturers in the post-COVID era, PlantTours will focus on fine-tuning its existing portfolio and finding new ways to improve on-floor communication. For example, the company recently launched a new digital radio, which offers higher fidelity and clarity for communications.
"We know that our customers will need to continue to expand, so we're moving into other vertical areas within the industries that we serve," Farrell said. "There's a lot of potential there."
Read more about how suppliers are leveraging technology to streamline communications, troubleshooting and support services.