SEWARD, NEB. — Amy Tesinsky's career has been spent honing her knowledge of pet nutrition, including the formulation and development of finished products and specialty ingredients alike. This path has led Tesinsky to her current role as research and innovation manager at Petsource by Scoular, a company seeking to meet increasing demand for freeze-dried pet food solutions for the pet nutrition industry.
"Do not fear change and vulnerability. Embrace it. Seek opportunities and gain experience while making lasting connections along the way," Tesinsky said.
In the following Q&A with Pet Food Processing, Tesinsky shares how she first became interested in the pet industry, milestone achievements in her career, and the importance of recognizing and supporting other inspiring female leaders in this space.
PFP: Tell us about your business or career in the pet industry.
Tesinsky: My career in the pet food industry began after graduate school when I joined Oxbow Animal Health as a product development and nutrition specialist. This experience — formulating products for small companion pets and executing the product development process from idea to market — was invaluable to my personal growth and success in this industry. I spent the next five years at Kemin Industries as an associate scientist, where I developed antioxidants and specialty proteins for pet food. The shift from formulating diets to ingredients for pet food greatly expanded my knowledge of how ingredients function.
In January of 2020, I joined the (not even built yet) company, Petsource by Scoular, as the research and innovation manager in Seward, Nebraska. Petsource provides freeze dry contract manufacturing services to the pet food industry. Understanding the nutritional benefits of freeze-dried pet food coupled with the opportunity to work directly with customers to develop new products was very appealing to me. Having all aspects of freeze dry under one roof presents both convenient solutions for our customers and ample opportunities for research and innovation.
PFP: How did you get your start in the pet industry, and how did that experience lead you to where you are now?
Tesinsky: My interests in the pet industry began at an early age when I worked at small animal clinics in high school and college in pursuit of becoming a veterinarian. It was that clinical exposure, coupled with abundant opportunities while completing my animal science degree at the University of Nebraska-Lincoln, that I discovered an interest in animal nutrition. It fascinated me how impactful diet was on the overall health of the animal, and how diets could be used to promote healthy conditions and help slow disease progression. That curiosity led me to Texas A&M where I completed my MS in Nutrition focusing on fatty acid metabolism in cats. This experience paved the way for my success at Oxbow, Kemin, and now Petsource.
PFP: What is top-of-mind for you and/or your business in the industry right now?
Tesinsky: For Petsource — being a contract manufacturer for various brands — food safety, product quality, and increasing our capabilities are always top of mind. We make it a priority every day to produce food-safe, high-quality products for our customers. The food safety program at Petsource is world class in the level of quality monitoring, people, sanitation, and products and process segregation, all in a paperless system. In addition to food safety, we are increasing our offered capabilities by expanding our current facility in Seward to meet the increasing demands from our customers. With the pet food market constantly growing, having many options available for customers to choose from in the freeze-dried pet space, it is essential for Petsource to keep these items top of mind to exceed customers' expectations and provide a great experience. 
PFP: Tell me about a professional accomplishment in the pet industry that you are proud of.
Tesinsky: A memorable professional accomplishment was the time I had an abstract selected as an oral presentation at a scientific meeting. While this may seem insignificant, surviving this public-speaking event with unplanned questions from subject-matter experts was a milestone achievement for me.
PFP: What advice would you give to young people starting their careers in this industry?
Tesinsky: Do not fear change and vulnerability. Embrace it. Seek opportunities and gain experience while making lasting connections along the way.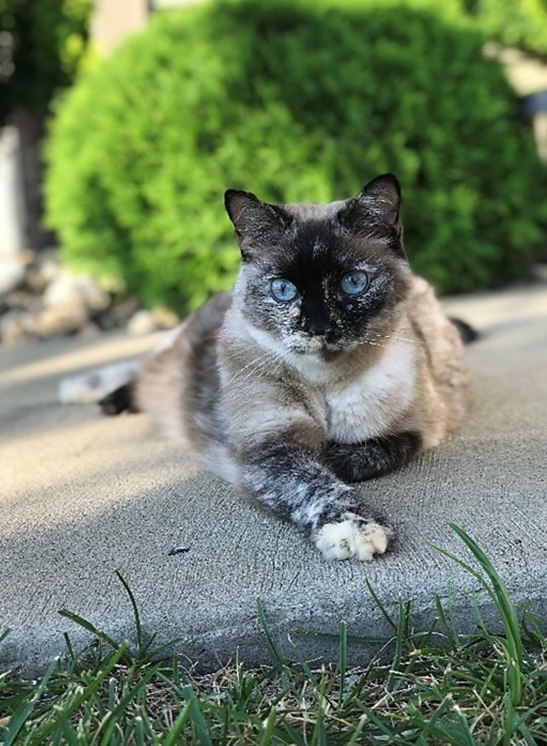 Maci, Tesinsky's pet cat who shares a household with Klondike the bunny.
PFP: Just for fun, do you consider yourself a dog person or a cat person? Or, if you have pets of your own, tell us a little bit about them. 
Tesinsky: Both! However, I have been fortunate to share the last 15 years with two feline furballs, Maci and Dallas. While Dallas has since passed, Maci shares the household with her pal Klondike, the bunny. When the time is right, and my kids are a little older, a rescue dog will be the next member to join the family… and maybe another cat or two.
PFP: Any final advice for other women in the pet industry?
Tesinsky: Take advantage of every opportunity to listen to, speak with and learn from the remarkable women leading the pet food industry today. I am beyond fortunate to work for Petsource President Amy Patterson, one of the most exemplary and successful women at Scoular. Her leadership is inspiring and her teachings are invaluable.
Amy Tesinsky contributed her insights to our previous article on pet treat trends, first published in the September 2021 issue of Pet Food Processing. Read more about Petsource by Scoular.
Continue reading about other female leaders featured in our Women in the Pet Industry series.