ORLANDO, FLA. — During Global Pet Expo from March 23 to 25, premium pet food brand Open Farm debuted its new supplement line and new dog foods using alternative proteins. According to the company, the supplements for dogs will be available at retailers beginning this spring and the new dog food line is planned to launch later this year.
Open Farm's Pure & Purposeful Supplements for Dogs are soft chews that provide different nutritional benefits targeting specific health concerns in dogs. The made-in-the-US supplements are formulated with human-grade ingredients, which are also non-GMO, and are available in five varieties: Immune, Hip and Joint, Skin and Coat, Calming and Probiotic.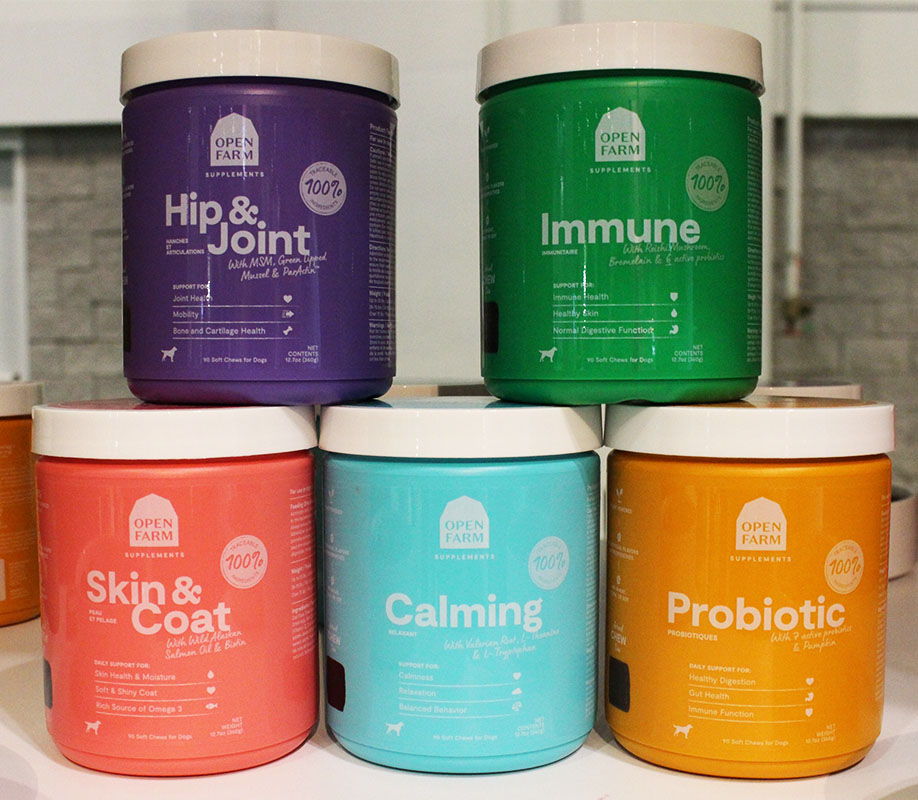 The new supplements are also completely traceable with a QR code on their packaging, detailing all ingredients used and their benefits, to offer consumers more transparency.
"Supplements are one of the biggest emerging trends we're seeing right now, and demand from consumers and our retail partners, alike, is high," said Mark Sapir, chief marketing officer at Open Farm.  "Our supplements are created specifically to cater to the many different needs of dogs throughout all stages of life, and like all Open Farm products, are fully traceable back to the source. This level of transparency is a first-of-its-kind for the pet supplements category and reinforces our commitment to meeting the most ethical and sustainable ingredient sourcing standards across our entire product offering."
The Supplements for Dogs are also veterinarian-approved and certified by the National Animal Supplement Council (NASC). Officially launching this spring, the supplements will be available in 90-count jars for $24.99 to $34.99.
Open Farm also showcased its new alternative protein dog food line at Global Pet Expo, marking the company's entrance into the alternative protein segment within the industry and reaffirming its dedication toward sustainability. The Kind Earth line features two formulas: Plant Recipe and Insect Recipe.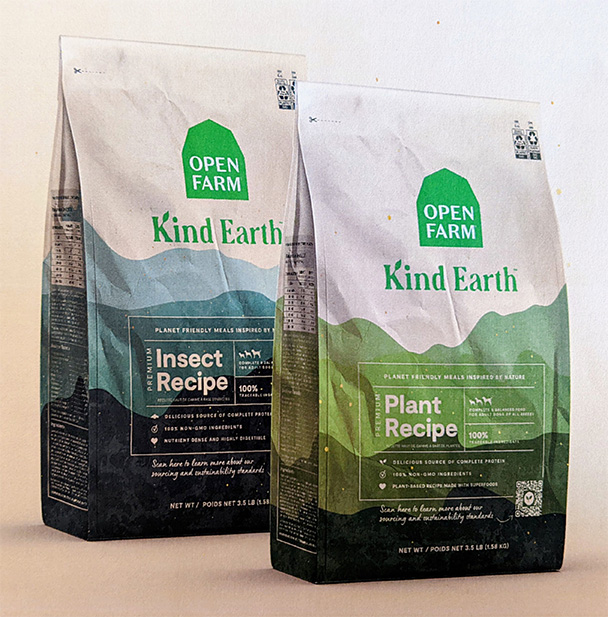 The Plant Recipe is formulated with whole grain barley, fava beans, oats, dried yeast, sweet potato, potato protein and other plant-based ingredients. The Insect Recipe is formulated with black soldier fly larvae (BSFL) as well as whole brown rice, whole grain barley, oats and dried yeast. Both new foods are highly digestible and contain Omega 3 and 6 fatty acids for dogs with food sensitivities, according to Open Farm.
The Kind Earth line also features QR codes on the packaging, allowing for full ingredient traceability, something Open Farm is committed to with plans to offer more ingredient traceability via QR codes on other product packaging.
Read more about new pet food and treat products.