This article was published in the December 2021 of Pet Food Processing. Read it and other articles from this issue in our December digital edition.
Under private equity ownership since 2018, Canidae Pet Foods, headquartered in Stamford, Conn., has continued to make significant investments in its Brownwood, Texas manufacturing plant, with the addition of two new multi-pass dryers, to provide high quality pet food while continuing to reduce its impact on the planet. The infrastructure enhancements and capital investments expand its dry pet food production capacity, efficiency and quality. Other initiatives stretching well beyond pet food production are driving innovations the company hopes will have far-reaching benefits.
From the company's regenerative farming co-op to a brand overhaul with sustainability at the center, Canidae is prioritizing time, energy and money in support of the company's defined mission – to bring sustainable goodness to pets, people and the planet.
"Consumers are getting much more thoughtful about their consumption and how it affects the environment," said Bret Furio, chief executive officer, Canidae. "They understand the limited resources that our planet provides and our resulting obligation and responsibility to leave the earth at least as good as we found it for future generations.
"From a business perspective, we are investing in the future with a mission-based approach," Furio said. "Being bold and entrepreneurial means understanding that making important and innovative changes means investing time, money, effort and resources. To bring our sustainability mission to reality, we recognize that this will have a longer-term payback as well as help to shape the future of pet food."
This belief is a key element of Canidae's culture and what Furio said brings people to work each day at Canidae ready to participate in the vision.
"There aren't many pet food companies that are willing to put the required resources into sustainability," Furio said. "Our hope is that if we do it right, and consumers love it, other companies in the space will have to take notice. If they copy us, that means that we've made real positive impact to a category that's far behind others in sustainability, and we can change the world in our own small way. Across our organization, I think that drive is what gets people out of bed and excited every morning, because we're really pushing the envelope"
"Being bold and entrepreneurial means understanding that making important and innovative changes means investing time, money, effort and resources," said Bret Furio.
Such pioneering initiatives include growing and utilizing regeneratively-farmed ingredients, using verified sustainable proteins, the addition of a new Sustain product line to the company's premium, nutrient-dense portfolio, using one of the highest post-consumer recycled (PCR) content pet food bags in the industry, and a new retail partnership that removes single-use bags altogether.
Farming focused
Canidae's involvement with regenerative farming began in 2016 with the launch of the Canidae Farms initiative led by Clint Brauer, regenerative farmer and owner of Greenfield Robotics, Cheney, Kan. Through this program, Canidae's partners are growing peas, milo, barley and oats with farmers committed to regenerative farming currently in Kansas and Nebraska with plans to expand to other states. Regenerative agriculture is a conservation and rehabilitation approach to food and farming systems that focuses on strengthening the health and vitality of farm soil.
A key component of this method is no-till farming. Brauer explained that untilled soil can store up to five times more water than tilled soil. When a field is tilled, water is released into the air. Another important feature of regenerative farming involves alternately growing cash crops and then cover crops that typically consist of eight to 10 different species of plants.
"A cover crop means I am never going to harvest that crop for seed," Brauer explained. "The reason I plant those species is to build the soil's organic matter. This builds soil resistance, which stores carbon and microbes, which in turn feeds the plants instead of fertilizer."
Part of Brauer's process also includes allowing grass-fed sheep to graze on the cover crops, which requires moving the sheep to new locations multiple times per day.
"We use the cover crops as a way to create fertility, soil structure, prevent erosion and feed animals and that starts to get you off synthetic fertilizers and herbicides over time," Brauer said. "That's the approach we take at this point."
Outside of the crops Brauer grows for Canidae, he's working with other farms through this process who have joined the cooperative effort. From a farming perspective, this approach offers several benefits.
"Surveys have been done that show that regenerative farms in general are more profitable than non-regenerative," Brauer said. "You stabilize your input costs, and your yields also start to stabilize. What we really are doing is trying to create this cycle where it's feeding itself and the land starts growing and stabilizing itself."
For Canidae, this approach to farming and sourcing ingredients checks all the boxes on the company's list of priorities to bring more sustainable solutions to pets, people and the planet.
"Besides doing good, we also see higher nutrient density in the ingredients, but it's a process – it takes time," Brauer pointed out.
So long, single use
Reducing one-time-use plastics by incorporating higher percentages of recyled content in packaging is a priority for Canidae. 
Another ambitious project for Canidae that reaches past the company's production efforts is a first-of-its-kind partnership with Petco designed to eliminate single-use pet food bags. Canidae is testing a proprietary Kibble Refill Station in five California Petco locations. These five locations should be up and running by January 2022.
"If you've ever purchased bulk coffee beans or nuts from a gravity-feed system, we've created something very similar to this concept for pet food," said Dana Paris, chief marketing officer, Canidae. "We'll have two dog food SKUs available in the Canidae Kibble Refill Station, our Sustain Cage-Free Chicken Recipe and our Pure Salmon & Sweet Potato Recipe – which is a top seller for us. Consumers will purchase a reusable zipper bag, put it on the station, dispense the exact amount of kibble, zip it up and take it home. When it's time to get more Canidae dog food, they simply bring their empty bag into the store and refill it. It's similar to using a reusable grocery bag but it has a zipper and is food safe. We're really excited about this initiative, and it gives consumers an option to eliminate the single-use plastic dog food bags that are not easily recyclable right now and generally end up in landfills."
As Canidae committed quite a bit of resources to research its consumers and the CPG market overall, it became clear that reducing plastic waste is something that consumers really are ready to embrace. The company's consumers' desires to move away from plastic helped to shape this new program with Petco.
"Because of our sustainability mission, we are looking at anything that can remove us from using one-time use plastics and one-time use bags," said Wally Shaw, chief operating officer, Canidae. "This Kibble Refill Station was tricky. Quite an engineering feat. We had to develop a way to service bulk kibble to the stores, and then maintain and refill the bulk in the store and allow the consumer to consume the product at the weight they want."
Before now, a system like this didn't seem feasible in pet food because of the amount that is purchased at one time. It's easy to use a system like this to purchase a pound of coffee and it's easy for the store to refill the products. It's much more difficult to develop this system with hundreds of pounds of pet food.
"What we're trying to do is eliminate single-use pet food bags that will end up in landfills," said Dana Paris, chief marketing officer.
"What we're trying to do is eliminate single-use pet food bags that will end up in landfills," Paris explained. "With our new Kibble Refill Station, consumers finally have an option to purchase kibble in a much more sustainable way. While this is a shift in how consumers purchase pet food, we believe that consumers will embrace this new system since they have already adapted this practice in many other human food categories. We believe this is a category disrupter and is one more step in our mission to create a more sustainable world."
Paris said Canidae addressed significant engineering and design needs to create the Kibble Refill Station and it made sense to partner with Petco, which was able to test and invest their resources in this effort. She pointed out that the two company's sustainability missions paired well in making this project possible.
"Often when companies ask consumers to be more sustainable, consumers are asked to pay more," Furio added. "In this situation, the actual price per pound will be less than what it is for even our largest bag of dog food. We're trying to make it easy for the consumer to opt in so they can feel good about doing their part for our planet."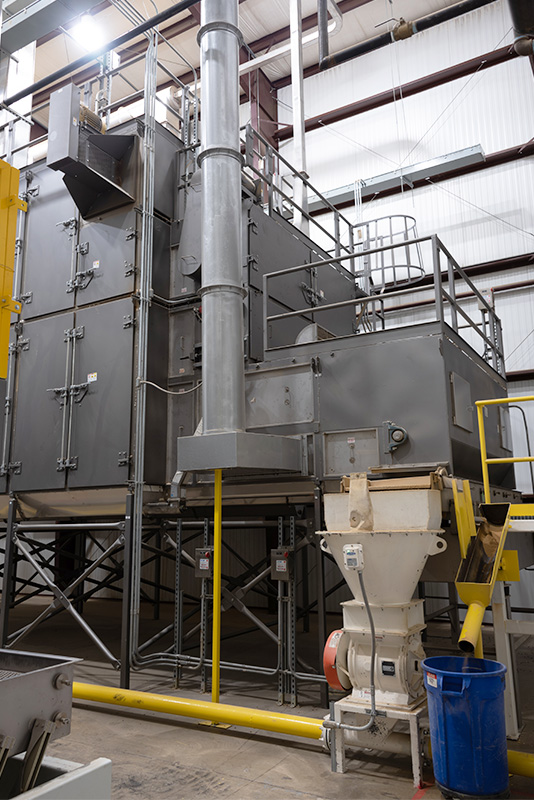 Recent capital investments have included two new multi-pass dryers to enhance product quality and increase processing capacity. 
Production a priority
While pursuing exciting long-term goals, Canidae's Brownwood processing plant has maintained consistent capacity to meet consumer demand despite pandemic-related challenges common to processors in this industry. Brownwood's production consists of two extrusion processing lines and four packaging lines. Canidae's product portfolio includes dry kibble and wet food for both cats and dogs, as well as pet treats. The company works with co-manufacturers for the brand's wet pet food and treats.
Over the past year and a half, Canidae replaced two multi-pass dryers. Shaw said the new dryers have improved both the quality of the kibble being produced and increased the overall capacity of the Brownwood plant. He estimated the facility produces 80% of Canidae's annual sales with approximately 75% of that being dry diets for dogs and the remainder being dry diets for cats.
"We keep busy with our kibble production and ensure that we are ahead of our growth curve," Shaw said. "One way we do this is our continuing investment in our equipment."
He added that Canidae has had their share of challenges related to the current market conditions, but believes these have been less than what other companies have reported.
"We have had no downtime related to labor issues," Shaw said. "It would be misleading to say we haven't had turnover, but we have not stopped our operations and have been able to staff accordingly.
"The team has also managed through [supply chain challenges] quite well," he added. "We have not had any major ingredient misses or gaps. I think the biggest challenge has been the increase in lead times. The time to purchase ingredients has increased, requiring us to schedule more thoughtfully and further ahead. That has been the biggest challenge particularly with our co-pack partners."
The benefits of more deliberate scheduling are longer product runs and fewer changeovers, which equate to less product waste. Canidae taps into key data points to help the company effectively schedule product runs.
Dedicated to data
Canidae monitors retail supply inventory to generate forecasts and schedule production.
"We monitor channels and stock to make sure that we're always on shelf," Shaw said. "That's a big goal for us. We want to have high customer service and every week we track what our fulfillment rate is and what our on-time delivery rates are to ensure we're on the shelf when the consumer needs it. On-shelf availability is the key."
"We monitor channels and stock to make sure that we're always on shelf. On-shelf availability is the key," said Wally Shaw, chief operating officer.
Taking a deep dive into consumer data has been a priority backed by the company's private equity owners.
"We spent a lot of time over the last two years understanding our consumer with in-depth insight and segmentation studies which resulted in relaunching the brand," Paris explained. "We have always stood for high-quality, nutrient-dense food and that's not going to change, but we've expanded our mission and brand positioning to also include a meaningful position around creating a more sustainable pet food. We are evolving our brand to stand for high-quality, premium, natural ingredients that are sustainable."
Canidae customers are invested in buying brands that are eco-friendly. Canidae has also found that their customers favor purchasing pet products at independent pet specialty retailers, as well as through pet specialty online retailers.
"We are very invested in the independent pet specialty channel," Paris said. "We believe this is where the consumer learns about our food, quality, and what makes Canidae so unique. Having said that, we are also in Petco and PetSmart, as well as sold on Chewy and Amazon, because we know that consumers, especially Millennials, want the ability to purchase Canidae products with ease and convenience."
Canidae was founded by Scott Wimple and John Gordon in 1996. The two had a pet food and feed store and began manufacturing their own pet food to make sure they had good food for their own animals. Today, Canidae offers a wide portfolio of solutions tailored to different consumer and pet needs. Across Canidae's portfolio are many different product lines for people who are looking for complete and balanced wet and dry diets, raw coated kibbles and crunchy treats made with a focus on premium ingredients.
What propels them
Furio is quick to point out that products are important but it's the people behind the products who will propel the company to where it wants to be.
"What I think we have right now is a group of people who have chosen to be here to make a difference in the world," Furio said. "How we help each other achieve our mission as we work together toward it is really important. I think tomorrow will be a little bit better than today and today we're a little bit better than where we were yesterday. We learn from mistakes and then cast that learning forward.
"We're first going to crawl, then walk and then run," he added. "My sense is that as consumers become more aware [of what differentiates us], their opting in will give us more oxygen to take bigger and better breaths and go a little bit faster in our company mission."
While some of Canidae's long-range, ambitious initiatives may not reach the return on investment (ROI) threshold in the first few quarters that a larger company might require to greenlight them, with the support of each Canidae employee and the company's private equity ownership, these initiatives may reach the ROE — return on the environment — threshold in line with Canidae's sustainable goodness for pets, people, and the planet mission.
Read more of our exclusive pet food and treat processor profiles.