ROCKVILLE, MD. — Meat-free formulations are gaining momentum in the pet treat and chew space. Still a small segment of the market, this category is expected to grow with the rise of sustainability-minded pet owners across the United States.
According to Packaged Facts, more than half (54%) of pet owners who participated in its August/September 2021 Survey of Pet Owners indicated they are interested in pet treats formulated with plant-based proteins. This mirrors the 27% of pet owners who stated they have increased their own consumption of plant-based foods since the COVID-19 pandemic began in early 2020.
Another meat-free ingredient gaining momentum is insect protein. Packaged Facts reports 43% of pet owners are interested in the ingredient trend due to sustainability and environmental impact merits. Of those interested, 21% said they are strongly interested and 22% said they are somewhat interested.
Insect ingredients have been increasingly cropping up in the pet nutrition space, including in pet food and treat formulations. In August, the Association of American Feed Control Officials (AAFCO) voted to tentatively approve the use of dried black soldier fly larvae (BSFL) in adult dog food, paving the way for more manufacturers to capitalize on this growing trend.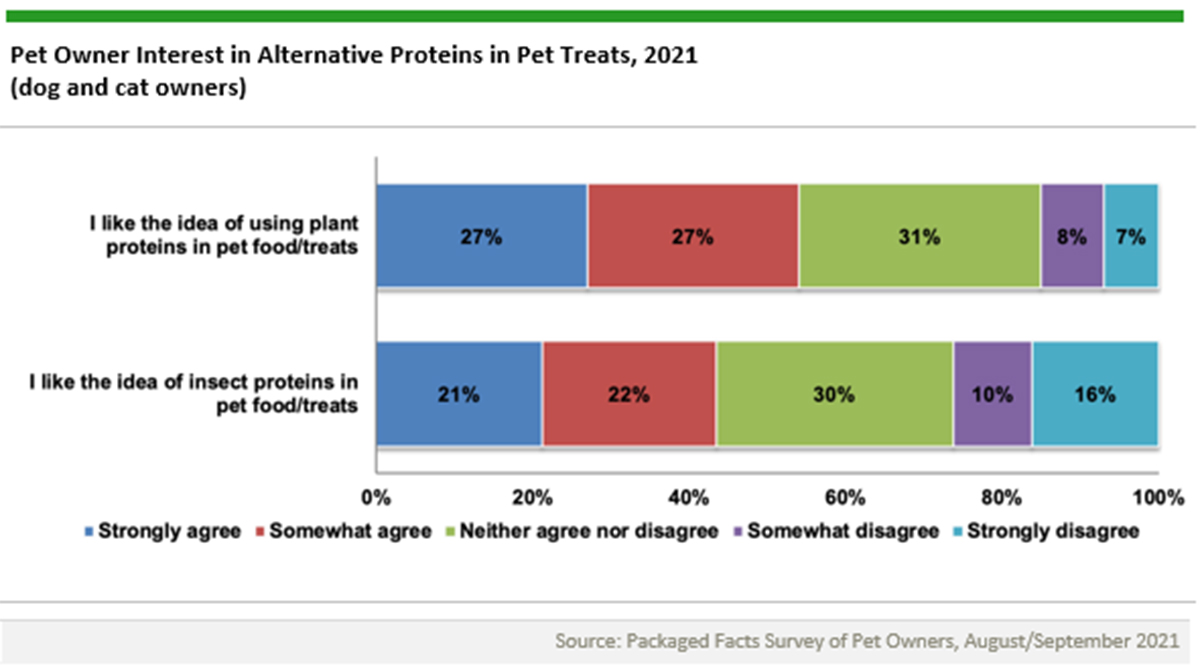 Suppliers in the United States have noticed this shift away from meat proteins as well and are adapting their businesses to accommodate demand. For example, Bühler Group recently partnered with Agronutris to construct a black soldier fly larvae production facility in France, specifically for supplying insect protein ingredients to pet food and aquaculture markets. Several other suppliers are entering this space or building on current capabilities for insect protein production.
Additionally, the market for plant-based protein alternatives is accelerating. Scoular recently opened a barley protein concentrate facility in Idaho to support pet food and aquaculture feed producers. In October, Global Food and Ingredients Inc. (GFI) established a Plant-Based Pet Food Ingredients business in Canada, which will supply milled red lentils, green lentils, chickpeas, pinto beans, yellow peas and green peas. These are just two of many examples announced in the last few months.
Packaged Facts stated this meat-free trend is best applied to pet treats, as complete-and-balanced nutritional requirements for pet food make meatless formulations more complex. Meatless pet treats can be brought to market more easily than meatless pet foods, the market research firm said, and could be an "entry point" for interested manufacturers.
Overall, pet treat sales are trending up at a significant rate. Market research firm Packaged Facts shared sales of this category will reach $9.87 billion by the end of this year, keeping with double-digit growth over the last two years.
Keep up with the latest pet food trends on our Trends page.