This article was published in the June 2021 issue of Pet Food Processing. Read it and other articles from this issue in our June digital edition.
Tender pulled chicken gets mixed with chewy barley, apple pieces, diced sweet potato and chopped spinach leaves. Succulent lamb in savory gravy becomes country stew with the addition of diced potatoes, julienned carrots and whole spring peas. Wild-caught tuna chunks are served in a creamy fish broth with diced tomatoes and slivered carrots. That's what the pets are having for dinner, while the pet parents take a cheat day and order in deep dish pizza.
"Just like people, animals need a variety of foods and nutrients for a balanced diet," said Heidi Farkas, national sales and marketing manager, Milne MicroDried, Nampa, Idaho. "Whole foods like fruits and vegetables provide important nutrients, including fats, carbohydrates and fibers. And they are full of vitamins and minerals."
"Whole foods like fruits and vegetables provide important nutrients, including fats, carbohydrates and fibers," said Heidi Farkas, Milne MicroDried.
Isaac Matthews, vice-president, pet food ingredients, LinkOne Ingredient Solutions, Monett, Mo., said, "They provide a healthy balance of nutrients to a pet's diet. Often the specific fruit or vegetable can replace an allergen ingredient or enhance a formula's overall digestibility and reduce yard clean up."
Just like mom and dad
Fruits and vegetables are familiar ingredients. Pet parents know they should be eating more, so they believe the same is true for their furry friends. Research shows they are correct.
"When shopping for their pets, consumers are looking for high-quality ingredients they can pronounce, just like when they shop for themselves," said Gary Augustine, vice president, marketing, Van Drunen Farms, Momence, Ill. "Formulating with whole-food fruit and vegetable ingredients answers the call for better-for-your-pet solutions."
This is true, even when it increases the cost. In fact, 75% of people agree it's worth paying more for quality pet food, according to the report, "Pet Food: Including the Impact of COVID-19," from Chicago-based Mintel. 

"Typically, staple fruits and vegetables consumed in human diets are also used in pet food formulas," Matthews said. "This list includes sweet potatoes, potatoes, carrots, blueberries and cranberries.
"The formats that work best in each application depend on the objective of the pet food or treat," he added. "While some diets focus on limited-ingredient demand, other formulas have objectives that look to replace vitamins and minerals with whole fruits and vegetables, while other foods or treats desire piece identity of the individual fruit and vegetable ingredient."
In kibble, dried fruits and vegetables in meal, powder or piece form are most economical. With canned, refrigerated and frozen pet food, semi-dry, fresh or individually quick-frozen ingredients are often preferred.
"Potatoes and sweet potatoes have proven to be highly digestible," Matthews said. "They are an excellent solution for 'sensitive digestion' recipes, which are valued by small breed dog owners, who now represent nearly half of the dog population."
Genetically modified ingredients are a concern to some pet parents. The same is true of where the fruit or vegetable was grown and how it was processed.
"Avoiding GMO's results in avoiding corn, wheat and soybeans," Matthews said. "Many discerning pet food shoppers view vegetables and fruits as more suitable non-GMO alternatives to other ingredients in the market."
"With the right combination of various fruits and vegetables, it is possible to naturally capture some of the essential vitamins and minerals," said Isaac Matthews, LinkOne Ingredient Solutions.
Addressing this demand, Augustine said, "We can help formulators create cleaner labels with our US-grown, 100% fruit and vegetable powders. To eliminate or minimize non-clean-label ingredients, formulators can use fruit and vegetable ingredients to replace grains in their products."
A growing number of brands are trying to stop using synthesized vitamins and minerals and provide more natural micronutrients through the addition of fruits and vegetables. There's also a trend toward removing carbohydrate-based fillers that deliver calories without nutrients.
"It is a reality that in both human and companion animal nutrition, there has been an increased focus and effort to move toward natural and away from artificial colors, flavors, vitamins and minerals," Matthews said. "With the right combination of various fruits and vegetables, it is possible to naturally capture some of the essential vitamins and minerals."
Farkas added, "Pet parents are becoming more and more label savvy. Just like the foods they feed their family, they want important vitamins and minerals to come from easily identifiable sources.
"Dried fruits and vegetables work very well in kibble, extruded and treat applications," she said. "You can see the real fruit and veggie piece identity while providing vibrant colors and flavors. Dried fruits and vegetables are very easy to formulate with, as they have low water activity and low moisture and are ready-to-eat."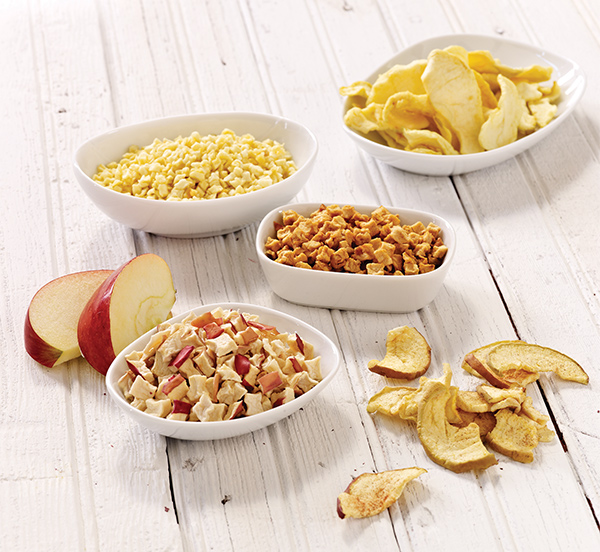 Jeannie Swedberg, director, business development, Tree Top Inc., Selah, Wash., said fruit powders provide an array of benefits to pet food formulations. This includes not only flavor enhancement, but powders also assist with humectancy, controlling water activity, increasing yield, reducing fat, inhibiting microbial growth and providing antioxidants.
Fruit and vegetable powders are typically produced by drum drying or freeze-drying. They may include a carrier, which assists in protecting the ingredient's nutritive value as well as improving ease of use and storage.
"We offer 100% carrier-free drum-dried and freeze-dried powders, like blueberry, banana, mango, pumpkin and sweet potato, which help formulators bring whole food, plant-based ingredients to their products, just as nature intended," Augustine said. "Our portfolio includes powders with cleaner label carriers, too, such as cassava flour, tapioca starch, fruit fibers, pea flour and pea starch, for added versatility."
Coming out on top
A new category gaining momentum in the pet food sector is meal toppers and mix-ins.
"While I honestly do not think most dogs and cats look at their food and think, 'Oh no, not kibble again,' I do believe pet parents are concerned about feeding their pets the same thing day in and day out," Swedberg said. "This is part of the reason why the topper and mix-in market is starting to gain traction. It provides humanization, personalization and variety. But more importantly, addresses health and well-being.
"Just as more and more people are realizing their diet influences their overall health, this awakening goes for their furry friends, as well," she added. "Good pet nutrition can help keep pets healthy and happy and avoid costly vet bills. Toppers and mix-ins are great delivery vehicles for ingredients, such as fruits and vegetables, that provide benefits such as digestive health, coat health, joint health, stress relief, cognitive health and more."
Swedberg cautioned that because these extras are added to a meal, it's important to be mindful of calorie counts when formulating them. She said to prioritize adding nutritional value or a functional benefit.
"We've been exploring different combinations using our organic fruit purees, plus veggies and grains, with an eye toward maximizing nutritional content," Swedberg said. "One example is a berry pear oat organic fruit and veggie blended topper. It has a rich array of nutrients — antioxidants, vitamins, minerals, fiber — along with attractive label ingredients. This particular topper was formulated with antioxidant boosting in mind, as it contains polyphenol-rich blackberries."
Delivering goodness
Matt Panasevich, senior nutrition scientist, Blue Buffalo Co., Wilton, Conn., discussed the use of fruits and fruit fibers in pet food applications in a recent webinar. He explained how fruit fibers can be a great source of soluble and insoluble fiber in pet food formulations to promote gut health because of the favorable fermentation characteristics they offer.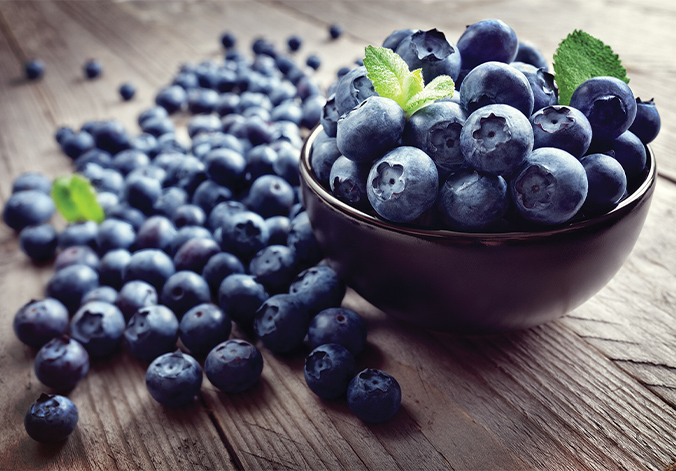 "An effective dose of fruit fiber is reached when the benefits of gut fermentation are achieved without detriments to nutrient digestibility, stool quality or palatability," Swedberg said. "This requires evaluating the ratio of insoluble to soluble fiber in a finished product."
In addition to providing fiber, fruits and vegetables are a source of antioxidants, including flavonoids, polyphenols, carotenoids, and vitamins C and E. Antioxidants slow oxidative damage to cells by scavenging free radicals, which are unstable molecules the body produces. The type of antioxidant and its functionality varies by plant species.
Anthocyanins, such as those found in blueberries and strawberries, for example, can cross the blood-brain barrier into the cortex and hippocampus and impact cognitive performance, Panasevich said.
"The science is still developing around the efficacy of plant-based ingredients in pet food, but I believe fruit and other plant ingredients will only continue to grow in the pet food space," Swedberg said. "As people hear more about the benefits of eating fruits and vegetables for themselves, they'll want to ensure their pets are also eating healthfully."
Matthews concluded, "As the human palate expands and pets increasingly become a part of the intimate family, by default, so too will the palate of man's best friend expand. We believe that the more a given fruit or vegetable becomes commonplace in the human food diet, it is likely to also be a part of the food and treats that are fed to our beloved four-legged friends."
Colors from fruits and vegetables
There is a clear connection between consumer food preferences and the choices consumers make for their pets' food, said Tammi Geiger, marketing manager, North America, Oterra (formerly Chr. Hansen Natural Colors), Milwaukee, Wis. When it comes to color, natural offers brands some specific advantages.
Not all natural colors are created equal. Just like in human foods, formulators of pet foods and treats are increasingly opting for colors derived from fruits and vegetables and making such claims on product packages. Common color sources are black and orange carrots, red pepper (paprika), red radish and red beet. Other plant-based colors include annatto and turmeric.
Oterra has a new range of clean-label red colors based on its proprietary sweet potato, which took more than 10 years of selective breeding using traditional, non-GMO methods to develop. The result is a plant-based, brilliant red that is a natural alternative to carmine and synthetic colors.
Some natural colors tend to be heat, shear and pressure sensitive. Thus, they must be added to the production process at the right time for the best result.
"Exposure to oxygen can also influence the shade of some natural pigments," added Rikke Sakstrup Frandsen, global industry business manager. "The more air that is incorporated during the production process, the lighter the final shade. Coating kibble and treats with fat and oil also impacts color."
Ashlee Martin, senior application scientist, said, "Wet pet food is made by mixing recipe ingredients together and cooking direct within a can, tray or pouch. Colors can be added at any step before filling. The major heat step — retort — will always be done after color is added, so heat-stable colors are recommended."
Color adds cost to a formulation. Because it is mostly added for pet parent appeal, visual sensory testing is a smart investment.
Read more about product development, ingredients and formulation.