SECAUCUS, N.J. — Freshpet, Inc. released its first-ever Environmental, Social and Governance (ESG) Sustainability Report on Aug. 12, detailing the company's initiatives and goals as it works toward "Nourishing Pets, People and Planet."
The fresh pet food manufacturer looked at the way it uses and manages energy and water, its product packaging, waste and resource efficiency, biodiversity, supply chain, responsible sourcing, employee wellbeing, community relations, product safety and quality, and responsible marketing.
Product safety and quality was listed as the top priority for both the company and its stakeholders, including pet owner consumers. Sustainable-sourcing and employee wellbeing also ranked high on that list, followed by emissions impacting climate change and the company's energy and water use and management.

Freshpet went into great detail about the nutritional philosophy and performance behind its products in the report. As part of its sustainable sourcing goals, the company reported it sources more than 50% of raw ingredients from within a 200-mile radius of its Kitchens, and 96% of its total raw ingredients from North America. Freshpet's responsible sourcing practices extend to its seafood, which is sourced from sustainable fisheries in the United States, Canada, Norway, Ireland and Chile.
Access the full-length report here for more details.
The company's sustainability initiatives date back to 2012, when it partnered with the Global Animal Partnership to include only certified poultry products in its Nature's Fresh line. In 2014, the company began matching its electricity usage with wind energy.
In 2016, Freshpet partnered with Sustainable Waste Solutions to digest its organic waste and reduced its waste and increase its recycling to become landfill-free at its production facilities. The company estimates it has avoided 3,875 metric tons of carbon emissions by going landfill-free in operations. Freshpet also implemented an energy efficient refrigerator model that year, which can result in efficiency gains of up to eight-and-a-half-times above its previous models.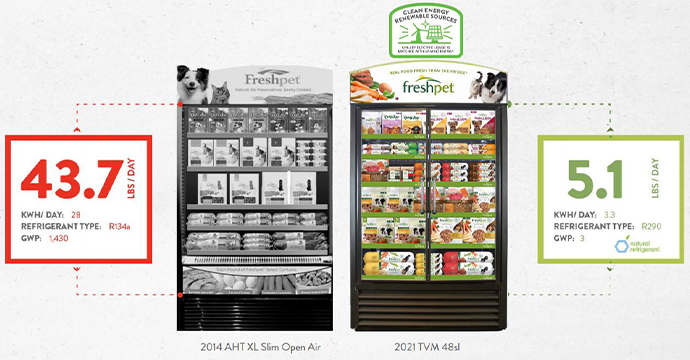 In 2019, the company implemented combined heat and power plants to fuel its Kitchens, and in 2020 it started up on-site wastewater treatment and rainwater capture systems.
Also in 2020, Freshpet's Nature's Fresh products became carbon neutral "for scopes 1, 2 and 3," meaning they offset with verified carbon credits, the company clarified. The entire company achieved carbon neutrality "for scopes 1 and 2" in 2021.
This year the company partnered with 3Degrees to measure its 2019 and 2020 carbon footprints, as well as with the Carbon Disclosure Project (CDP) to calculate its climate and water impacts. The company also appointed its first sustainability lead to help guide its environmental initiatives.
Moving forward, Freshpet plans to launch its first meatless product, Spring and Sprout, into the market later this year. The company's goal is to be carbon neutral for scopes 1, 2 and 3 by 2025.
The company also touched on packaging initiatives to reduce its carbon footprint on that front, which includes a partnership with TerraCycle to encourage consumer recycling of used pet food packages and reduce the amount of plastic that ends up in landfills.
"We relentlessly pursue the very best foods that change the way people think about 'pet food' and do it while simultaneously caring for all the people who contribute to our success and the planet that provides us with resources," said Scott Morris, president and co-founder of Freshpet. "Those values were built into the company from our founding. We call it 'Pets. People. Planet.' and it is what drives our decision making every day.
"Our inaugural Sustainability Report provides insight into our daily execution of these values and the significant results we have delivered to date," Morris continued. "We are guided by a highly capable board of directors who oversee how our ESG performance impacts the long-term interests of our partners, investors and the communities in which we operate. In this report, you will see how the Freshpet board has actively guided the company through the numerous challenges common to high growth companies and how we, as managers of shareholder capital, have executed to drive value for all our stakeholders."
Read Freshpet's full Environmental, Social and Governance (ESG) Sustainability Report here.
Find more articles related to sustainability in the pet food and treat industry.