This article was published in the March 2021 issue of Pet Food Processing. Read it and other articles from this issue in our March digital edition.
High Pressure Processing, or HPP, is often used in raw pet food and in freeze-dried pet food and treats because the products are not heated to a temperature that would kill bacteria. By incorporating HPP into the production process, pet food and treat processors can benefit from a number of distinct advantages, including improved product safety and increased shelf life.
HPP is used in two primary ways by pet food and treat processors.
"The first is to treat raw products used in the production of pet food products to ensure there are no bacterial issues in the materials," said Joe Neeb, vice president of operations, MiracleCorp Products, Moraine, Ohio. "The second is to treat cooked refrigerated pet food post packaging to ensure product safety and extend shelf life."
Benefits of HPP
Improved product safety is a major benefit of HPP for pet food and treat processors.
"The primary advantage in using HPP is to have a pathogen-free raw material to ensure the safety of pets and pet owners," explained Errol Raghubeer, PhD, senior vice president, science and technology, JBT Avure, Erlanger, Ky. "Generally, raw meat materials can have a high load of pathogens, particularly Salmonella, Listeria monocytogenes, pathogenic E. coli bacteria, and Campylobacter. Although viral concerns were not necessarily the focus for using HPP in pet foods, it is important to note that HPP is effective against several types of viruses including coronaviruses. And in the current global health crisis, HPP-treated pet foods can be used as an additional protection for pets and pet owners." 
HPP is well suited to raw pet food and freeze-dried pet food and treats as the process does not affect product integrity. As HPP is a non-thermal process, the basic ingredients are not affected nor develop a cooked flavor or color, explained Chris Holland, managing director, Holmach Ltd., Stamford, United Kingdom. In addition, HPP does not affect the biochemical profile of raw pet food.
"HPP does not affect vitamins and bioactive compounds and therefore, biochemically the product retains its rawness whereas heat and other processes will affect these nutritional materials," Raghubeer added.
Many processors are also using HPP to ensure product safety post-packaging.
"Pet food and pet treat companies are using HPP to process in bulk prior to further processing," said Tom Woodward, chief commercial officer, Universal Pure, Lincoln, Neb. "However, brands are also using HPP for the final product just prior to shipping in the retail or specialty food channels. The use of HPP offers an outstanding element of food safety and provides both the brand and ultimate user with a sense of security. The use of HPP of pet products can significantly reduce the risk of food borne pathogens further down the distribution chain."
One potential downside of this approach is the possibility of recontamination.
"To eliminate contamination of the pathogen-free HPP product, manufacturers who will further process into other items need to do this in a clean-room environment with strict sanitary protocols of equipment and personnel hygiene," Raghubeer said. "This can be a cumbersome undertaking with added cost. However, the benefits of not having a product recall, meeting regulatory guidelines as well as satisfying pet owners' demand for more nutritious diets for their animals appears to be driving processors toward HPP."
The second major benefit of HPP for pet food and treat processors is extended product shelf life.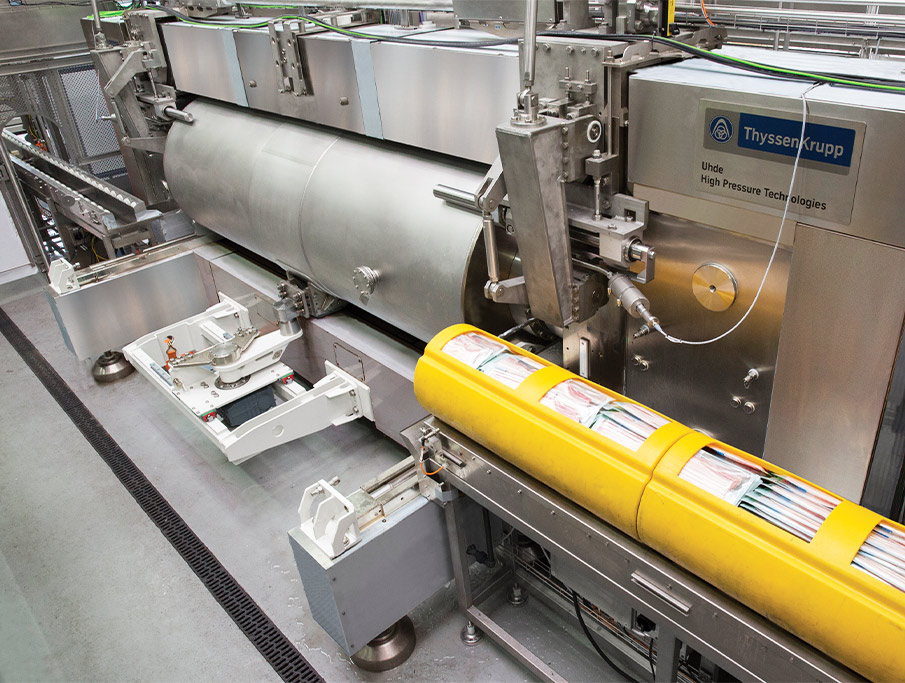 "HPP is being used not only to provide safety and improved quality, but also in the fight against waste in the food chain," Holland said. "Many pet owners are interested in improving the fresh aspect of their pet's diet and the limited shelf life of fresh and raw products means that, given the range of recipes needed, HPP provides an opportunity for retailers to stock fresh pet food without the cost and environmental impact of increased waste."
Adoption of HPP technology
A growing number of pet food and treat processors are recognizing the benefits of HPP, despite the costs associated with adopting the technology.
"More and more pet food companies are adopting HPP for their final consumer package," Neeb said. "There are costs associated with using HPP technology that have been one of the hurdles that must be overcome. The companies that are adopting the HPP technology are doing so to retain fresh product quality while extending the shelf life of the product. This is accomplished using HPP along with the added benefits of product safety, brand protection, and nutrient retention without added preservatives. Companies are realizing that consumers will pay a premium for these added benefits."
When adopting HPP over the long term, processors must decide between using a toller or bringing the technology in-house. This decision can be driven by a number of factors, including cost, annual volume and technical support.
"HPP machines are made in various sizes to meet the manufacturer's needs," Neeb added. "Toll processors typically own the largest and fastest HPP machines, thus the cost to HPP is lower than on the smaller machines. In-house HPP machines could help mitigate some transportation costs, but some of these are offset by higher costs to run HPP at slower speeds. Also, HPP is a very specialized technology. Running HPP in-house would require technical and personnel expertise along with a significant capital investment in equipment, energy, and facility improvements."
"A good estimate to warrant internal HPP would be in the area of processing 20 million lbs annually," said Tom Woodward, Universal Pure.
"To justify the capital investment, additional labor, spare parts coverage, and technical support associated with HPP processing, a good estimate to warrant internal HPP would be in the area of processing 20 million lbs annually," Woodward commented.
Since many HPP tollers do not set minimum volumes, using a toller is a viable option for processors who cannot warrant bringing the technology in house.
"HPP tollers, such as Universal Pure, welcome anything from a short run to processing for an entire shift," Woodward said. "We really don't focus so much on minimums, as we try to work with our customers and prospects to find efficiencies for both companies."
Agreements between tollers and their customers can vary.
"There is really no minimum, but it depends on the business model of the toller," Raghubeer added. "It should be noted that with any contract services, the greater the volume the lesser the cost. This may also be dependent on the contractual agreement between the customer and the toller."
When incorporating an HPP tolling service into a production process, there are a number of factors outside of the HPP process that are important to consider.
"Proximity is a key factor in the cost to HPP using toll processors," Neeb said. "Utilizing full truckloads of product will help lower the costs per pound. It is important to understand your product and thus determine the time from manufacture to HPP processing. Most products are HPP processed three to four days after manufacture, some sooner. Product temperature control is also important. Most HPP users keep their product below 40 F throughout storage and transportation."
Differences between HPP systems
Although the technical operation and performance of HPP systems are similar, capacity and throughput can vary widely.
"The major difference is production throughput which can be influenced greatly by the diameter of the HPP vessel rather than the total volume," Raghubeer said. "Vessels with larger diameter tend to have a better loading capacity with less unused voids or spaces compared to vessels of the same volume with smaller diameters. Throughput or product per cycle, given that all operational parameters are equal, ultimately determines the cost per cycle." 
Throughput is also impacted by the specific characteristics of the product being processed.
"The HPP cycle itself is typically complete within 8 to 10 minutes, depending on the individual application, and the necessary hold time," Woodward added. "The throughput of a system is a function of the product type, the packaging, the required pressure, and the hold time at that pressure. An efficient and regularly producing system can produce in the range of 20 million to 30 million lbs per year, with proper planning, well-trained operators, and skilled technicians."
The future of HPP
Looking to the future, manufacturers of HPP technology expect to see an accelerated rate of conversion to HPP by pet food producers.
"Consumers are trending toward raw and chilled food products for their pets," Woodward noted. "Simultaneously, these consumers expect and require their products to be safe for use within the household. Brands who recognize these trends will continue to have an advantage with products that utilize HPP technology, and they should be able to leverage the safety and fresh perception benefits delivered by HPP."
This pet industry trend mirrors the use of HPP in human food production.
"As human consumers are looking for less processed, more nutritious foods which have been instrumental in driving the success of HPP, pet owners are looking to provide similar products to their pets and thus, HPP usage in the pet food industry has the potential to increase significantly," Raghubeer remarked.
Blue Ridge Beef, Statesville, N.C., is one example of a raw pet food company that recognizes the advantages of HPP.
"All of our products go through HPP," said Dustin Lea, quality assurance and food safety coordinator, Blue Ridge Beef. "We began using HPP to eliminate the potential pathogens that are present in our products. Raw meats, organs, and bones will have a pathogen load present and HPP performed greater than any other pathogen control method we have tested. We process our products in their final packaging. This method discourages a possible reintroduction of pathogens from a post-HPP production process."
Find more articles about the latest pet food processing technologies on our Equipment page.