SECAUCUS, N.J. — Freshpet, Inc. has been coping with continued COVID-19 impacts, supply chain issues, out-of-stocks and impacts from inclement weather seen in February. Despite all this, the company reported strong growth for consumption, trade inventory and net sales in the first quarter.
The fresh pet food company reported a net loss of $10.9 million, up 202.8% compared to the first quarter of 2020, and net sales of $93.4 million, up 33.3% from year-ago revenue. Losses were due to increased selling, general and administrative (SG&A) costs, which totaled $46 million.
Freshpet increased its adjusted EBITDA by 35.3% to $7.8 million over the quarter. Gross profit came in at $36.3 million, roughly 39% of total net sales. Gross profit was up 14.2% from the first quarter of 2020, but gross profit as a percentage of net sales was down from year-ago 45.4%.
"While it can be challenging to keep up with Freshpet's rapid growth, our team rose to the occasion and delivered a very strong performance in the first quarter," said Billy Cyr, chief executive officer.
Billy Cyr, chief executive officer of Freshpet, kicked off the company's first-quarter earnings call on May 4 by highlighting how Freshpet's increased production capacities are supporting company growth.
"The Freshpet Kitchens are delivering the increases in output we had expected and are now producing at a rate that is almost 50% above year ago," he said. "That is enabling us to refill the trade inventory that we had drawn down during the back half of 2020 and satisfy our customers and consumers with much better in-stock conditions."
Freshpet reported its Nielsen consumption data showed 23% growth for the company in the mega-channel (mass merchandisers), 22% in the grocery channel and 43% in the pet superstore channel over the first quarter.
E-commerce sales now account for 6.3% of total sales, growing 156% in the first quarter. Additionally, international sales were up 36%, supported by investments in advertising in markets outside of the United States.
"I think what you're going to see from us over the course of this year [is] a lot of expansion in e-commerce in general," commented Scott Morris, chief operating officer.
Morris added the company plans to add e-commerce partners and increase marketing spend for its e-commerce business to increase online sales. The company currently partners with Amazon Fresh, Peapod, Instacart, Shipt, Kroger, Walmart, From Home, Petco and PetSmart e-commerce platforms.
Household penetration for Freshpet was up 25% in the first quarter to more than four million households. For its core dog product portfolio, household penetration was up 29% to 3.2 million households. Total buying rate was up 3% to $119.36, and up 1% to $136.99 for the company's core dog portfolio.
The company delayed some new retail refrigerator placements in the first quarter, adding 174 for a grand total of 22,890. However, Freshpet upgraded 293 fridges and added second fridges to 121 stores, keeping it on track to meet its point-of-sale goals for the year, Cyr said.
"We continue to expect to have the capacity to support a $590 million revenue run rate business by the end of this year, and about $1 billion run revenue run rate by the end of 2022," he projected.
However, Freshpet is still recovering from the impact of winter storms Orlena and Uri in late January and February, increased freight costs, output challenges, and COVID-19 repercussions seen throughout 2020 and into the first quarter of 2021. Freshpet also incurred higher processing costs at its Kitchen South location in the first quarter.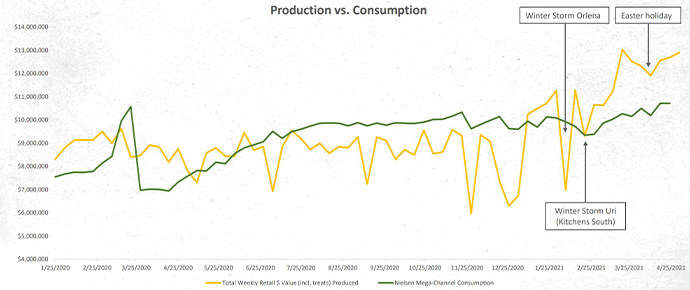 "We made several additions to our capacity last year, including a two-shift operation, a Kitchen South last June and the startup of Kitchens 2.0 in October," Cyr said. "Despite those additions, our total output did not go up, we lost just as much output in our existing kitchens due to COVID testing and quarantine as we gained from those incremental operations... In December, we made several interventions designed to correct that. And the plan is working."
Despite the inclement weather challenges Freshpet faced in the first quarter, as well as the company's inability to meet demand in the third and fourth quarters of 2020, it is incrementally refilling its trade inventory and bolstering its capacity to meet growing consumption rates.
Heather Pomerantz, chief financial officer for Freshpet, said she believes the company has another $12 million of trade inventory to refill in the second quarter, after losing roughly $3.5 million of production to two major winter storms that occurred earlier this year.
"These storms had a disproportionate impact on us because of the magnitude of the storms, where we have production facilities," Pomerantz said.
Increased freight costs were partially offset by lower media spending in the first quarter, which was down roughly 4.5% from year-ago media spending.
"We will continue to experience higher freight costs due to our depleted inventory levels for most of Q2 and potentially part of Q3," Pomerantz said. "This will diminish our leverage gains and adjusted SG&A including media this year, but we expect those increased costs to be gone by Q4."
Out-of-stocks spiked drastically from Dec. 20 and continued throughout February, gradually falling again from early March to mid-April. However, the company stated in its first quarter earnings presentation that a majority of its consumers (74%) are likely to remain loyal to the brand despite these stocking issues.
The company has several capacity expansions in the works, with some completed last year and others slated for completion later in 2021 and 2022.
"Additionally, our project at a second line at Kitchen South is on track to produce product by the end of Q3, and the third line there will come online at the beginning of 2022," Pomerantz said.
Freshpet may further expand its Kitchen South facility with another building in 2023 once it reaches capacity to produce $300 million in product.
In Ennis, Texas, Phase 1 of construction is currently underway, with Phase 2 beginning in 2023. Production is scheduled to start up at the Ennis facility in 2022.
Phase 2 of the Ennis facility, the third line and the additional building at Freshpet's Kitchen South will implement new processing technologies expected to improve product quality, production costs and the overall work environment for employees.
Cyr added the company is still dealing with costs related to COVID-19, as the areas where it manufactures product continue to be affected by the pandemic. Freshpet sustained $950,000 in COVID-19-related expenses in the first quarter alone.
"We expect that to wind down in Q3 as our entire team became eligible for vaccines on March 31," he said. "We have strongly encouraged them to get vaccinated, if they can. We have provided incentives to our team members to share their vaccination history with us, offering two incremental days of vacation and a $25 cash incentive."
The company has also hired nursing staff to provide on-site assistance for finding and scheduling local vaccination appointments.
"While it can be challenging to keep up with Freshpet's rapid growth, our team rose to the occasion and delivered a very strong performance in the first quarter," Cyr said. "We achieved our strongest net sales growth rate in more than five years… we grew adjusted EBITDA at a rate that slightly outpaced net sales growth, and we surpassed four million Freshpet households for the first time."
The company reaffirmed its full year guidance for 2021, in which it aims to exceed $430 million in sales, representing a 35% increase over 2020 sales, and an adjusted EBITDA of at least $61 million, which would be up 30% from last year.
"With rapidly improving retail conditions and increased capacity in place to support strong growth, we are in position to deliver our 2021 guidance and remain bullish on our 2025 'Feed the Growth' goals of 11 million households, $1.25 billion in net sales and a 25% adjusted EBITDA margin," Cyr added.
Read more about corporate strategy, financial performance, mergers and acquisitions on our Business page.