This article was published in the December 2020 issue of Pet Food Processing. Read it and other articles from this issue in our December digital edition.
Historically, one of the most critical parts of ensuring pet food or pet treats are free of contaminants from foreign substances is by using metal detection and x-ray systems at the end of inspection lines.
However, new technology has come along in recent years to help eliminate these unwanted materials at earlier stages of the manufacturing process. This upstream in-line detection can help identify contaminants before they are fragmented into smaller parts that are more challenging to detect and remove.
Food manufacturers want to inspect product during processing to detect contamination and reject product prior to adding more value. Lanel Menezes, business manager of Safeline X-ray for Mettler Toledo, Lutz, Fla., said the company's gravity flow or throat detectors can inspect dry kibble products using Safeline's zero-metal-free-zone (ZMFZ) technology. He explained the Safeline X38 pipeline x-ray technology inspects product that is being pumped during the processing stage.
"The goal is to find foreign matter — including bones — prior to fine grinding," said Lanel Menezes, Mettler Toledo.
"The goal is to find foreign matter — including bones — prior to fine grinding," Menezes said. "This permits the detection of contaminants before they are shredded into smaller pieces as they go through different grinders."
Today's state-of-the-art metal detectors employ a balanced electrical field to detect metal. They measure minute changes caused by an electrical disturbance and in sufficient measure, a trip occurs. Most often, metal detectors use an automatic reject device to remove the metal.
Confirming the equipment is working correctly is achieved through verification and validation protocols.
"Verification is the act or process of proving that the metal detector meets its sensitivity requirements," said Ray Spurgeon, metal detection product manager, Eriez Magnetics, Erie, Penn. "This is accomplished by challenging the detector in a repeatable manner with a certified metal sphere at a pre-described time. Most often, this procedure is executed at the same time, on a daily basis."
Meanwhile, validation is the process of authenticating the metal detector. If a metal detector has been verified to detect a 2mm stainless steel sphere, a processor would validate these results (typically annually) by a third party.
"If these critical steps are ignored or incorrectly executed, non-compliance can result and product impurities can go unnoticed," Spurgeon said.
Getting smarter
With more automation and fewer people on the production line, Spurgeon noted that today's metal detection equipment needs to be "smart" – it must be proactive and alert operations.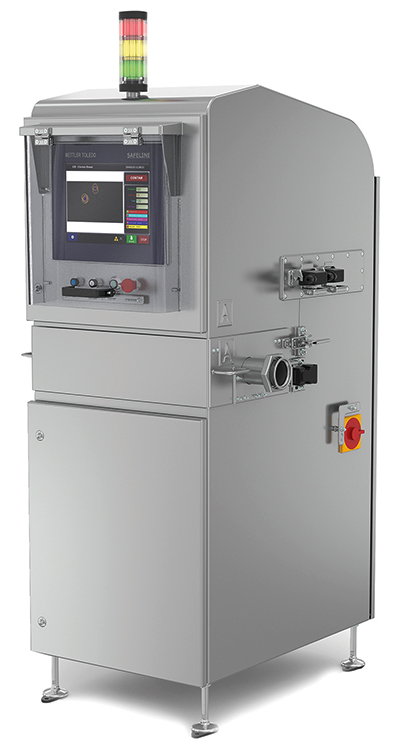 Spurgeon explained smart systems accomplish this in several ways including a verification check that signals an alarm when the detector needs to be tested; self-diagnostics that alert operations if there are issues with the equipment; integration with information systems (IS) for data pushes for record keeping and system monitoring; programmable logic controller (PLC) input enabling the detector to take commands for product changes; and reject confirmation that ensures off-quality product is indeed rejected.
"Additionally, the pet food industry has adopted many of the safety standards used by food companies and now, many producers use metal detectors in their HACCP program," Spurgeon said. "Therefore, plant personnel need to be more attuned to the proper setup and operation of metal detectors to be certain they are meeting their food safety program requirements."
Eric Garr, regional sales manager, Fortress Technology, Toronto, Canada, said testing of in-line inspection usually entails dropping test samples into the product flow, which can be difficult to get consistent results, plus that introduces contamination into the line. Therefore, Fortress has recently introduced Halo, an auto-touch system that helps measure the performance of the metal detector without having to insert metal into the system.
"It works using internal interference that it creates, which in turn creates a disturbance exactly like metal, so it alleviates the need for those test samples," Garr explained. "It's a huge improvement on the quality of test performance."
Employing optics
TOMRA Foods, Leuven, Belgium, has launched a pet food application that sorts kibble and guards against contamination by employing optical sensors, noted Lars Povlsen, global sales manager, proteins, TOMRA Foods' pet food division. These sensors differentiate between good product and foreign material or cross-contamination based on color, structure or composition. Air-valves on the platforms remove undesired material with precise and powerful air bursts, keeping the processor's yield to an absolute maximum.
"It is a new application we expect to see grow strongly in the next couple of years," Povlsen said.
John Lawrence, chief executive officer, Sightline Process Control, Ontario, Canada, said the most important hardware improvements he has seen are related to advancements in camera technology.  
"With more image capture options, our list of applications has grown to include products like kibble and pet treats," said John Lawrence, Sightline Process Control.
"Camera resolution, processing speed, and frame rates have come a long way in the past five years allowing us to analyze more details and smaller objects with precision and to process images at up to 100 objects per second," he said. "With more image capture options, our list of applications has grown to include products like kibble and pet treats."
Additionally, a few of the more desired measurements possible for products prior to packaging are color, shape, length and width, volume, counts, and detection of broken pieces. Important post-packaging inspections include bag seal inspection and verification of packaging elements such as bar/lot/date codes.
"A prime example is a treat simulating a bone with center 'marrow,'" Lawrence said. "With a vision system, any geometric measurements can be extracted, plus the system can detect if the center 'marrow' is present and if it meets specifications for color and volume."
Lawrence described Sightline systems as non-contact inspection systems that use a series of high-resolution/high-speed cameras along with imaging software to detect and measure random objects as they move along a conveyor belt.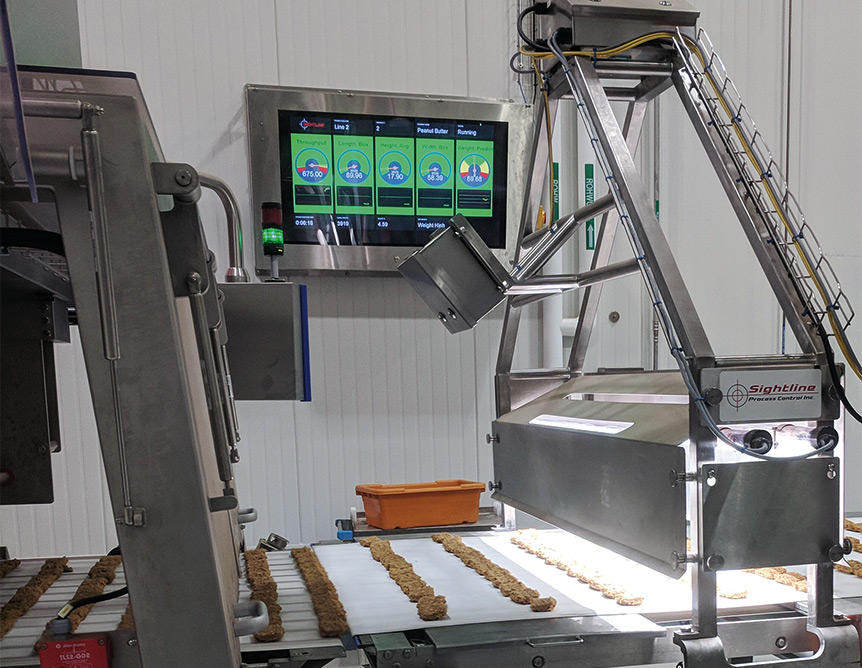 "Virtually any size, shape or color attribute can be extracted from the object images and converted into standard units, providing real-time 100% inspection of any production line," he said. "Products can be configured with any combination of measurements from the included library of over 100+ pre-loaded algorithms."
Evolution of detectors
Today's detectors can monitor activity and provide feedback about the equipment's performance while also providing key data for electronic records. This information is vital for streamlining supplier audits and warning operations of potential equipment failures to avoid downtime and properly schedule regular maintenance.
One significant trend is The Internet of Things (IoT) – the network of connected "smart" devices that communicate seamlessly over the internet. For pet food processors, IoT devices can transmit information that is useful across multiple process lines and provide valuable data from connected metal detectors. Eriez Magnetics' evolution of its Eriez Xtreme metal detector interface is icon-driven and patterned after today's cell phones.
"In practice, this means operations receives instantaneous visual feedback from the screen in real-time to make decisions regarding the equipment's set-up and performance," Spurgeon said.
Keri Klein, Mettler Toledo's product manager for checkweighers, notes there is a trend today toward increased equipment integration.
"Advancements in design and technology have allowed companies to integrate multiple inspection functions into one system, thereby reducing the system footprint, increasing productivity and the communication between machines," she said. "Our checkweigher modular designs allow our systems to be future-proofed for the ever-changing manufacturing needs."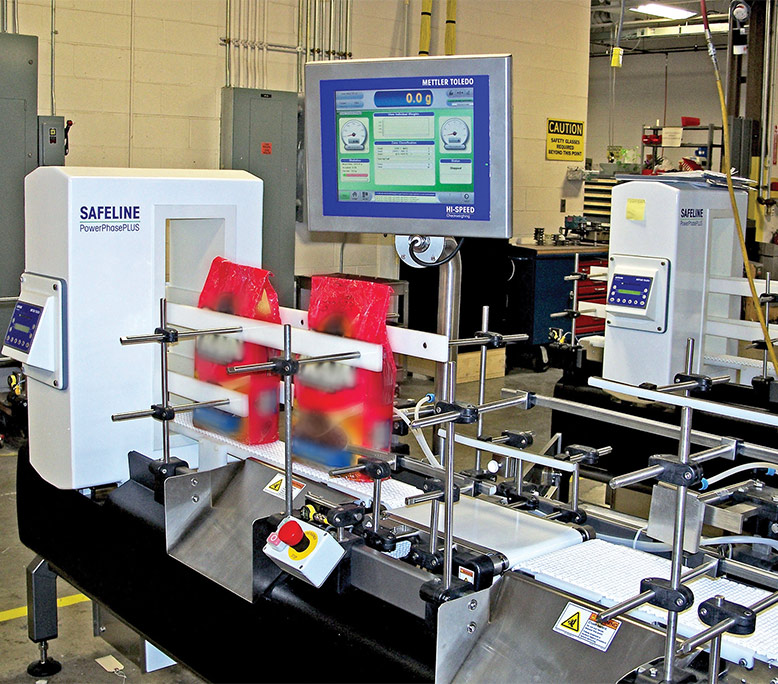 Mettler Toledo has had a checkweigher/metal detector combination system in the market for a while and has recently expanded its portfolio to include a checkweigher/vision combo and checkweigher/x-ray combo.
One challenge is providing solutions for extreme conditions, from a hazardous location to harsh washdown environments. Through Mettler Toledo's R&D initiatives and work with industry experts, the company has developed cutting-edge designs to meet these extreme needs. The development of its new washdown-capable checkweighers is a case in point.
"Our ProdX software offering can ensure product quality by allowing data collection from multiple PI devices and consolidating into a single platform," Klein said. "ProdX ensures full data analysis and evaluation of each technology and it is Industry 4.0 ready."
Dealing with problems 
Today's detectors are very adept, reliable and repeatable, however, there is less thought of issues such as packaging material. Spurgeon explains that recycled fiberboard and wood are often used in packaging material and processed with grinders and refiners. Very often repurposed dunnage and skids contain staples or nails that are ground down in the process and the cumulative amount of metal fines in the recycled packaging material can cause the bags to false trip the metal detectors. In other words, there may not be metal in the pet food but in the bag.
"Another challenge with the bags may be the bright, colorful inks used to attract consumers' attention," Spurgeon said. "Sometimes these inks have oxides in them that trip the metal detector."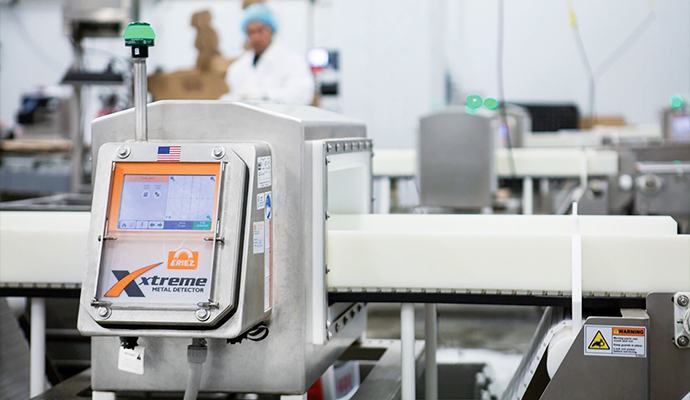 Other problems with metal detection performance may be associated with the product formulations, especially those with high levels of vitamins and fortifications. In sufficient levels, this may impact a detectors performance as they create conductivity.
Catching metal and other foreign objects early can protect processing equipment from damage; and regular verification and testing can guard against contaminants slipping through undetected or false positives that waste valuable product and cause production downtime.
Find more articles about the latest pet food processing technologies on our Equipment page.