SECAUCUS, N.J. — Freshpet, Inc. drove sales increases in the upper 20% range for both its fourth quarter and full year 2020, continuing several consecutive years of strong growth.
The company reported a quarterly net loss of $3.3 million, attributed to increased expenses due to COVID-19, plant startup, beef inflation and media spend, and an annual net loss of $3.2 million. Quarterly net sales grew 28.5% to $84.5 million, and annual net sales increased 29.7% to $318.8 million.
Freshpet's adjusted EBITDA for the fourth quarter totaled $12.9 million, down 2.3% from the fourth quarter of 2019, while annual adjusted EBIDTA was $46.9 million, up 60.9% from $29.2 million in 2019.
"Thanks to the efforts of our dedicated team members, Freshpet has continued to weather the COVID-19 storm and produced our fourth consecutive year of accelerating growth in 2020," said Billy Cyr, chief executive officer of Freshpet. "Clearly, our 'Feed the Growth' strategy is working and is proving that the upside potential for Freshpet continues to grow."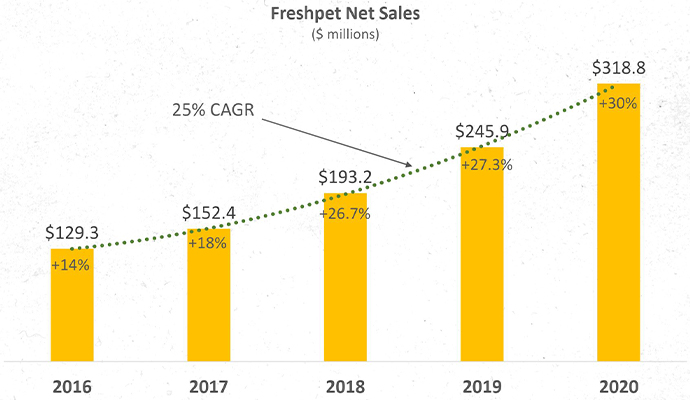 These gains were driven by continued increases in household penetration and buying rate, Freshpet reported. Household penetration grew 24% to reach nearly 4 million consumers in 2020, and buying rate grew by 7%.
The company experienced product shortages in the fourth quarter of 2020 due to supply limits caused by winter storms and repercussions of the COVID-19 pandemic, which also temporarily increased costs.
"We struggled to keep up with demand and ended the year with nearly empty fridges in many stores," Cyr said. "That means that we are spending the first quarter of 2021 digging out of a trade inventory hole we dug rather than putting our foot on the gas to grow faster."
Freshpet sent letters to consumers through social media to explain the shortages in an effort toward transparency and continued customer engagement. Cyr mentioned that consumers who saw the social media posts about shortages — and also about new job opportunities — "are even more attracted to Freshpet than ever before" as the company worked to highlight its team, projected its values and moved quickly to find a solution.
Cyr added that since the first of the year, Freshpet has grown its manufacturing output by an average of 26% more product per day compared to the fourth quarter and expects continued acceleration in manufacturing to meet heightened demand.
"It will take until mid to late April to refill the deficits, but our capability is growing quickly, and we are confident we have built sustainable capabilities that can support the near-term and long-term goals we have set for ourselves," he said.
Despite capacity constraints in the last quarter, Freshpet added 1,146 new retail locations in 2020, installed double fridges in another 1,640 stores, and upgraded fridges in 795 stores. Freshpet plans to add roughly 1,000 additional stores to its retail network in 2021, upgrade roughly 500 fridges, and install second fridges in roughly 550 new stores.
"One of the most exciting and encouraging aspects of our growth in Q4 was the continued resurgence of the pet specialty channel," said Heather Pomerantz, chief financial officer of Freshpet. "…Our Nielsen Big-Box Pet Specialty consumption was up 42% in Q4 leading all channels and it was still accelerating at the end of the quarter."
E-commerce sales for the fresh pet food company grew 173% in 2020, of which 55% of sales represented "click and collect" platforms such as Petco, Walmart and ClickList, 34% of sales came from last-mile delivery services including Instacart and Shipt, and 11% came from online fresh delivery services including Amazon Fresh, Peapod and FreshDirect.
"If we simply continued the rate with which pet parents have joined the Freshpet franchise over the past two years, we would greatly exceed our 2025 goal of having eight million households feeding Freshpet to their pets," Cyr said.
As a result of this new growth trajectory, Cyr said Freshpet has raised its 2025 target from eight million to 11 million households, as well as increased its 2025 net sales target from $1 billion in annual sales to $1.25 billion.
Freshpet's household penetration spanned nearly 4 million households in 2020
"The number of millennials and Gen Z, who have entered the household formation stage of life and acquired a dog is growing quickly, and they are our best prospects for future Freshpet users," Cyr commented. "We saw that powerful dynamic play out in 2020."
Freshpet is supporting these ambitious growth estimates through several capital investments in staffing, manufacturing capacity expansions including new facilities, and product innovation in 2021 and beyond.
"We have a solid portfolio of new products we are launching this year," Cyr said. "We are adding a brief version to a wildly successful small dog product launching our flagship Fresh From the Kitchen product in UK and launching a test of a plant-based product in limited distribution in the United States."
In 2020, the company reported doubling its installed production capacity.
The company plans to start up its second production line at its Kitchens South location in the third quarter of 2021. It also plans to add a third line to this facility to "enable some new product innovation and add significant capacity," Cyr said. Freshpet is discussing the possibility of adding another building to its Kitchens South facility with the capacity to produce $300 million in product, which could be completed in early 2023.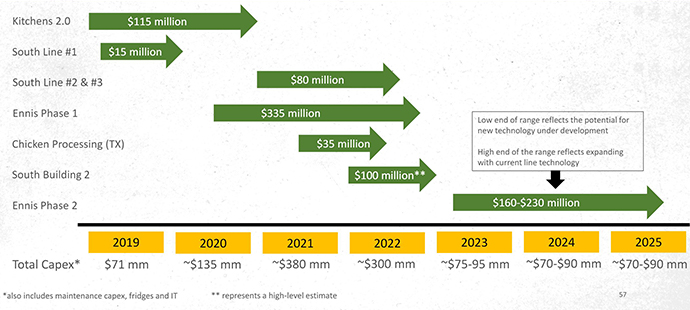 Freshpet will also push forward the startup date for its Ennis, Texas to the second quarter of 2022, paying for extended construction hours to facilitate an early opening, Cyr said. The production capacity estimates of that facility have also been increased from $300 million in annual capacity in Phase 1 to $400 million, and from $400 million in Phase 2 to $500 million.
"Our plan does not call for us committing to the second phase of Ennis until early 2023," Cyr explained. "That phase is planned to deliver $500 million of capacity at a cost of about $100 million."
With these capacity expansions in mind, Cyr said the company hopes to drive more than $430 million in net sales in 2021, which would represent a 35% increase from full-year 2020 sales. Additionally, Freshpet expects adjusted EBIDTA of more than $61 million in 2021, up 30% from 2020, and a 12% increase in media spend as a percentage of net sales.
"In total, we are building the capacity to deliver almost $2 billion in net sales by 2025, with some of it coming online sooner than previously planned to meet the accelerated near-term growth rate," Cyr said.
In addition, Freshpet announced Feb. 24 it has offered another 2.1 million of common stock at $143 per share. The company has granded underwriters a 30-day option to buy up to 315,000 shares. The company plans to close the offering on Friday, Feb. 26, subject to closing conditions.
"We are pleased to strengthen our liquidity position with our amended credit facility," Pomerantz said. "Our increased liquidity will enable us to both expedite and increase our capacity expansion, supporting our accelerated growth plans."
Read more about corporate strategy, financial performance, mergers and acquisitions on our Business page.