TUCKER, GA. — During the virtual International Production & Processing Expo (IPPE) Marketplace in January, several professionals of the rendering industry spoke to the importance of rendering to animal agriculture during the International Rendering Symposium.
Nancy Foster, president and chief executive officer of the North American Renderers Association (NARA) and the Fats and Proteins Research Foundation, initiated the symposium with a overview of the industry and a summary of ongoing research projects conducted by the foundation.
"The rendering industry is responsible for recycling nearly 50% of the animal," Foster said. "Without rendering, this significant amount of material would go to waste."
Foster also pointed out that NARA's focus for 2021 will be increasing consumer awareness of the sustainability offered by the rendering industry. 
Also at the symposium, Dr. Michele M. Sayles, executive director of food safety and quality for Diamond Pet Foods, shared recent research initiatives backed by the Pet Food Alliance (PFA), which serves as a hub for collaboration between the pet food and rendering sectors.
Sayles spoke about the benefits of collaborating on pet food and rendering research and innovation, and pointed to overlapping challenges and opportunities between the two industries.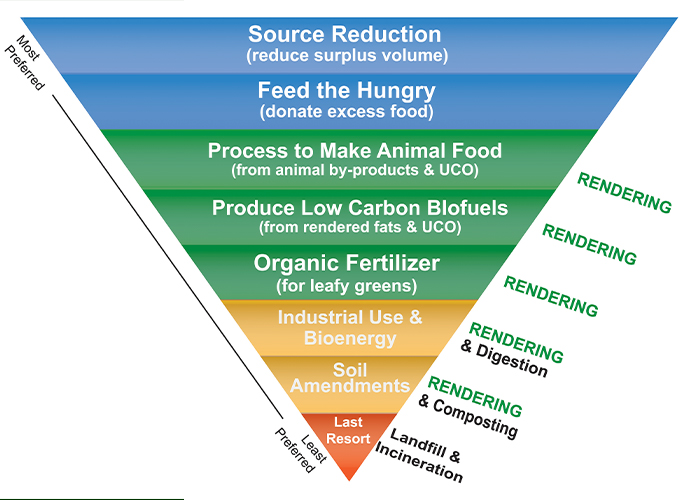 Additionally, Anna Wilkinson, director of communications for NARA, reemphasized the sustainability of rendering. She stressed the importance of recognizing rendering as a sustainable industry and communicating that message to consumers.
"When you talk to people about rendering, how are you explaining its sustainability benefits?" she asked. "Are you talking to people about rendering at all? This is an important conversation to have.
"Rendering, at its core, is defined by its sustainability, so it deserves a seat at the table," Wilkinson continued. "Most people do not realize that rendering produces a reduction in greenhouse gases that is the equivalent of taking 18.5 million cars off the road every year. That is huge, and people need to know."
Tim Law, corporate quality manager of Darling Ingredients, reiterated those sustainability sentiments and discussed the basic uses and future opportunities to the rendering industry.
"Rendering is recycling," Law said. "If the rendering industry were to come to a halt, all available landfills would fill up within four years. This is a significant impact on environmental sustainability. Through rendering, we're able to bring animal protein closer to being a zero-waste industry."
In conjunction with IPPE Marketplace, the American Feed Industry Association (AFIA) held its 2021 Pet Food Conference Jan. 26, which also included a presentation on rendering. Ansen Pond, Ph.D., head of food safety, quality and regulatory for Pilgrims/JBS USA, provided a detailed account of sustainable benefits of rendering to the pet food industry specifically.
"It's very important that people understand the actual science behind the byproducts and that we're not painting a negative picture behind these byproducts because they're so, so important to the sustainability of animal agriculture," Pond said.
Read our full summary of Pond's discussion on the benefits of rendering and uses for pet food presented at the Pet Food Conference.
Read more about pet food and treat industry events.