TEWKSBURY, MASS. — Wellness Natural Pet Food, a leading WellPet brand, on Jan. 25 launched a new line of functional pet food formulas targeting digestive health in dogs and cats.
The line, Wellness CORE Digestive Health, features products formulated with digestive enzymes, prebiotic fibers and probiotics to support gut health. The formulas also support microbiome health, skin and coat health, optimal energy and overall health and wellness.
According to Wellness Natural Pet Food, digestive health makes up 70% of the overall pet immune system and has significant impacts on overall health, wellbeing and protection against toxins and allergens.
The company launched this new line in response to growing interest among pet owners in natural nutritional solutions for digestive health. In a recent study conducted by Wellness Natural Pet Food, 78% of respondents ranked better digestion as "extremely important" or "very important" when considering the health benefits of pet food.
"At Wellness, the root of everything we do is focused on promoting our pets' best lives, and the Wellness CORE Digestive Health product line is our latest innovation to deliver what pet parents want and what we know pets need to achieve overall wellness," said Dr. Danielle Bernal, staff veterinarian at Wellness Natural Pet Food. "For the same reason we seek it for ourselves, we seek it for our pets: digestive health is the gateway to whole-body wellbeing. We're proud to bring our first pet food with digestive enzymes to the market through this innovative new family of products."
Wellness CORE Digestive Health includes probiotic-coated kibble formulas that include wholesome grains, as well as pâté formulas, for both cats and dogs.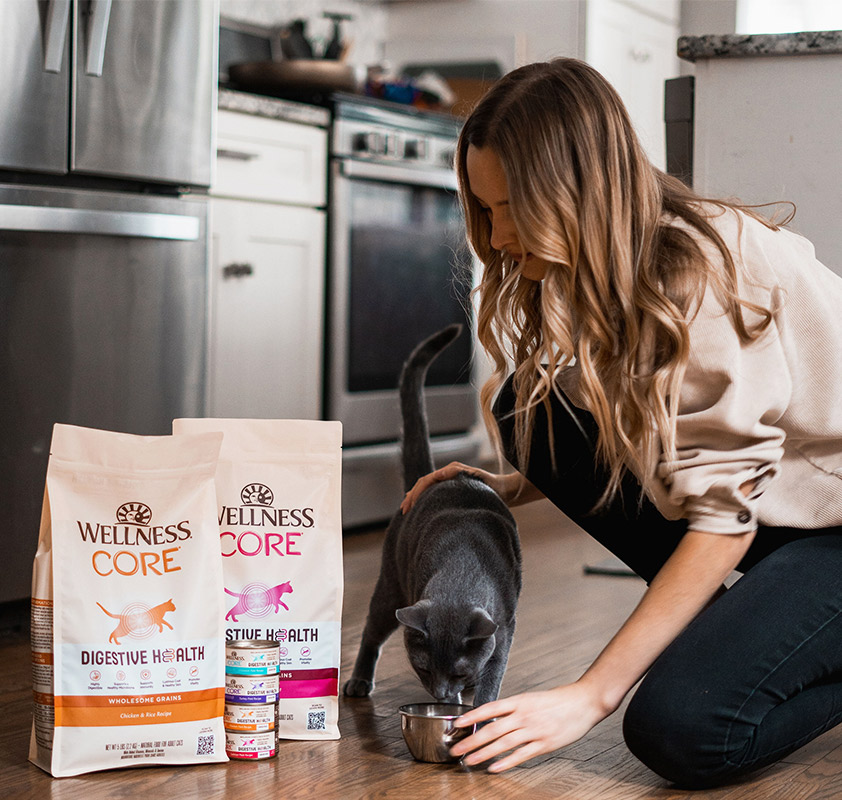 The probiotic-coated kibbles incorporate a proprietary blend of prebiotic fibers and digestive enzymes, and are formulated without wheat, corn, soy or artificial ingredients. They are available in three recipes for dogs — Whitefish and Brown Rice, Chicken and Brown Rice, and Small Breed Chicken and Brown Rice — and two recipes for cats: Chicken and Rice and Salmon and Rice.
The pâté formulas include pumpkin and papaya as functional ingredients, as well as added Omega 3 fatty acids to support skin and coat health. This format includes three recipes for dogs — Chicken, Beef and Lamb — and four for cats: Chicken, Turkey, Whitefish and Salmon. The pâté digestive health diets are also available in multipacks, which include Chicken and Turkey formulas, or Salmon and Whitefish formulas.
Wellness CORE Digestive Health is available in pet specialty stores and through online retail outlets.
Read more about new pet food and treat products.