This article was first published in our October 2020 Resource Guide. Read it and other articles from this issue in the Resource Guide digital edition.
Now that every single space in a processing plant from the front door to the loading dock must be evaluated to protect employees from virus transmission, what a benefit it would be to start from scratch and design a new plant in this era of social distancing. Much time and effort is required to complete new processing facilities and some that have gone online recently or will be commissioned in the next several months may not have had much flexibility to scrap their plans and start over keeping COVID-19 in mind. But for those projects that have had the opportunity to accommodate pandemic planning into their new construction, there are a few changes one might expect to see.
"The current climate has increased considerations of communicable diseases in general, not just COVID-19 but any future virus," said Dennis Collins, AIA, senior architect, CRB, Kansas City, Mo. "Processors are thinking about how to avoid and/or be better prepared to maintain operations and minimize operational distributions. Consider such things as one-way traffic flows for personnel in and out of the facility, hands-free devices including door operators, plumbing fixtures, soap and towel dispensers, and increasing spacing in lockers and toilet facilities. Many of these we had already been incorporating into our building designs to increase food safety in general."
Safety of the workers has impacted the design and operation in most factories.
"Heightened hygiene protocols, increased handwashing, PPE and social distancing requirements are only a few of the design considerations that need to be taken for existing and new processing facilities," said Pablo Coronel, Ph.D., director, food processing and food safety, CRB Process Authority. "This requirement is also pushing to an increase in automated control systems that will help keep the number of personnel down and could assist in keeping the operators healthy."
COVID-19 risk can be mitigated with changes to both the facility design and the facility management.
"Through facility design, designers can really have a large impact due to concepts such as directing the circulation of employees and visitors within the facility, creating separation at employee workstations, adding air filtration and circulation, selecting appropriate construction materials, increasing design elements that are hands-free, and implementing new health and hygienic technology," said Amanda Arnold, architectural technician, Gray, Lexington, Ky. "Facility management would include factors like increasing the cleaning schedule, increasing opportunities for employee hygiene, modifying employee schedules, and creating a preparedness and response plan. Designers should be aware of what role management will have in mitigating COVID-19 risks and how the design can help influence these actions. Facility management is more controlled by the owners and operators of a facility, but since facility design and facility management go hand in hand, it's important that both sides are collaborating to have a stronger and more positive impact."
Coronel points out that FSMA's increased awareness in some areas for design and operation could help with communicable diseases. Among those are the segregation of process lines, environmental monitoring, automation and control. FSMA requires a preventive control program be incorporated into every factory, and within those the environmental monitoring preventive controls. Environmental monitoring and prevention could help in maintaining the environment in each process line, ensuring each is segregated and clean, and preventing the spread of any disease within the factory.
Spacing production lines further apart requires more square footage but may also offer some benefits.
"The extra space could allow a processor to zone-clean one line while the other stays in production," said Robert Long, pet food safety expert specializing in sanitation and hygiene program development and execution. "One line can be sanitized without requiring the other line to shut down." 
 Collins agreed that added space has multiple benefits.
"Segregation of process lines not only facilitates better food safety during regular processing and cleaning operations, but it naturally reduces the number of operators in any given area as well," Collins said. "Controlled plant entrances and elevated hygiene protocols were already being improved in existing plants and in the designs of new facilities. All of these lead to a safer workplace for employees as well as promoting food safety in the manufacturing environment."
Investments in larger facilities or additional automation may be easier for processors to justify for the foreseeable future.
 "Companies may be more willing to consider investments in automation, not necessarily to eliminate employees, but rather to protect them," Long said. "We're going to take the understanding, knowledge and expertise we've already used for controlling product risk and expand it at a more granular level for the people risk," he added. "We're going to see more of the isolation technique and preventive controls put around people like we have around product."
Following are a few of the new pet food and treat processing facilities recently commissioned or coming online in the near future.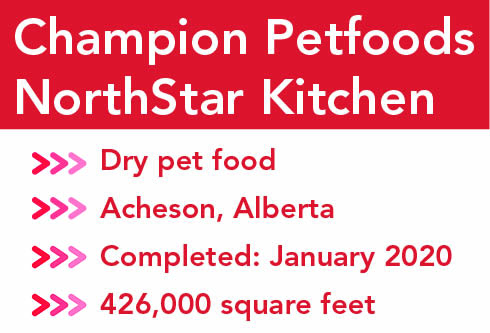 Champion Petfoods NorthStar Kitchen
Champion Petfoods NorthStar Kitchen includes three dry pet food production lines and includes a full, on-site distribution warehouse and logistics center, according to Champion. The facility is capable of producing up to 145 million kilograms (approximately 300 million lbs) of dry pet food annually. Dry pet food is the initial focus of the facility, but Champion has left room to expand its kibble production and add freeze-drying capabilities for pet food and treats in the future.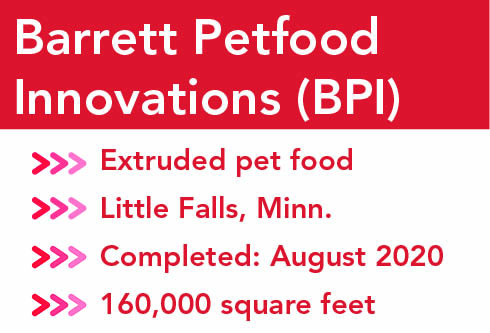 Barrett Petfood Innovations (BPI)
BPI is a family-owned co-manufacturer of extruded pet foods based in Brainerd, Minn. The company produces more than 150 premium pet food products for domestic and international distribution. The business was founded by Mike Barrett in 1982 and is currently operated by his children, Sarah and Tom Barrett.
Freshpet Kitchen 2.0
Freshpet uses a propriety process to produce seven brands of pet food. The refrigerated pet food plant expansion includes the renovation of an existing 50,000-square-foot facility adjacent to the current production facility and a 90,000-square-foot addition.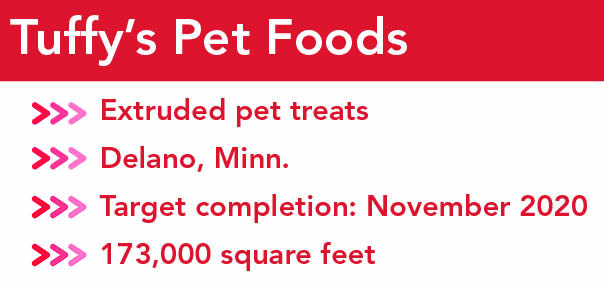 Tuffy's Pet Foods
Tuffy's Pet Foods Inc. is a subsidiary of KLN Family Brands. Tuffy's started in the mid-1960s in a single facility with 13 employees. Today, the pet food manufacturer employs 290 people. They produce NutriSource, PureVita and Natural Planet diets sold exclusively in the pet specialty channel, as well as Supreme, Tuffy's and the Tuffy's Gold brands. The new semi-moist treat manufacturing facility will initially feature two extrusion lines and six packaging lines, with room for expansion.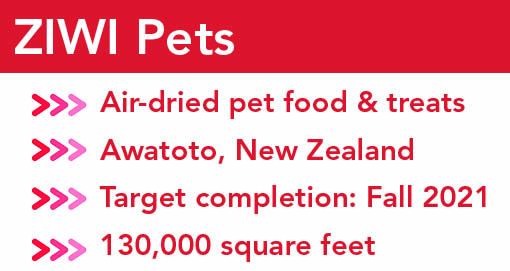 ZIWI Pets
Equipped with the latest processing solutions, including new air-drying technology, ZIWI expects its new Awatoto facility to double its current production capacity. The company currently manufactures pet food and treats at three plants in Tauranga, New Zealand, but said it plans to close those facilities once the Awatoto site is fully operational. ZIWI employees in Tauranga will be offered positions at the Awatoto facility.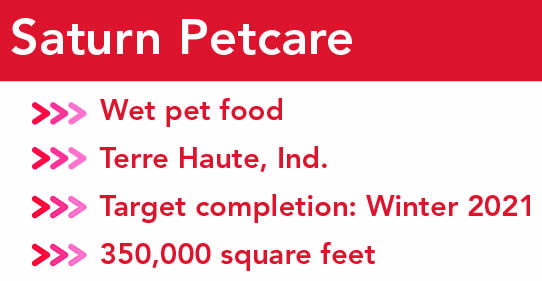 Saturn Petcare
Saturn Petcare, headquartered in Bremen, Germany, is one of the largest private-label, pet food manufacturers in Europe and this is the company's first US facility. The facility will produce wet pet food for cats and dogs in cans and aluminum trays. Established in 1987, Saturn Petcare manufactures more than 1,500 different varieties of wet and dry food products for pets as well as specialty products like multi-layer pâtés, snacks and cat milk.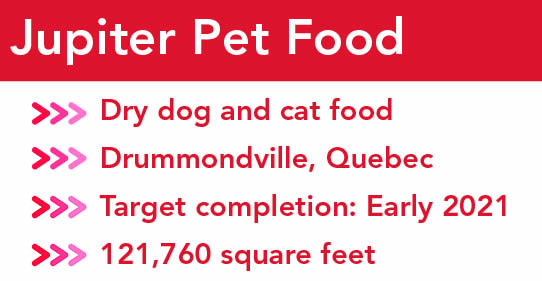 Jupiter Pet Food
Two Canadian, family-owned businesses, Groupe Inovo and Groupe Legault, are building a state-of-the-art pet food processing plant called Jupiter. The plant site is near the United States border and was chosen for its strategic location to enable exports to the United States.
Groupe Inovo owns Nutri-Expert, which produces animal feeds, and Acti-Sol, which specializes in the production of natural fertilizers in addition to other companies. Groupe Legault oversees various companies, including Mondou, a leading retailer of pet food and accessories.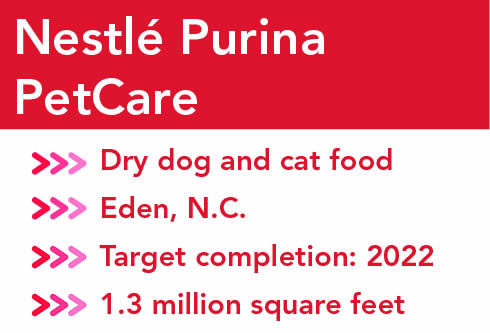 Nestlé Purina PetCare
The Eden factory will join Purina's network of 21 existing manufacturing locations across the United States. Located along the Virgina border, this new factory in North Carolina will revitalize a former brewery and will sit on 1.300-plus acres. Purina plans to employ more than 300 people at this location by 2024. The company is striving to make the facility 100% powered by renewable electricity in the shortest practical timeframe.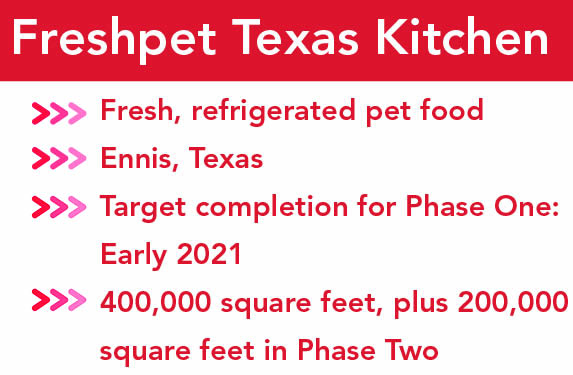 Freshpet Texas Kitchen
When running at full capacity, Freshpet's Texas facility will employ 400 people, almost doubling the company's workforce. Freshpet said it will extend its environmental operational policies, which include zero waste-to-landfill and using 100% wind energy, to the Ennis facility. The first, 400,000-square-foot phase is slated to begin operations in fall of 2022. The second phase will add 200,000 square feet to the facility and will directly follow completion of the first phase.
Read more about pet food processing on our Operations page.