DANIA BEACH, FLA. — Chewy, Inc. added 1.2 million active customers in its third quarter, ended Nov. 1, and expects continued growth into the holiday season and its 10-year anniversary in 2021.
"Over the past few quarters, our team has been hard at work to reformat our proprietary brands and overall assortment strategy by introducing compelling merchandise, improving discoverability, and delivering a tremendous value proposition for our customers," said Sumit Singh, chief executive officer of Chewy. "This strategy is working to create positive, consistent, and sustainable momentum. We are also proud to take a leading role in making pet healthcare more affordable and accessible with the recent expansion of our healthcare offerings to include medicinal compounding and telehealth."
For its third quarter financial results, the company reported a net loss of $32.8 million and net sales of $1.78 billion, up 45% compared to year-ago sales. Autoship sales accounted for $1.23 billion or 69.2% of total sales throughout the quarter.
"In absolute dollar terms, third quarter growth marked the biggest increase we have reported in the company's history," said Mario Marte, chief financial officer, during Chewy's third quarter earnings call on Dec. 8. "Year-to-date, net sales are up 46% on accelerated customer growth and solid increases in per customer spending.
The e-commerce pet retail giant now serves 17.8 million active customers who spent an average of $363 in the third quarter, up 2.8% versus year-ago spending per active customer. So far this year, the company has added 5.1 million active customers.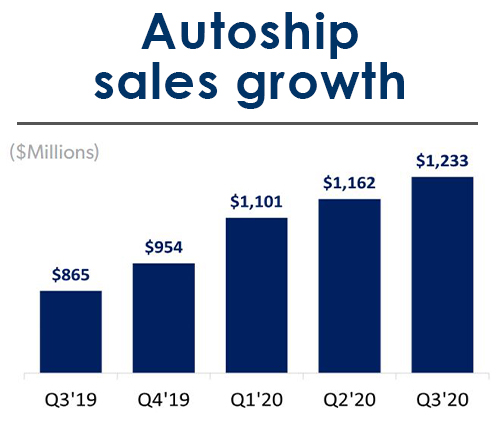 Chewy experienced "elevated costs" associated with investments in employee labor and benefits. Singh attributed those costs to increased capacity at its fulfillment and customer service centers amid the COVID-19 pandemic — to facilitate the surge in online shopping — and as the company gears up for the holiday season.
"This summer, we began optimizing our inventory and preparing our fulfillment centers, knowing that the holiday spike would add to the elevated demand tempo that has been in place since March," Singh said during the earnings call.
Marte also shared the company launched two fulfillment centers, employee bonuses and other incentives for its fulfillment and customer service employees, which attributed to elevated costs. Those costs, including "approximately $8 million of expenses that were either directly or indirectly related to COVID," overall affected the company's bottom line despite strong gross margin growth to 25.5%, up 180 basis points compared to the third quarter of 2019.
"In the third quarter, we benefited from strong execution, as hardgoods, private label and health care collectively contributed 110 of the 180 basis points of year-over-year gross margin expansion," Marte said.
In regard to new fulfillment centers, he added, "Capital investments continue to be focused on capacity build, including cash outlays for our new automated fulfillment center in Archbald, Pennsylvania and our new limited catalog fulfillment center in Kansas City, Missouri."
The company also incurred increased marketing costs, which amounted to $134.6 million.
Chewy is largely focused on two new veterinary telehealth offerings, Medication Compounding and Connect with a Vet, part of the company's own Pharmacy Rx business.
"Total pharmacy operations are expected to generate over $500 million of gross revenue this year, which we believe makes us the largest e-commerce pet pharmacy in the US," Singh said.
Chewy's Medication Compounding service, launched across 35 states in October 2020, offers custom medications to meet pets' specific needs, such as offering medicines in different formats, to its pet owner customers. The service is currently only available for pet owners, but Chewy hopes to expand the service to veterinarians in the future.
The company's Connect with a Vet service is in its early stages of implementation, but Chewy hopes to grow the veterinary telehealth platform going forward.
The e-commerce retailer increased its full year guidance, projecting full year net sales between $7.04 billion and $7.06 billion (a year-over-year increase of between 45% and 46%). Chewy also expects fourth quarter net sales between $1.94 and $1.96 billion (a year-over-year increase of between 43% and 45%).
Read more about corporate strategy, financial performance, mergers and acquisitions on our Business page.