BOULDER, COLO. — Pet Sustainability Coalition (PSC) and Earth Animal have published a life cycle assessment (LCA) comparing bio-based packaging films to traditional packaging films and their comparative impacts on the environment.
The LCA was conducted in 2019 as Earth Animal looked into switching the packaging for its Wisdom brand dog food. The study compared fossil fuel use, greenhouse gas emissions and water use over the entire life cycle of three different packaging formats: bio-based, recycle-ready mono material, and traditional petroleum-based plastic multilayer material. The company was currently using bio-based film.
The analysis revealed bio-based packaging used significantly less fossil fuels and emitted significantly less greenhouse gasses, but used slightly more water than recycle-ready mono materials and traditional petroleum-based plastic packaging.
Bio-based packaging requires 16,700 megajoules (M) of fossil fuels, while recycle-ready mono material packaging requires 21,900 M and traditional petroleum-based plastic material requires 21,800 M, according to the LCA findings.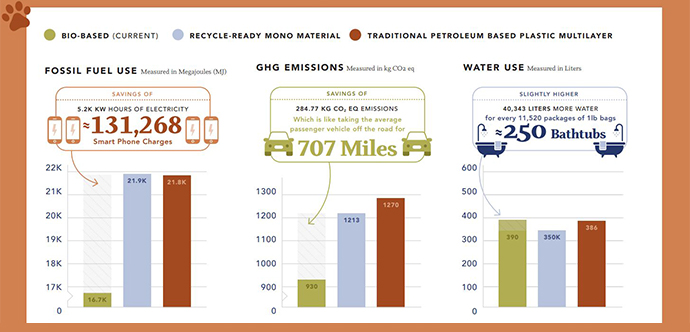 This means bio-based packaging films offer fossil fuel savings of approximately 5,200 KW hours of electricity, equivalent to an estimated 131,268 smartphone charges.
Bio-based materials emitted 930 kg of equivalent carbon dioxide (CO2), compared to 1,213 kg of CO2 emitted by recycle-ready mono material and 1,270 kg emitted by traditional petroleum-based material.
The difference here means bio-based films offer a reduction in greenhouse gas emissions by 284.8 kg of equivalent CO2.
The only category in which bio-based films had a greater environmental impact than the other two alternatives was in water use. Bio-based packaging require 390,000 liters of water, while recycle-ready mono materials require 350,000 liters and traditional petroleum-based plastic packaging requires 386,000 liters.
This means Earth Animal's bio-based packaging uses approximately 250 bathtubs full of water for every 11,520 packages of its 1-lb dog food bags.
However, this finding about water use led to another way for Earth Animal to reduce its packaging's environmental impact. By converting 10 1-lb bags to one 10-lb bag of dog food, the brand is able to save 31,188 liters of water and 4,707.2 kilowatt hours of energy.
As the research behind sustainable packaging continues to evolve, PSC reported it plans to revisit and update this LCA in the near future.
Read more about sustainability in the pet food and treat supply chain.