SAN FRANCISCO — V-planet, manufacturer of vegan and plant-based dog nutrition products, announced Oct. 27 it has added treats and dental chews to its product portfolio. The brand's new "plant-powered" biscuits and "breathbones" will be available everywhere v-dog products are distributed.
"Our cruelty-free vegan kibble provides dogs with a complete balanced diet, and now breathbones and wiggle biscuits give them plant-based variety and supplemental nutrients, including antioxidants, vitamins, healthy fats, potassium and more," said Lindsay Rubin, vice president of v-planet. "We're committed to giving our customers a full range of options so they can help their pet friends stay healthy, active and happy."
The company's dental bones are hard chews designed to freshen a dog's breath. They are available in two sizes: mini and regular. V-planet's new treat products, Wiggle Biscuits, are available in two flavors — peanut butter and blueberry — and are formulated with USDA-organic superfoods.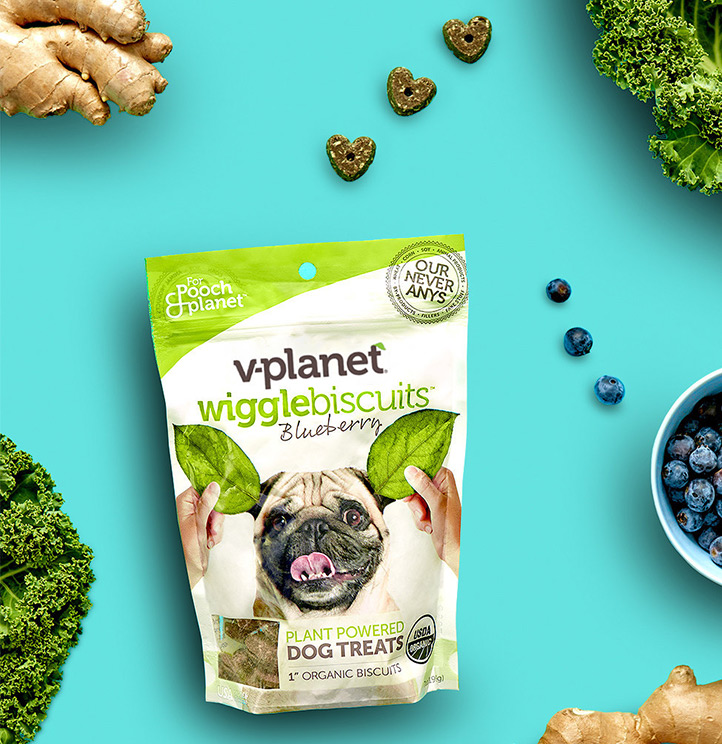 Both new products are manufactured in the United States with natural ingredients. They are free from wheat, corn, soy, gluten and animal products.
V-planet distributes product internationally, including to Canada, Australia, Hong Kong, Israel, Japan, Korea, Lebanon, New Zealand, Panama, Singapore and Thailand.
"V-planet's distributors are all seeing demand for more plant-based, cruelty-free and sustainable pet products rising," Rubin added. "We're continually working with them to grow and achieve long-term success so they can continue meeting the needs of their customers and their pets."
The brand announced Oct. 21 it has partnered with Vegan Supply to distribute its variety of vegan and plant-based dog food products to stores in Western Canada. This recent partnership will add v-dog food and treat products to in-store locations in Vancouver, Chinatown and South Surrey, as well as distribute products direct-to-consumer throughout the region.
"We are so thrilled we can now offer our vegan dog food products to pet parents throughout Western Canada," Rubin said. "Our launch into Eastern Canada two years ago was met with such enthusiasm, we decided to branch out into Western Canada as soon as possible. Our partnership with Vegan Supply gives the entire west coast of Canada the opportunity to feed their pets our tasty and pup-approved v-planet dog food."
Stephanie Nguyen, controller of Vegan Supply, added, "We've heard such amazing things about v-dog and v-planet over the years, and we're so happy to finally have their vegan products available for our customers. So far, our customers love it and are excited for more products to be available in Canada. V-planet has our stamp of approval."
Stay up to date on news about the pet food processing industry on our News page.