MUENSTER, TEXAS — A newly released documentary tells the story of Mitch Felderhoff, president of Muenster Milling Company, and his #30daysofdogfood challenge, in which he pledged to eat nothing but his company's dog food for 30 consecutive days in January.
The documentary, available on YouTube, details why and how Felderhoff consumed nothing but Muenster Milling's dog food for 30 days, and what came of the challenge for both the company and for Felderhoff.
"What prompted me to want to eat dog food for 30 days?" Felderhoff asked in the documentary. "…I don't really want to eat dog food for 30 days, but what we do want to do is we wanted to prove that we believe in what we do.
"It's not that it's a super healthy diet for people… we're doing it because we want you do know that we're not going to feed your dog something unless we've eaten it first," he said.
On day 20 of his dog food challenge, Felderhoff wrote in a company blog post, "I have 10 days left of dog food only, I'm down 20 pounds and feel absolutely fantastic. I haven't had a drop of alcohol or a cup of coffee in 3 weeks and feel better for it."
"I've never felt more confident in the products we're producing, or the team that's producing them," he continued. "I feel like I'm living the life I was meant to live, even if it means I'm eating dog food."
News of Felderhoff's efforts were picked up by both local and national media platforms. The publicity around his journey has also proved a valuable marketing tool for Muenster Milling.
"Documenting a journey as opposed to trying to create content has been the most impactful for us," Felderhoff told Pet Food Processing. "We struggle to "create" new content, and by documenting this process, we literally have 100+ hours of material to work with."
The company also received an influx of interest from international vendors.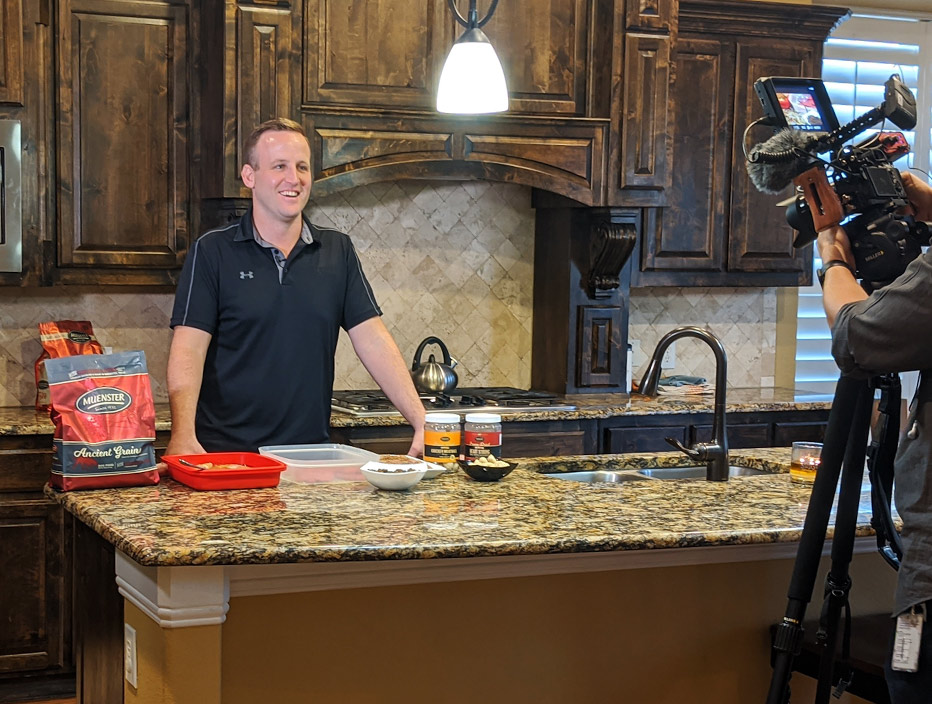 "We've been run over with requests from overseas to export product to them, and we had over 1 million impressions on several different Instagram posts in South Korea and Taiwan," Felderhoff said.
The 30-day dog food challenge also sparked some internal discussion that furthered the company's product development.
"Thanks to this, we focused and expanded our efforts on customizing bags of dog food," Felderhoff said. "[Eating dog food] got really, really boring, so we pushed to expand our capabilities on customizing bags of food as well as expanding our freeze-dried facility. We recently purchased three more freeze-dryers to help accommodate growth."
Not only did the 30-day challenge boost the company's marketing efforts; community partnerships were forged between Muenster Milling and a local no-kill animal shelter as a result of the campaign.
"We decided to find a way to use the exposure that we were getting to help others, so we channeled a lot of the attention to a local no-kill shelter and drove the highest adoption month ever for them," Felderhoff said.
His efforts even inspired some others to try Muenster's dog food for themselves, with Felderhoff estimating "close to 40 people" ate dog food with him throughout the 30 days.
In his transition back to eating human foods, Felderhoff said, "It hurt, but I didn't care. I missed food, good food especially!"
While a portion of the challenge was to back up the integrity of Muenster Milling's dog food products, Felderhoff says his own eating habits and overall health has changed after eating only dog food for 30 days.
"I typically eat, at most, two times per day now, but actually do a 24-hour fast once a week now, and four days a week I probably only eat one meal," he told Pet Food Processing.
Felderhoff and Muenster Milling documented the entire campaign on YouTube and social media. View the documentary and other 30 Days of Dog Food content on the company's YouTube Channel.
Read more about Muenster Milling Company in our exclusive processor profile from September 2019.