This article was published in the March 2020 issue of Pet Food Processing. Read it and other articles from this issue in our March digital edition.
Efficiency of drying equipment is a primary concern for pet food and treat processors. To answer customer demands, dryer manufacturers are developing new advancements in technology that improve cost and energy efficiency. Key areas of focus include accuracy, homogenization and utilization of real-time data.
"Customers want to feel confident about reaching target moisture levels with accuracy, according to a set of defined processing parameters," said Dave Carney, area sales manager, Bühler Aeroglide Corporation, Cary, N.C. "These include product temperature, process air temperature, retention time, and air velocity. Any deviation can impact product characteristics and food safety, leading to loss of product, energy, and profit."
Daniel Tramp, technical sales, companion animal division, Wenger Manufacturing Inc., Sabetha, Kan., agreed on the importance of accuracy in the drying process.
"The ability to be able to target a certain moisture percentage, reach that moisture percentage, and know that it is consistent across the product is highly desired," he said.
Uniform and consistent drying is critically important.
"At the end of the drying process, product must come out of the dryer with the same final product parameters," said Dieter Zopf, vice president, sales, Middleby Pet Food Processing, Elgin, Ill. "For that to happen, you need an optimal drying curve."
Radio Frequency Company, a manufacturer of advanced industrial radio frequency processing systems, manufactures post-baking dryers designed with product consistency and uniformity in mind.
"Radio Frequency drying has the unique capability to preferentially heat the moist interior of a product with 100% efficiency and creates a uniform moisture profile throughout the thickness of a baked product," explained Tim Clark, president and chief executive officer, Radio Frequency Company, Inc., Millis, Mass.
Utilizing real-time data
Equipment that utilizes real-time data offers tangible benefits for pet food and treat processors.
"Many of our customers require process transparency, and they are finding that being connected to a solution provider's expertise, using a collection of real-time data, allows them to take advantage of full-time process knowledge," Carney explained. "A digital service like Bühler Insights will send the operator a warning should a process interruption occur. This might happen because of a change in temperature, moisture, or time retention. Or, perhaps a burner goes out. Actionable insights enable the operator to take corrective actions when needed."
"The ability to monitor drying effects on the product in as close to real-time settings as possible and make appropriate adjustments based on this data allows processors to maximize efficiency," said Adrian Martinez-Kawas, Corporate Project Services.
Adrian Martinez-Kawas, international project manager, Corporate Project Services, a division of Wenger, added, "The effects of real-time, data-loop feedback cannot be understated. The ability to monitor drying effects on the product in as close to real-time settings as possible and make appropriate adjustments based on this data allows processors to maximize efficiency."
Evaluating efficiency
There are several ways in which efficiency can be evaluated in the drying process of pet food and treats.
"We evaluate efficiency based on our modeling of energy requirements and actual results, a calculation that measures product temperature at the inlet and the outlet. We also factor in the ambient air temperature versus the exhaust air temperature, and the amount of moisture in the exhaust air," Carney said.
Measuring these variables is an important step in identifying cost-saving opportunities.
"Much of what is defined as efficiency in the drying process can be judged based upon costs," Tramp said. "This can include items such as utilities and fines creation but can also include over-drying scenarios where profit is literally flowing out of the exhausts."
Repeatability is a large part of the over-drying scenario, added Martinez-Kawas.
"Improving repeatability allows the operator to comfortably move his or her target moisture levels up toward the theoretical target moisture levels, which in turn allows for more moisture retention and greater profitability via the concept that moisture retained internally to the product is cheaper on a per unit basis than the other ingredients within the product," he said.
Improving cost and energy efficiency
Achieving high levels of cost efficiency is directly tied to a processor's bottom line.
"For years, the best way to measure dryer efficiency has been to evaluate the dryer itself," said Paul McKeithan, head of digital services, Bühler. "Now, we can marry data with operating tasks to achieve a true engagement, with real results that can improve costs."
Guiding and reusing air from the drying process is another strategy for improving cost efficiency.
"Air can be taken back and reused after it runs through the drying process," Zopf explained. "Hot air can be reused for drying, or for other processes such as heating water. This allows you to get the maximum usage out of the energy you put in."
Similarly, automation can have a huge impact on overall cost efficiency.
"Automation in general has greatly affected drying efficiency," Tramp said. "Sensors which read air temperatures and moisture rates that are tied to modern automation systems allow for the maximization of moisture retention per volume of air by controlling exhaust air flow rates."
Inline sampling is also tied to improved cost efficiency.
"Recent advancements in real-time, inline sampling allow for optimizing the timeframe for making appropriate drying adjustments," Martinez-Kawas added.
Maximizing energy efficiency is another key concern for pet food and treat processors. This can be achieved by taking steps to continually improve the drying process.
"During site evaluations, field engineers inspect the product and review control parameters and operation reports," McKeithan said. "They apply decades of industry experience to improve the process and maximize energy conservation. But now that a processor can be constantly connected to a solution provider's expertise, access to a collection of real-time data means improvements can be made automatically."
ALKAR, a division of the Middleby Food Processing Group, has placed particular emphasis on improving energy efficiency. The company just introduced a new continuous linear oven, the TurboChef by ALKAR which utilizes a combination of microwave energy, convection heating (dry bulb) and humidity control (wet bulb) concurrently. Microwave energy heats the product from the inside out, convection air flow cooks the product on the outside. Steam is used as a kill step for biogens and to fine tune coloring of the product. The oven's cook zone is 11 ft. within the compact unit length of 20 ft.
"The size of the oven provides another competitive edge because it takes up less space and requires less energy than comparable lines," Zopf explained. "Product cook times are reduced anywhere between 35% and 80%, significantly reducing energy and space consumption in plants."
Impact of the drying stage
The drying stage of pet food and treats has a significant impact on overall process efficiency.
"The way the dryer is operated and managed can impact product safety and profits," Carney said. "Any variation, from shift-to-shift, day-to-day or week-to-week, can have a major impact."
Some aspects of the drying stage that relate to overall process efficiency are often overlooked.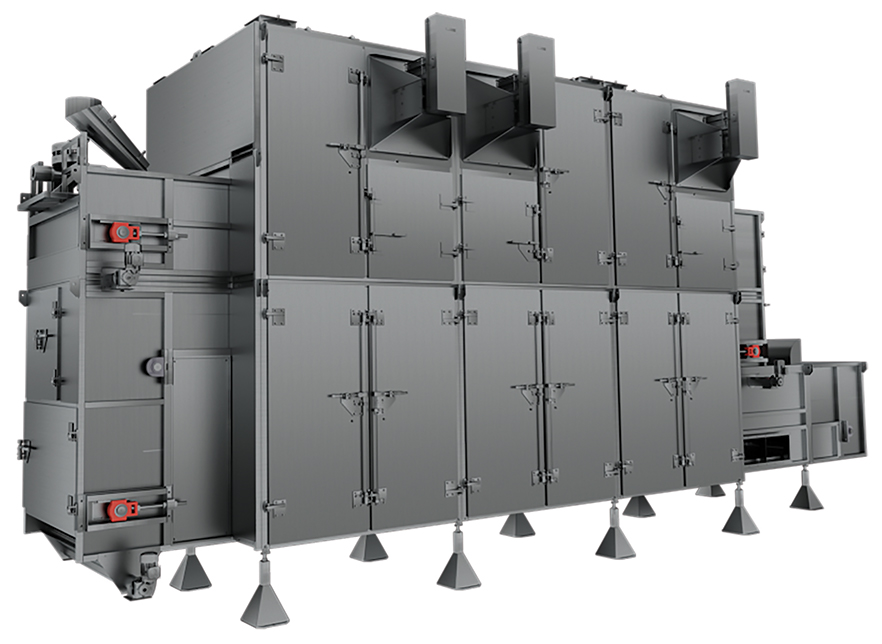 "Proper dryer sizing is an underrated aspect of overall process efficiency," Tramp said. "If a dryer is too small, maximized profitability may not be realized due to limitations on output.  Whereas if the dryer is oversized, the duration of adjustments to drying attributes may be lengthened which may adversely affect overall efficiencies."
Another consideration for processors is the number of drying passes that are needed. This can be determined by several factors, including target moisture content and specific product attributes.
"Some of the criteria include moisture of incoming product, target moisture of outgoing product, and specific recipe needs or attributes," Tramp explained. "Another consideration may include product integrity and durability concerns. In some cases, it is highly desirable to 'flip' the product multiple times on a multi-pass dryer. But in some cases, it may be important not to disturb or move the product, which bodes well for the single pass dryer system."
There are several considerations for processors looking to optimize drying processes. Thanks to equipment innovations, automation technology and the development of modern best practices, there are also several ways pet food and treat manufacturers can ensure consistency and efficiency, including by asking suppliers for their expert advice.
Find more articles related to pet food processing equipment on our Equipment page.