The first Hill's Pet Nutrition formula was developed, canned and shipped from the basement of veterinary professional Dr. Mark Morris Sr. in the late 1930s. Nearly 40 years later, in 1976, the Colgate-Palmolive Company purchased the pet food maker and transformed it into what it is today. 
Hill's Pet Nutrition's mission is "to help enrich and lengthen the special relationships between people and their pets." The pet food company invests heavily in research and development to optimize the health benefits of its products, most recently breaking ground on a pet nutrition facility in Topeka specifically for studying small dog nutrition. Hill's employs more than 220 veterinarians, qualified nutritionists and food scientists for its product development and research initiatives.
The company also operates a 180-acre global Pet Nutrition Center, where it feeds, analyzes and cares for approximately 900 total dogs and cats. Employees test everything from the quality of ingredients to kibble density and palatability, as well as the effects they have on their well-fed residents.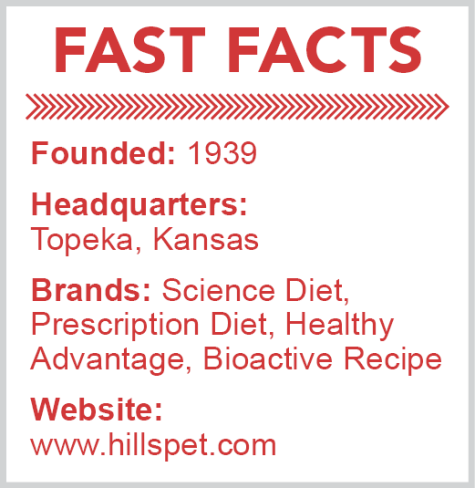 "We are always investing in research and development to serve the nutritional needs of pets as well as learning from veterinarians, customers and caregivers through their experiences," said Jesper Nordengaard, president of Hill's Pet Nutrition.
This science-backed approach to nutrition translates to its product offerings. Hill's Healthy Advantage line is exclusively sold through veterinarians, and its Prescription Diet and Science Diet lines are often recommended by veterinary professionals for animals with specific health issues or concerns. These range from skin and food sensitivities to digestive health and joint support.
In March 2019, Hill's rolled out new package designs, sizes and formulations across its Science Diet line, as well as a home-delivery service for pet owners purchasing prescription diets through veterinary clinics. The brand's new packaging features photos of shelter animals on the front and a simplified message about the product's health benefits in order to connect with pet owners on a more emotional level.
As one of Colgate-Palmolive's 31 subsidiary brands, Hill's Pet Nutrition is leading the way with environmentally friendly initiatives. For example, Hill's operates the first three Colgate-owned facilities to achieve Zero Waste to Landfill status. The pet food manufacturer's sustainability efforts include working to responsibly source ingredients and reduce its operational footprint. It announced earlier in 2019 that it hopes to make all product packaging 100% recyclable, reusable or compostable by 2025, and to use at least 25% recycled content in the production of its pet food packaging.
Read other pet food and treat company profiles featured in our 2019 Resource Guide.