ORLANDO, FLA. — The American Pet Products Association (APPA) debuted the results of its third pet ownership generational report at Global Pet Expo Feb. 27. The report offers a generational perspective of the association's 2019-2020 pet owner survey data.
APPA's pet ownership survey began in 1988 and captures data about pet ownership, pet care and pet product purchasing behavior. The main objective is to monitor consumer habits to identify new trends and new opportunities in the pet care market.
The new generational report focuses on pet ownership in the United States and includes Builders born between 1924 and 1945, but primarily looks at Baby Boomers born between 1946 and 1964, Gen Xers born between 1965 and 1980 and Millennials born between 1981-1996. For the first time, the report also provides data on the Gen Z population between the ages of 18 and 23 who are just coming into adulthood and establishing themselves as pet owners.
According to APPA's research, 67% of US households own some type of pet. Taking a look at the specific species owned, 50% of US households own a dog, 34% have a cat, freshwater fish is next with 9%, and then the other species — bird, small animal, reptile, saltwater fish and horse — are all owned by 5% or less of households. Using these percentages and the total number of US households from US Census data, APPA estimates there are 84.9 million pet owning homes in the US with 63.4 million owning dogs and 42.7 million owning cats.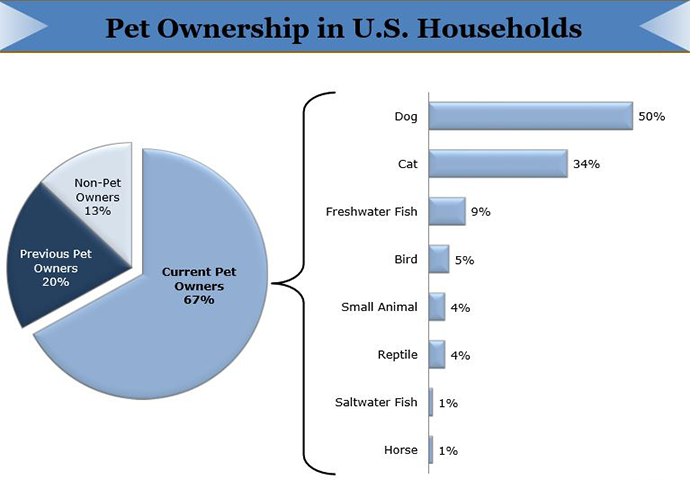 "From a generational perspective, Millennials are the largest segment of pet owners for every species in the survey. They also account for more than a third of freshwater fish, bird, small animal and reptile owners," said Julie Springer, market research analyst for APPA. "For the first time, the survey looks at Gen Z pet ownership, which shows a higher percentage for small animals and reptiles — the more starter or gateway pets. This generation will be interesting to watch in the coming years as they get a little older and more of them are included in the pet ownership survey."
Gen X and Baby Boomers have very comparable levels of ownership for dogs, cats and birds, but ownership of fish, small animals, reptiles and horses is starting to taper off among Baby Boomers.
Taking a look at ownership trends by generation, Millennials are the largest overall group of pet owners with 31% of the total. They clearly favor dogs with 82% of pet owning Millennials report having a dog. Half of Millennials say that they have a cat.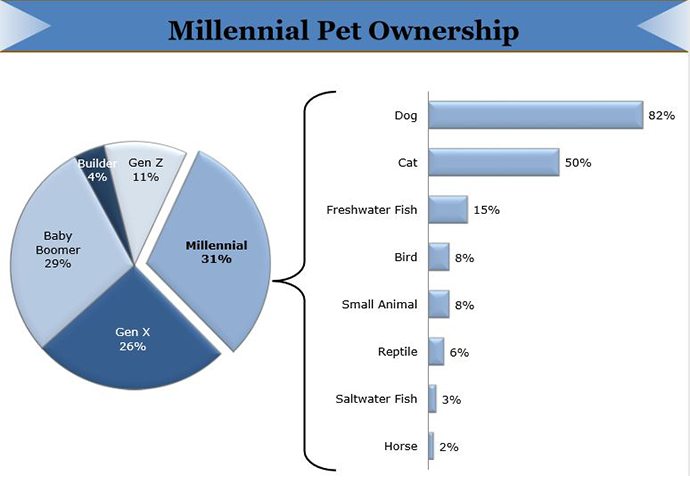 Gen Z is still a relatively small cohort of pet owners at just 11% of the overall total. Dogs are clearly the number one pet type owned with 81% and Gen Z cat ownership was reported to be 43%. Gen X pet owners account for one quarter of the current pet owners, of which 74% own dogs and 53% own cats.
Among Baby Boomer pet owners, 67% have a dog and 50% own a cat. Understandably, Builders represent the smallest pet owner generation primarily because they are getting past the age of wanting to own pets. Among these pet owners, dog ownership is 58% while cat ownership remains consistent with the levels reported by the other generations at about 50%.
The survey collected demographic information from respondents that included gender, income, ethnicity, household size, home ownership, if children are in the home, as well as marital and employment status. An interesting data point to note is the general urbanization of society has one quarter of pet owners living in urban areas with five million or more people. The overall gender split for the survey was 44% male and 56% female.
In addition to demographic information, the survey presented respondents with a series of psychographic or personal attitude statements to provide a more in-depth understanding of the different segments of pet owners.
Questions related to the purchasing of pet products revealed some notable generational differences. Buying products made in the US is important to 66% of Baby Boomers and Builders, 59% of Millennials and 44% of Gen Zers. Ethically sourced, eco-friendly and BPA-free pet products are all more important to Millennial pet owners than to the other generations.
When respondents were asked how they learn about new pet products, browsing the store was named by more than half of all the pet owners and that's regardless of the generation. However, that was not the top source for either Gen Z or Millennials. Close to 60% of younger pet owners get their new pet product information from the internet. They are also more inclined to learn about new pet products from pet store personnel than we see with older pet owners.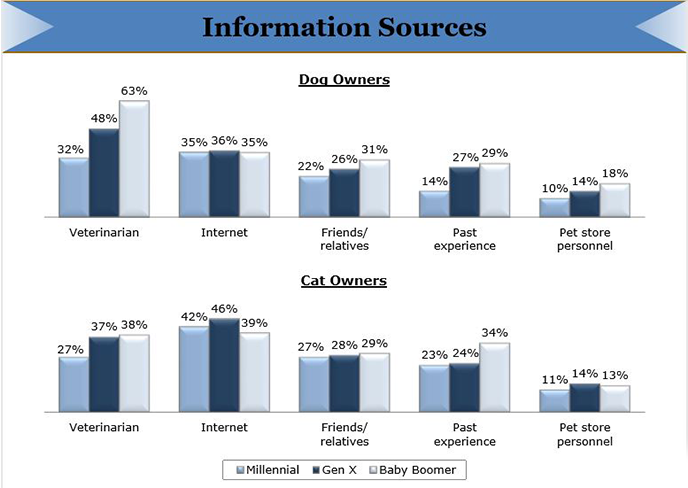 When identifying online sources of information, Gen X, Baby Boomers and Builders favored pet product company websites. Social media platforms ranked high among the younger pet owners with more than 50% of Millennials and 42% of Gen Z pet owners citing Facebook as a source. Additionally, 50% of Gen Zers and 47% of Millennials say that YouTube is their source for online pet product information.
"When it comes to actually purchasing pet products online, Millennials lead the generations for all items; 70% purchase food and treats online, 66% purchase other supplies and 53% purchase pet medications online. Millennials are followed pretty closely by Gen Z and then Gen X in terms of purchase levels. Online purchasing of pet products among Baby Boomers and builders tends to taper off to less than half of those populations," Springer said.
Another new question in the current survey asked respondents which of their online purchases are subscription based. More than a third of Millennials who purchase food for their pet online do so using a subscription and food is the item purchased most often by subscription, followed by treats.
In looking at generational differences based on the type of pet owned, Millennials are more likely than Baby Boomers and Gen Xers to go to the vet to get food or treats for either their dog or their cat than the older generations.
Millennials also represent a higher percentage of natural dog food and dog food mixers or toppers purchases. For both dog and cat food, a higher percentage of Millennials bought food that featured novel proteins and environmentally friendly packaging, as well as human-grade, non-GMO and humanely sourced ingredients. For cat food specifically, Gen Xers beat out Millennials with a higher percentage reporting they purchase foods with locally sourced ingredients.
Among dog owners, the brand name of pet products is top of mind for the majority of Millennials with 35% saying brand name is very important and 44% saying it is somewhat important. Among cat owners, 30% of both Millennials and Gen Xers say that brand name is very important to them. Baby boomers are the least likely to be concerned with brand name when they are purchasing products for their pets.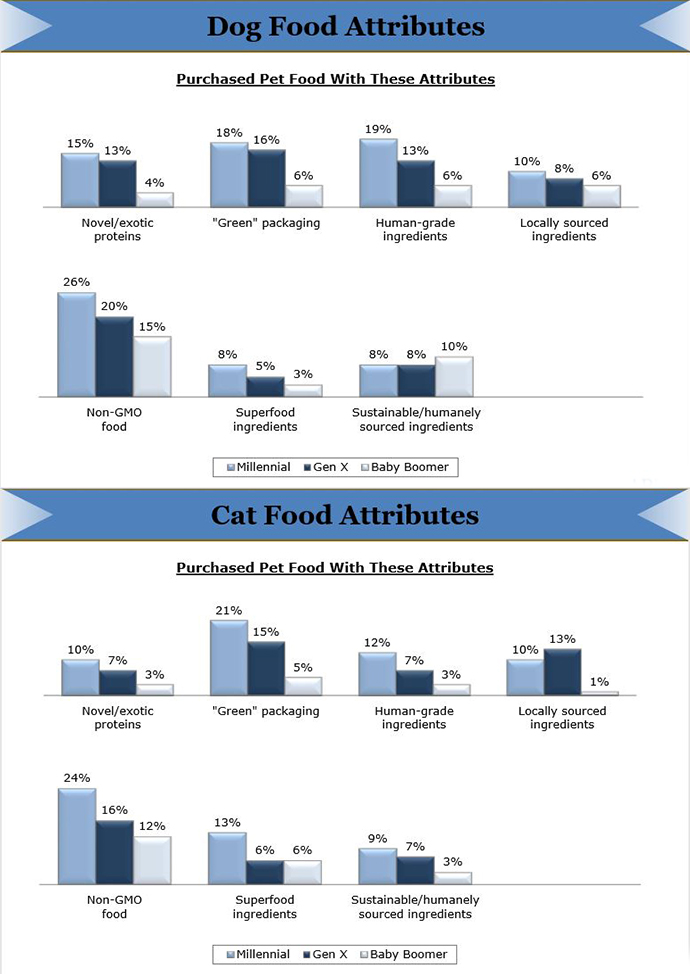 While purchasing preferences of Millennials favor much more than brand name, the data points available are too numerous to share here. The sheer size of this generational group makes them an important category to understand.
"Millennials are firmly established as the largest group of pet owners and we will continue to study their habits to understand them as pet parents and pet product consumers, but let's not forget that Gen Z is up and coming and it's going to be really interesting to see how they develop as pet owners in the coming years," Springer said.
The current APPA pet owner survey was conducted by The Engine Group and utilized an online survey. The sample is nationally representative based on census target data points. Out of 15,000 completed screener questionnaires, 10,000 reported being current pet owners. Pet owner respondents were directed to one of eight modules based on the type of pet they own that included dogs, cats, freshwater fish, saltwater fish, birds, small animals, reptiles and horses. The final data includes 3,400 completed pet owner surveys. One of the changes in the most current survey is the increased number of completed results by animal type. Data for cats, freshwater fish, saltwater fish, birds, small animals and reptiles all represent increased sample sizes.
APPA's complete generational report as well as its full pet ownership survey is available to members through APPA's new online data portal. Users can create custom reports from APPA's online data. Another new tool available only to APPA's members is APPA Global Insights. It offers market overviews, trends, forecasts and drivers in dog, cat and other pet food, pet health care, pet products, cat litter and dietary supplements on 13 international markets as well as the US that can assist in market development and trade expansion plans.
Stay up to date on news about the pet food processing industry on our News page.