ORLANDO, FLA. — After attending Global Pet Expo in February, it's clear that the use of hemp-CBD in pet products, from treats and tinctures to topical creams and even collars, is more than a fad. This lasting trend is becoming a category of its own in the pet industry, despite a potentially precarious regulatory environment.
During the show, Maria Lange, pet and cannabis research specialist for Nielsen Global Connect, leveraged industry data to weigh consumer sentiments with regulatory barriers in her presentation on the current and future hemp-CBD pet product market.
Planting the seed
The hemp-CBD consumer packaged goods (CPG) market is an emerging and complicated landscape. Given the often-misunderstood distinction between hemp and marijuana — and a wide range of legal standards varying from state to state when it comes to THC products — a general lack of understanding, research and regulation continue to hinder growth in this category.
"Hemp seed and oil which is 100% legal today in the US, being used in a lot of food products, but then when it comes to hemp-CBD, there are a lot of regulations around it still, even though, from a cultivation point of view, it is federally legal to grow and produce hemp across the US," Lange said.
The issue lies with a lack of research and regulation surrounding ingestible products for both humans and pets. Lange explained that while the Farm Bill made it legal to grow hemp in the US, it is separate from the US Food and Drug Administration's Food, Drug and Cosmetic (FDC) Act, which dictates what can and cannot be used in food products, supplements or medicines.
"This is still an illegal space, as of today," Lange cautioned.
The FDA has classified the use of hemp-CBD as not Generally Recognized as Safe (GRAS), and the Association of American Feed Control Officials (AAFCO) did not approve hemp-CBD for use as a feed ingredient after updating its guidelines in 2019, Lange said.
She added that AAFCO and the FDA are in large part relying on the pet industry to provide research that proves the use of hemp-CBD is safe and effective in companion animal products.
"There's a lot of research out there already and certainly more research is needed to really back it up and also lift the veil on the legislative side but, again, a lot of it shows that this is going to be a trend based on the research that's already out there," Lange said.
Most recently, a bi-partisan bill is making its way through Congress to approve the use of hemp-CBD in dietary supplements for humans. It could take until the end of 2020 for the bill to be passed, Lange projected, but she said it is a step forward for the industry and should serve as a sign of optimism for future discussions on hemp-CBD in the pet industry.
Watching it grow
The illegality factor, however, has not been reflected in a slowdown of CBD products available on the market, the sale of those products and consumer interest in the category, including in the pet space.
In the presentation room, approximately 75% of audience members raised their hand when Lange asked if they had ever given their pet a hemp-CBD product.
Lange said that she received an estimate from the American Pet Products Association (APPA) that at least 60 pet brands were offering hemp-CBD products throughout the Global Pet Expo show floor.
The growth of CBD products in the US marketplace in general has been staggering. In 2016, there were less than 500 stores offering CBD products for humans and/or pets in the Food, Drug and Mass (FDM), convenience and pet channels, according to Lange. That number grew 642% in 2017, jumped 866% from 2017 to 2018 and increased by another 198% between 2018 and 2019.
According to a joint study between Headset and Nielsen Global Connect, approximately $5.5 million hemp-CBD pet products were sold through dispensaries in California, Colorado, Nevada and Washington between the first quarter of 2018 and the third quarter of 2019.
Nielsen projects the hemp-CBD category — including hemp-derived CBD products that contain no more than 0.3% THC — to grow to $6 billion by 2025, and estimates pet products will account for 3% of those sales, which would come out to approximately $180 million in revenue.
A CannaUse Study conducted in 2019 asked 3,500 adult pet owners, who said they are likely to give their pet hemp-CBD in the next 12 months, what ailment or symptom they would aim to treat with the product. Among them, 48% said they would use it to treat back or joint pain, 41% said episodic anxiety or stress, 39% said chronic anxiety or stress, 38% said arthritis and 32% said to promote general health and wellness.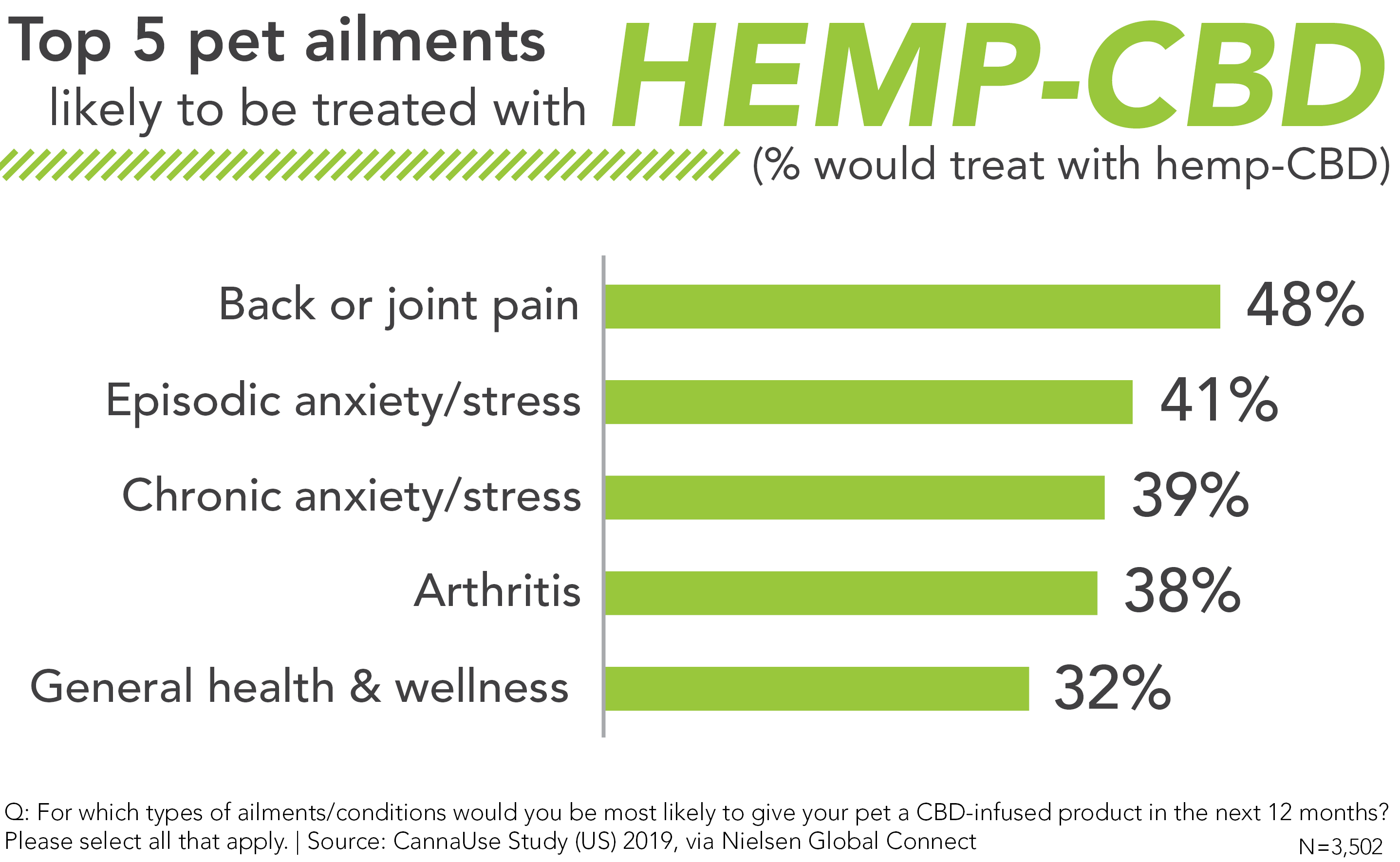 In the pet specialty retail channel, sales of hemp-CBD products have grown tremendously since 2016, starting at just $163,000 in sales and growing to nearly $9 million in 2019, Lange said.
Data shows that pet owners are most likely to purchase hemp-CBD pet products through the pet specialty channel or from retailers who specialize in selling CBD products. In 2019, Nielsen fielded a study of 3,502 pet owners who are likely to give their pet a hemp-CBD product in the next 12 months. Results showed 48% would go through a pet specialty channel, with the next most likely choice being a CBD-specific source (28%), such as a dispensary or CBD store.
A breakdown of product types from a sample of 40 different brands in the hemp-CBD pet product space shows 46% are classified as treats, 30% are tinctures, 10% are powders, and another 14% are topicals, gels, shampoos, spreads, bars, sprays or some other form.
But does it work?
One of the biggest barriers to hemp-CBD products is the question of efficacy.
"There are lots of barriers why people are shying away from trying hemp-CBD," Lange said, especially as some people continue to view it as an illicit drug until it is declared legal on a federal level. "The No. 1 barrier is, it's too hard to gauge the effectiveness for these types of products."
More research is needed to determine the concrete effects of hemp-CBD on pets and, what's more, each pet will react differently depending on size, breed, age and other physiological and biological factors, similarly to the effect of CBD in humans, Lange added.
However, Lange said she also sees this as "probably one of the biggest opportunities in the pet industry for retailers and manufacturers alike to really help educate," the public and legislators about the proven effects of hemp-CBD.
Additionally, Lange explained that most of the negative sentiments Nielsen found to surround the purchase of hemp-CBD pet products, which it aggregated from online product reviews, were related to cost, convenience, quality and effectiveness.
Currently, hemp-CBD dog treats cost on average three-times as much as a regular dog treat.
"If we're looking for this to be a larger trend in the future, we certainly need to figure out how to close the gap here," Lange said.
A trend to watch
To close out her presentation, Lange offered a list of "key triggers" what will likely play a role in the future of the hemp-CBD pet product market going forward.
These triggers include regulatory approval, which would in turn drive distribution, education and revenue; a consensus among veterinarians about the efficacy of hemp-CBD, as well as research on which to base marketing claims; the price gap between non-CBD and CBD products; private label proliferation in the hemp-CBD pet space; the recognition of CBD as a functional ingredient; and the ability for hemp-CBD pet brands to convert consumers who are already using human CBD for themselves or their pet, or willing to try hemp-CBD pet products.
"We need some sort of regulatory approval. As long as the FDA keeps the veil on the ingestible products, I think it's going to be really hard for this to take off," Lange said.
"We need some sort of regulatory approval. As long as the FDA keeps the veil on the ingestible products, I think it's going to be really hard for this to take off," Lange said.
Moving forward, Lange said Nielsen will continue to expand its data collection on the hemp-CBD pet market, including an upcoming study on how many veterinarians, depending on their geographic location in the US, would recommend a CBD product over a pharmaceutical product to a pet owner.
"Certainly, this is a trend to watch," Lange concluded.
Keep up with the latest pet food trends on our Trends page.