ORLANDO, Fla. — Last week, the global pet industry gathered under one roof at the Orange County Convention Center for Global Pet Expo 2020, co-hosted by the American Pet Products Association (APPA) and the Pet Industry Distributors Association (PIDA).
The trade show took place Feb. 26 to 28 in Orlando and welcomed buyers and exhibitors "from 80 countries around the world," said Andy Darmohraj, executive vice president and COO of APPA.
According to APPA's most recent pet spending data, US households spent $36.9 billion on pet food and treats alone in 2019, making up approximately 39% of total pet market spending and reflecting a 7% increase from 2018, and putting the market on track to reach $38.4 billion by the end of this year, APPA projected.
This steady growth encourages product development and innovation as the market becomes increasingly crowded and consumer demands continue to evolve. Throughout the show floor, Pet Food Processing noticed these five new product trends that seem to be driving the market forward, among several others.
Grain-friendly
In 2019, grain-free diets took a hit as the US Food and Drug Administration (FDA) continued collecting information on cases of dilated cardiomyopathy (DCM) in certain breeds and theorized a potential connection to diet.
In response, many brands have reintroduced or restated the importance of grains in a pet diet, with several products calling it out on the label with claims such as, "with wholesome grains," "grain-inclusive," "intentional grains" or "grain-friendly." Additionally, some brands are formulating complementary grain-free and grain-inclusive diets within the same product line in order to give consumers the variety they demand.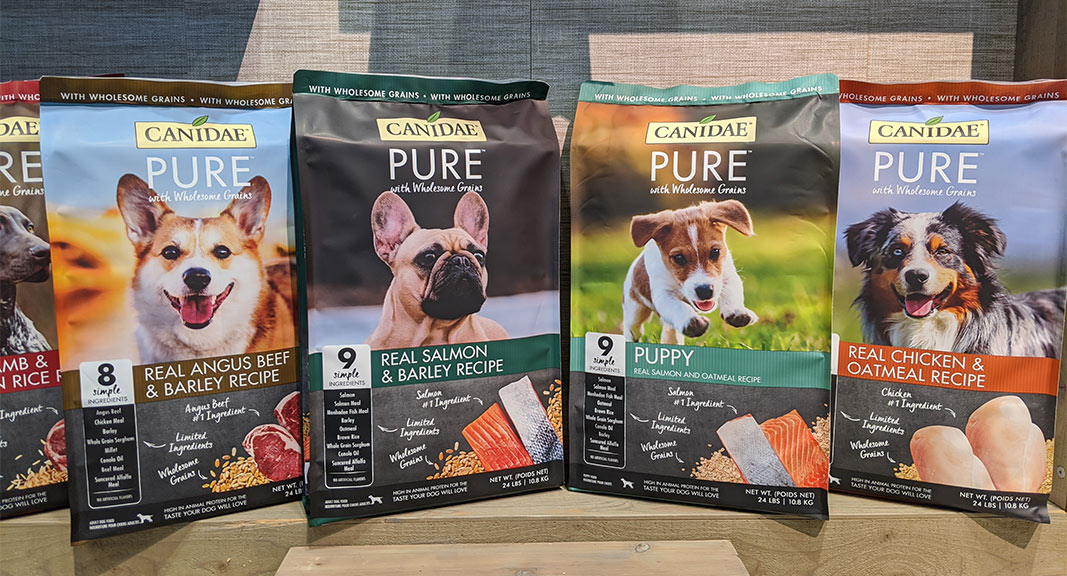 Some examples include Natural Balance adding three grain-inclusive formulas to its limited ingredient dog food line; Merrick releasing Full Source, a new line of complete-and-balanced dog foods that includes grain-free and grain-friendly options; Canidae adding several dog diets to its PURE line that include wholesome grains such as oatmeal, barley and brown rice; and "I and love and you" brand offering dog formulas with ancient grains such as millet and sorghum.
Solutions-based products
Modern consumers are investing in functional products for themselves and their pets, whether it be a life-stage formula, a performance supplement or a diet designed to target a specific health issue. 
Blue Buffalo is releasing a new line of functional formulas exclusively for the pet specialty channel, which features solutions-based benefits such as L-carnitine and less fat to maintain or lose weight, prebiotic fiber for high digestibility, Omega 3 and 6 fatty acids for skin and coat health, and glucosamine and chondroitin for mobility support.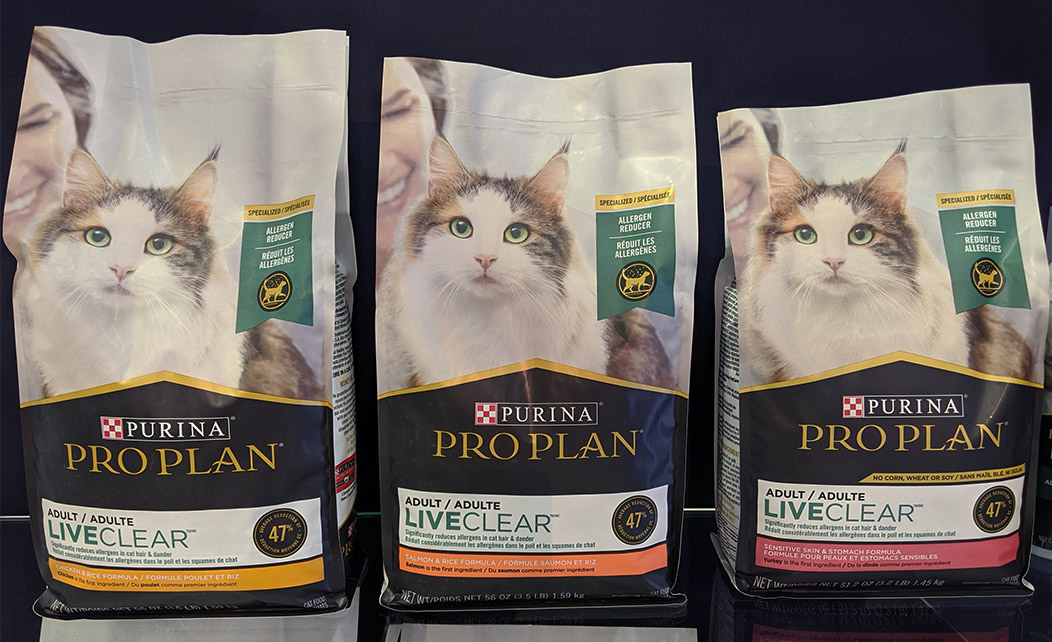 Additionally, Purina debuted a veterinary formula to inhibit a major cat allergen originating in feline saliva, Fel d1. The formula includes an egg-based ingredient that contains Fel d1 antibodies and claims to have a 47% success rate after three weeks of feeding.
Petcurean added skin and coat formulas to its GO Solutions line and also added a new salmon small bites recipe to its GO Sensitivities line.
In general, the use of hemp oil and cannabidiol (CBD) in pet supplements offers health benefits and could be considered solution-based as a supplement. However, the future of these products is uncertain as they remain federally unregulated.
Different formats, same formulas
Rotational feeding has gained popularity among pet parents and can be recommended for some animals to achieve optimal nutrition and hydration. To cater to this, brands have started to formulate multiple formats of the same essential formula, offering a dry and wet option of the same product, and sometimes even a treat option as well.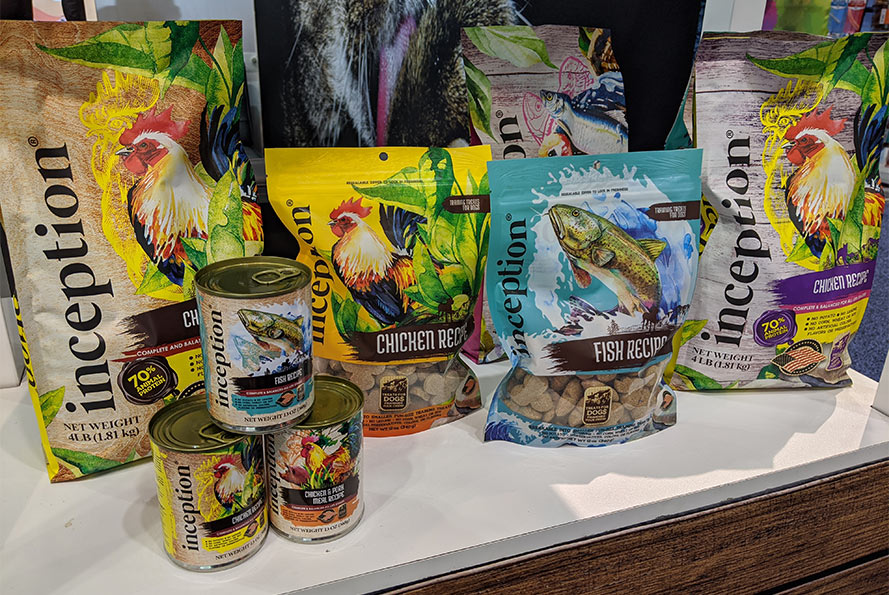 Pets Global seems to be taking this concept in stride across its many brands, including Zignature dog foods, Essence and its newest line, Inception. The company recently added wet diets to Inception to complement its initial dry foods and is just now beginning to add complementary treats to the mix.
Ziwi Peak debuted a new line of complete-and-balanced diets for cats and dogs, Provenance, which features complementary dry and wet foods. The line features three overarching formulas, each including multiple protein sources; for example, the Provenance Ortega Valley formulas include beef, venison, lamb, southern blue whiting and hokey as its main sources of animal ingredients.
Whole-animal nutrition
Speaking of animal proteins, many brands are homing in on animal-based proteins and the utilization of other animal by-products, such as organs, cartilage and bone, with some companies including the whole animal or as much as possible.
Meat Me, a raw pet food company, is developing dog and cat diets that include all parts of the animal, with the exception of certain parts such as chicken beaks or feet.
Instinct has come out with new dog and cat diets that are freeze-dried, include 85% meat ingredients, and contain organ and bone ingredients to optimize the amount of animal-based ingredients.
Merrick's new Full Source raw-coated kibbles for dogs are also freeze-dried and include organs and cartilage from lamb and venison, salmon and whitefish, chicken and duck, and beef and bison.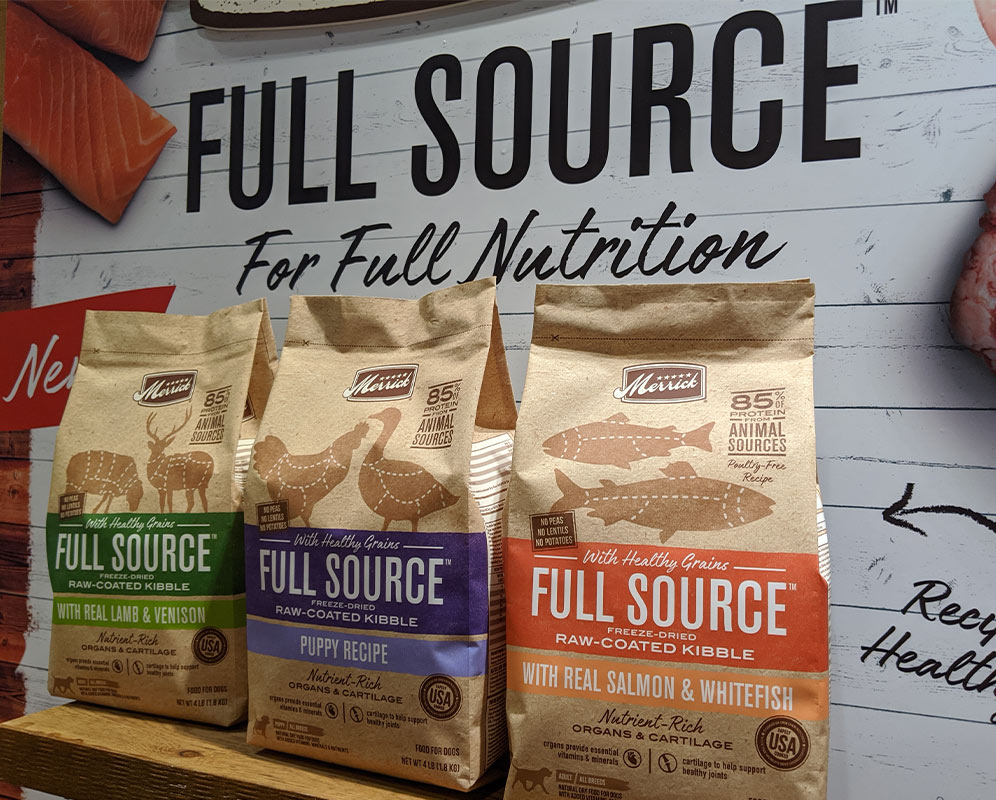 Additionally, we've seen more and more brands begin to call out the exact percentage of ingredients on their labels, drawing attention to the amounts of animal-based or fresh-meat protein in their products.
As one example, Tiki Pets' new Dark Pâté wet diets include at least 95% protein from meat ingredients. Nulo released a new complete-and-balanced line of kibble, Challenger, that offers between 83 and 87% animal protein in each diet.
'Lickable' treats and wet options
We observed an apparent trend toward wet pet foods and treats in our coverage of Global Pet Expo trends from 2019, which has continued momentum and is now showing up in a variety of ways, including mousse textured supplements, frozen treats, bone broths and novel canned foods.
Caru Pet Food added Smoothies to its Daily Dish line, which are wet treats that can be fed straight from the tube, over kibble as a meal enhancer or poured into a dish. The Daily Dish line also includes bone broths and wet "stew" diets for cats and dogs.
Dogswell launched a performance supplement for dogs, which is a crossover into the functional trend also seen at the show. Tiki Pets, another Whitebridge Pet Brand subsidiary, displayed new mousse treats in the New Product Section that also boast functional claims, such as skin and coat health, digestion support and a "light trim and fit" option for weight control.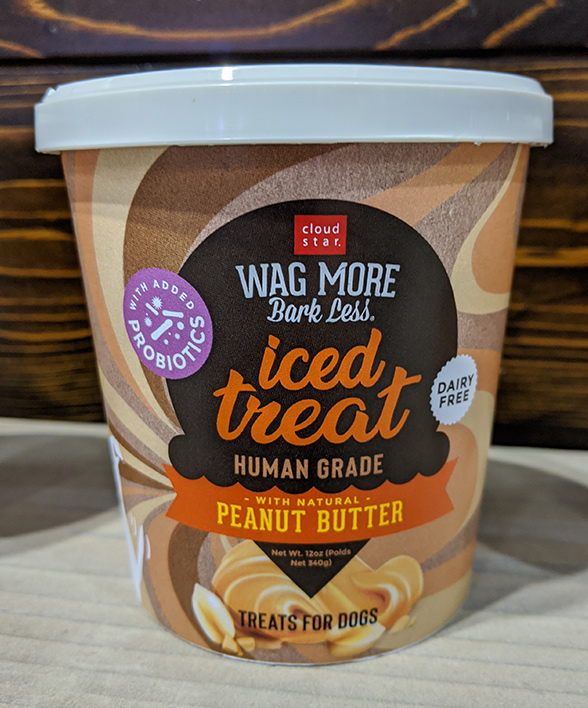 Cloud Star dipped into the fresh and frozen trend to debut Ice Treats, a dairy-free human-grade frozen coconut treat for dogs that will be available this spring.
Merrick introduced a line of regional barbeque-inspired wet dog foods, featuring Kansas City, North Carolina, Memphis and Texas barbeque flavors. It also added bone broths in chicken, turkey and beef following the success of its cat broths under its Pristine brand.
In addition to these treat and topper trends, a general shift toward transparency is occurring in this space. This includes treats that are very limited-ingredient and display the full list of ingredients on the packaging.
Of course, with a show floor of more than 1,000 exhibitors, there are several other trends shaping today's pet food and treat market. Stay tuned for a slideshow of new products and innovations seen at Global Pet Expo 2020.
APPA announced next year's Global Pet Expo will be held March 24 to 26, 2021, in Orlando.
Keep up with the latest pet food trends on our Trends page.