This article was published in the December 2019 issue of Pet Food Processing. Read it and other articles from this issue in our December digital edition.
According to Nielsen Pet Retail data from the fiscal year ending June 2019, traditional shelf-stable wet pet food has lost ground to the fast-growing fresh and raw pet food segment. Frozen wet product gained 8.8% in sales since 2018 and refrigerated sales grew a substantial 21.5%, the report stated. This means the market for refrigerated and frozen pet food and treats is growing to meet consumer demand and there is room for more profit to be made.
Consumers are looking for better ways to feed their pets healthier, higher-quality food, says Jake Trainor, director of marketing and head of e-commerce at Freshpet, Secaucus, New Jersey. "This is driving strong growth in the refrigerated pet food category and certainly for Freshpet, as the pioneer of the fresh/refrigerated segment," he says. "We see a continued shift away from people feeding overly processed pet food." Trainor says Freshpet makes its natural recipes in its Bethlehem, Pennsylvania, kitchens with fresh whole ingredients that are steamed in small batches at lower temperatures to retain essential vitamins and nutrients that pets need.
"We see a continued shift away from people feeding overly processed pet food," says Jake Trainor, Freshpet.
Evan Shuster, vice president of marketing for Open Farm Inc., Toronto, says he's seeing an increased interest in pet food solutions that reflect values in human food. "This humanization includes using quality fresh ingredients that serve a purpose," he says. "So, we are offering more fresh and frozen options that align with their values. In frozen products, raw was the dominant factor – now there is more interest in the lightly cooked space."
Best-selling products
As refrigerated and frozen food and treats grow in popularity, suppliers offer the formats that are driving the market. Trainor says within refrigerated pet food and treats, Freshpet has had a couple different platforms drive sales. "Our Freshpet rolls are still a major seller across a variety of flavors, but in bagged meals, our Fresh from the Kitchen Shredded Chicken Recipe and Small Dog Bite Size Chicken Recipe have really taken off over the past couple years," he says. "On the treats end, our turkey bacon treats are our top seller."
Frozen yogurt treat-maker The Bear & The Rat: Cool Treats for Dogs launched in 2010. The company's best-seller is its bacon and peanut butter treat. "With The Bear & The Rat's bacon and peanut butter frozen yogurt dog treats, consumers will find real chunks of bacon – not a bacon flavor, which has corn and/or soy in it (manufacturers don't have to declare the fine print, when it comes to what's actually in flavors)," says Meg Hanceford Meyer, co-founder and president of the Hygiene, Colorado-based company. "We pride ourselves on being a treat comprised in a human-grade facility, where ice cream is made, with real food that humans eat," she adds.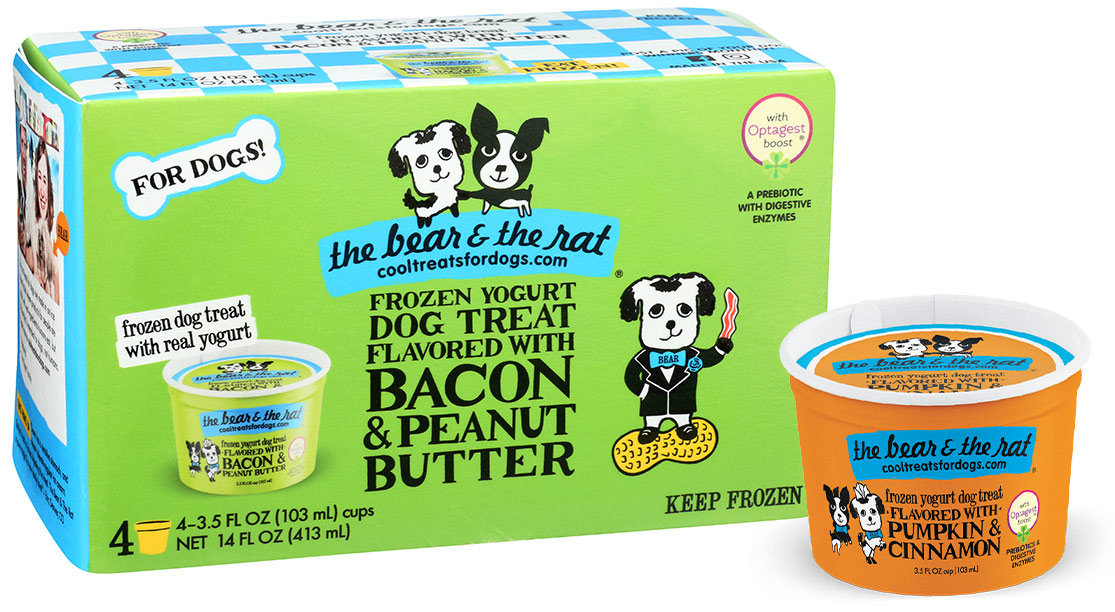 Open Farm has been around for five years and most of its business is in 3,500 North American stores, Shuster says. What started as a grain-free kibble brand, with turkey chicken kibble as its No. 1 seller, has now expanded its offerings to include a gently cooked fresh pet food line that launched in 2019.
Open Farm's Gently Cooked Recipes line combines minimally processed, human-grade ingredients that are cooked through a gentle sous-vide process, Shuster says. "This new product offers pet parents all the benefits of home cooking for their pets, without the hassle," he says, adding that the full line is available to pet specialty retailers in three sizes: an 8-oz. trial size, a 16-oz. convenience size and a 4.5-lb. bulk size that includes six 12-oz. servings.
Shuster says Open Farm suggests that retailers rotate the different recipes in their freezers to encourage customers to try the different formulas to see which Open Farm diet their dog likes best.
Cool with retailers
Trainor says Freshpet tries to make the process of delivering fresh pet food to retail customers and consumers as easy as possible. "In the large majority of cases, we'll purchase the refrigerator and help with most of the leg work getting everything set up in store," he says. In fact, in November, Freshpet CEO Billy Cyr told investors that the company continued to upgrade refrigerators and install units in new retail locations during the third quarter of 2019, upgrading 174 stores from small or medium refrigerators to large units, adding a second fridge to 31 stores, and adding fridges to 365 new stores, bringing the company's total number of in-store refrigerators to 20,779 at that time.
Hanceford Meyer says The Bear & The Rat has struggled helping retailers acquire and maintain freezers in stores. "Many independent pet stores have glass freezers that have been subsidized by raw food companies," she says. "We have dabbled with selling our own units and have had a lot of interest but have found that there are many challenges with selling freezers" she says, explaining that the cost for a good unit far exceeds what a customer typically wants to spend. Not to mention, getting the unit to the customer can be difficult.
Because raw food for pets has gained popularity in recent years, there are almost always freezers in independent pet stores, Hanceford Meyer says. "The only difference is there now are more glass and fewer opaque freezers – which is a great thing!" she adds. "Customers are much more unlikely to open an opaque freezer because they don't know what they're missing. But with glass, their curiosity is piqued, which can open up a conversation."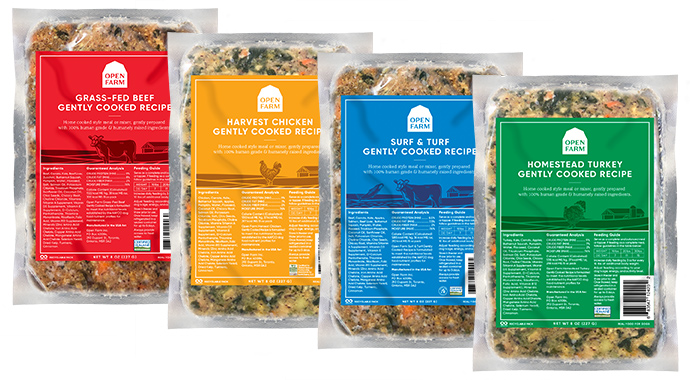 Learning new tricks
Hanceford Meyer describes The Bear & The Rat frozen yogurt treats as "gateway treats," saying, "If a customer feels comfortable buying a box of our frozen treats for their pet, they will be much more likely to try something else in the freezer on another visit," she explains.
Other companies also see their brands as catalysts for changing consumer habits. Shuster of Open Farm says consumers need more promotion and education on refrigerated and frozen pet food and treats. "Our brand helps build consumer behavior to look for fresh pet foods in the refrigerated space," he says.
Because these products are perishable, consumers and retailers need education on best practices to keep the food safe and ready to eat. Shuster says because Open Farm's products are frozen in pouches, they need to remain fully sealed until they arrive at the consumer's home. "From an education perspective, we include messaging on the package that says once thawed, the package has a shelf life of seven days refrigerated," he says. "They can keep the majority of it in the freezer and then use one pouch at a time."
For retailers, Shuster says the frozen pouches should be put in freezers upon arrival and can sit in their shipped bulk boxes with pusher kits available to keep product pushed to the front. "In-store promotional campaigns can create awareness of the products to drive trial sales of small pouches, which has value in building this category," he adds.
"On shelf life, we've done a lot of work to find the right balance between what works for a consumer and what's realistic for a fresh product," says Evan Shuster, Open Farm Inc.
There is a little more education that customers need on products that have a small preparation component, Trainor says, like slicing Freshpet's rolls, but most products are simple to use. "On shelf life, we've done a lot of work to find the right balance between what works for a consumer and what's realistic for a fresh product," he adds.
Hanceford Meyer says The Bear & The Rat has had customers forget they had frozen yogurt treats in the car and they melted. "They call us to see if they can be re-frozen – they can't," she says. "The bigger challenge is with distributors who have had trouble keeping the product frozen from their warehouse to the store. But this generally only is an issue in the summer months."
As more pet food processors offer their takes on the latest trends in refrigerated and frozen foods and treats, distributors, retailers and pet owners alike will overcome the challenges of working with perishable products for pets and growth in this segment will surely escalate.
Keep up with the latest pet food trends on our Trends page.