This article was published in Pet Food Processing's 2019 Resource Guide. Read it and other articles from this issue in our Resource Guide digital edition.
It's human nature to seek out the advice of someone who has traveled down the path you are just beginning, especially if that route is known to be strewn with boulders, pits, flying debris and no clear signs and guideposts. Or maybe the signs and guideposts are in a language you don't speak or understand. Knowing when and from whom to ask for guidance can make all the difference.
Pet Food Processing spoke to several seasoned professionals who apply their experience in pet food and treat manufacturing to the business, production, packaging, distribution and marketing opportunities of the clients who come to them for help. These service providers go far beyond initial business start-ups and help companies navigate through the challenges they encounter on the path to success.
Meet the A-team
Deena Krestel-Rickert, Ph.D. is a consultant to the pet food and treat industry. Based in Chesterfield, Missouri, she brings more than 30 years of experience in this industry and supports clients on a wide range of projects including new ingredient introductions, palatability opportunities, new product development, pet food innovations and growing market share.
BSM Partners, LLC, Mandeville, Louisiana, led by managing partner Nate Thomas, offers what the company refers to as a technical services suite that includes clinical nutrition, food safety, quality and regulatory, veterinary and research and development. The company also offers a business services suite that provides engineering, operations and business transformation, marketing and innovation and supply chain management.
"It's important to know what you don't know and engage professionals within nutrition, formulation and regulation whose purpose it is to safeguard your company," says August Konie, Jr., BSM Assurance.
BSM's Clinical Nutrition division offers functional product formulation, formula review and recommendations for optimization. The BSM Assurance arm provides food safety, quality and regulatory services specializing in system implementation and control, validation, troubleshooting and mitigating regulatory concerns on behalf of clients.
The Veterinary Services branch of BSM provides professional veterinary consultation, technical services, designing and implementing clinical feeding studies, as well as specific research in nutrition areas, technical writing and functional product design. For research and development, Thomas says BSM is food science-focused and has the technical capability to develop any product of interest to its clients including wet, extruded, freeze-dried, injection molded, baked and raw.
Another seasoned veteran of the pet food industry is George Collings, Ph.D., president and general manager, Collings Nutrition Solutions, O'Fallon, Missouri. The company supports product development and business planning from concept to consumer affairs. The services cover all phases of the pet food business from innovation to production support, quality systems, regulatory and claims through business planning, market innovation and sales support. The company is also active in building new nutritional and process technologies.
Coming from a veterinary perspective, the team at North River Enterprises, Denver, Colorado, offers expertise in veterinary medicine, customer service, regulatory compliance and marketing including branding, communication strategies and training. Founder Melissa Brookshire, DVM, says North River Enterprises helps companies provide elevated customer service to build loyalty and confidence either through direct interactions with consumers or by providing expert veterinary responses for the customer support team to then communicate to the consumer by phone, email or social media.
Also providing a full breadth of pet nutritional consultation services, CK Nutrition, Exeter, New Hampshire, led by founder Carolyn Kennedy, offers a complete state registration service, import and export support, and global manufacturing support, as well.
Ground zero for trends
These independent service providers are often on the front lines of industry trends. The projects keeping these experts busy lately are not too surprising. Brookshire says the most obvious trends over the past year have resulted from the US Food and Drug Administration's (FDA) announcements about a potential connection between diets with high inclusions of peas, lentils, other legumes and/or potatoes and atypical dilated cardiomyopathy (DCM). This drove many brands with grain-free recipes to add taurine, with some also adding DL-Methionine and/or L-Carnitine. In addition, Brookshire has seen a rise in the use of "ancient grains" or "wholesome grains" in recipes and in associated marketing claims over the past year.
Krestel-Rickert says in addition to the natural, organic and non-GMO trends, attention on supplementation and more efficacious levels of functional ingredients are strong. Additionally, uniqueness in formulation through sustainable ingredients inside sustainable packaging has become a focus.
BSM Assurance, led by August Konie, Jr., says as the human foods initiative farm-to-fork thrives, pet owners are levying the same pressures for transparency with their pet food products, which often requires ingredient sourcing, authenticity, performance and claim verification. BSM is frequently engaged to verify that suppliers comply with the agreed upon specifications and that the ingredients perform appropriately. 
According to Dr. Bradley Quest, DVM, head of BSM Veterinary Services, there is a continuing trend to search for novel ingredients and, as a result, an increased demand for professional veterinary and nutritional consultation to ensure that products are designed, formulated and tested through clinical feeding trials to meet regulatory and nutritional requirements. Quest says it's important to consult with professionals to make sure new ingredients are approved for pet food use and to understand how to implement novel ingredients in formulations.
Trends have always been toward the humanization of pet food, but Collings says he's seen movement toward new nutritional technology and health support. He explains that new ingredients are hard to build as FDA procedures are expensive to navigate and slow. Nevertheless, he says, his company is actively building solutions for stabilized probiotics, unique proteins and natural antimicrobials.
Words of wisdom
Even if regulating agencies pose a challenge, they are the reality and must be addressed for each product offering. "When developing new products, one of the best practices that I recommend is to make sure all of the ingredients in the recipe are actually allowed to be used in food or treats for the species and life stage the product is being designed to feed," Brookshire says. "With new innovation in ingredients, just because you can buy it from an ingredient supplier, doesn't mean it can be put into all types of food or treats."
Many factors determine a product's competitive success, but prior to reaching the bowls of its consumers, new products require a certain level of resources to prove they meet regulatory, safety and nutritional requirements. Dr. Renee Streeter, head of BSM Clinical Nutrition Services, says to make sure "that you have the resources to engage in the proper testing of the product once it is manufactured in order to obtain important nutritional adequacy and safety information prior to the product going out into the market."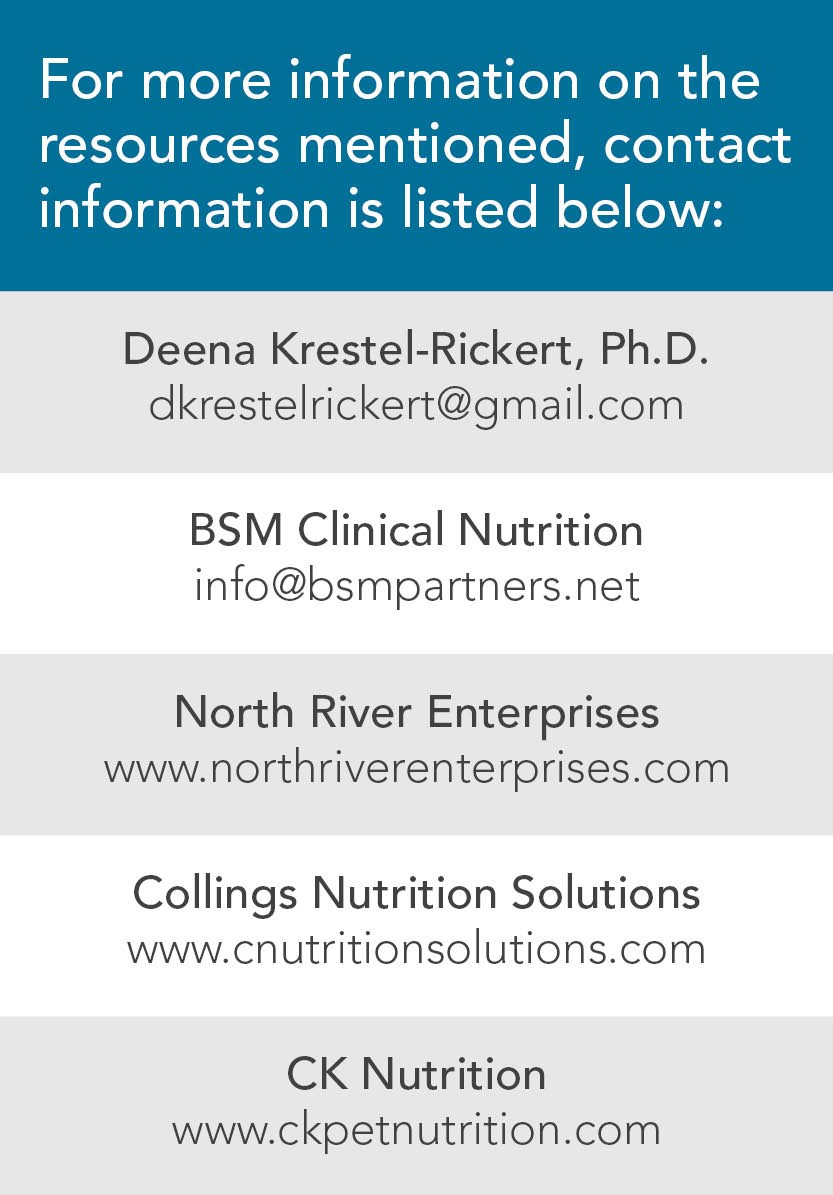 Kennedy points out another important step prior to going to market that could help companies avoid a costly mistake. "Have all your product labels checked by a regulatory expert before you go to print," she recommends. "This will save a lot of time and money in the long run and will also ensure your product is allowed to stay on the shelf – both the retail and online shelf."
Success in the consumer market requires much more than a good recipe and label approval. Independent consultants help guide all aspects of running a profitable business. "It is not about just building a formula," Collings says. "A product is part of a winning business." He recommends that companies seek out professionals who offer experience in the retail environment.
Krestel-Rickert agrees that companies need to know what makes their product special compared to all the rest and how it fits in the retail landscape. She encourages companies to "completely understand all aspects of your food/treats so you can truly differentiate your products from competitors keeping quality, safety and nutritional benefits in mind but deliver the message clearly and in an understandable way."
The path to a successful pet food or treat is complex and deciding who can help with that process is very individual to each company and product. As part of the process of reaching out to consultants, Thomas says it's important to decide what advice to take and what advice to kindly decline. "Don't ignore your initial ideas regardless of what the first consultant or manufacturer you've contacted says," Thomas advises. "Most of the time your ideas can become reality somehow, somewhere." Just find the right tour guide.
Read more about product development, ingredients and formulation.