This article was published in the September 2019 issue of Pet Food Processing. Read it and other articles from this issue in our September digital edition.
Accuracy is everything when it comes to filling and depositing systems. Filling the correct amount of wet pet food product consistently, without drippage or "food strings" that could potentially prevent a proper seal, is crucial to protecting a processor's bottom line and to ensuring food safety. 
"In North America, dry pet food is still the majority of food produced, but wet pet is gaining ground and is often offered in small package options, be it cups or trays," says Sam Troiano, product manager, Waldner division, Packaging Technologies & Inspection (PTI), Hawthorne, New York. "We are seeing an increase in requests from wet canned pet food manufacturers interested in transitioning some of their product lines to cup, tray or a lesser-extent pouch."
"If you can't maintain control and precise cutting of the pet loaf at the filling station, you will have contamination issues," says Sam Troiano, Packaging Technologies & Inspection (PTI).
According to Packaged Facts, the percentage of pet-owning households in the US that purchase wet pet food has increased over the last decade, with 56.6% of cat-owning and 40.3% of dog-owning households buying into the trend in 2018 due to the convenience, health claims and palatability offered by wet pet foods.
This apparent rise in interest for wet diets, meal toppers and treats in the US is an attractive opportunity for processors to add cup, tray and pouch-filling capabilities and broaden their offerings.
Food safety and sanitation
Pet food processors, as well as equipment manufacturers, must keep hygiene in mind. "Food safety and processing hygiene in the filling department are rapidly emerging issues for pet food processors and the best filling equipment is designed to become a reliable foundation for hygiene at the highest level," says Patrick McGady, national sales manager, Handtmann, Inc., Lake Forest, Illinois. 
Contamination due to faulty seals during packaging is one major issue with filling. "If you can't maintain control and precise cutting of the pet loaf at the filling station, you will have contamination issues," Troiano warns.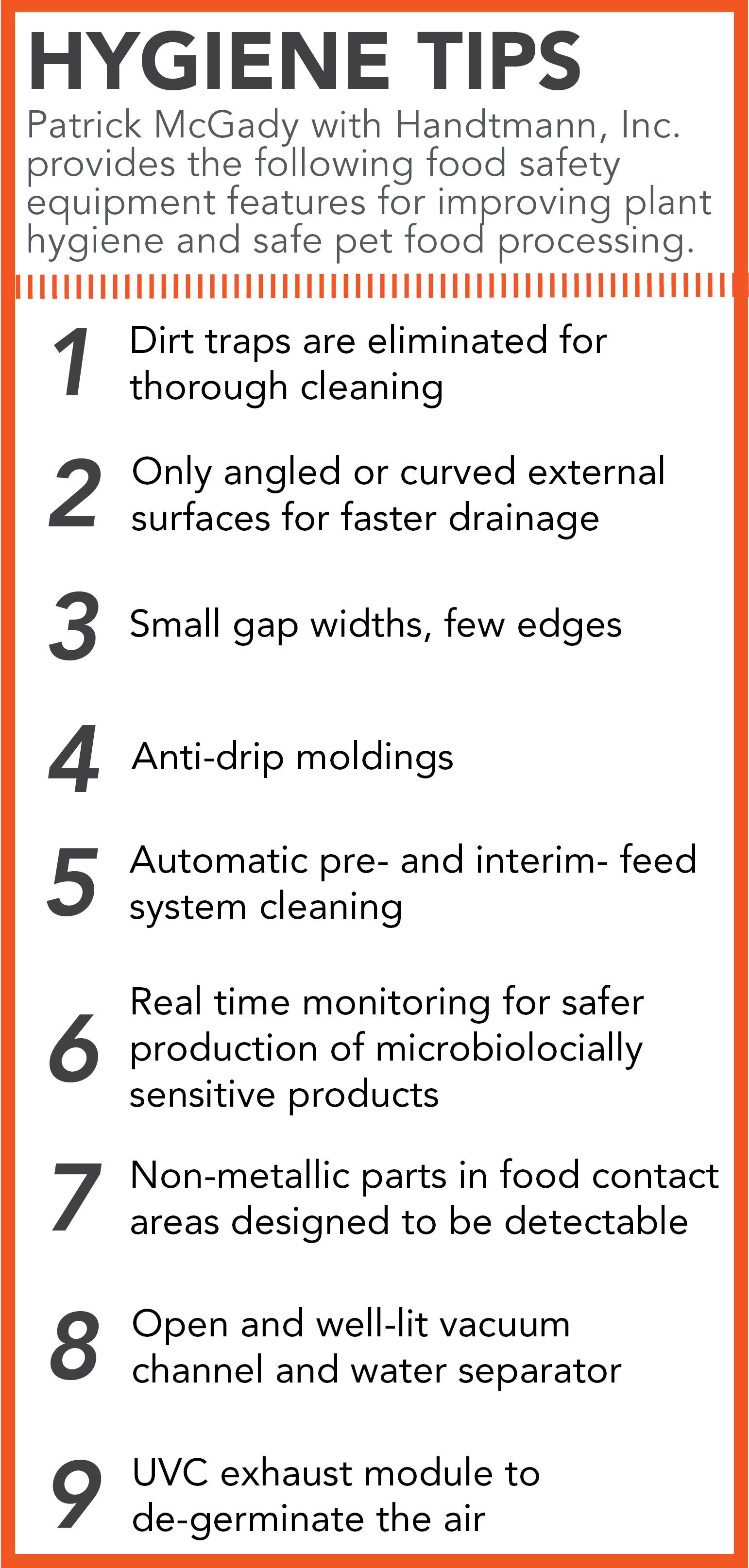 The seal of a cup, tray or pouch can be compromised if a filler does not make a clean break between product portions. Regardless of the type of pet food, well-engineered equipment should be able to deposit each portion cleanly. "If not," Troiano says, "what the industry refers to as 'food strings' drip the food product on the lip or rim of the cup or tray and subject the sealing process to defects, or poor seal characteristics."
Thorough equipment sanitation is also important for reliable performance. "Proper cleaning is vital to the longevity, performance and speed of pouch filling and sealing machines and should be cleaned by using low-pressure water or compressed air," suggests Billie Johnson, Ph.D., BLJ Consulting, Emporia, Kansas. "Some manufacturers may recommend an iodine-based sanitizer for use after manual hand-washing of filling machine parts not cleaned by the CIP process."
"In some ways, pet owner concerns about hygiene and food safety are way ahead of regulatory regimes, so many processors are evaluating how new hygienic designs and processing safety features on equipment best fit with their own standards and needs," McGady says.
McGady provides a few tips for maintaining food safety standards in filling and depositing applications. "Automatic monitoring of feed system temperatures and pressures is critical to ensuring food safety standards in real time during processing. Hygienic equipment designs pay huge dividends by helping to ensure thorough cleanups and simpler, speedier changeovers," he says. "Automation removes many operation variables that affect food safety, including human/product contact." 
Filling solutions
To combat food strings, PTI's Waldner brand developed the Wisk-A-Nozzle, a rotary cutoff nozzle designed specifically for "dripless filling" that results in a clean seal to mitigate contamination issues. This nozzle is part of Waldner's DOSOMAT, which can be used in cup, tray or pouch applications and operates at 95% Overall Equipment Effectiveness (OEE). It also offers fill-weight accuracy and assurance that pet foods will retain texture and moisture throughout the filling process. 
Handtmann offers many auxiliary filling and depositing solutions for pet food applications. One is the SV424 Cutting Valve, which is optimal for manufacturers portioning large-piece products without a casing or clipper. "It is an automatic turnkey solution that replaces manual portioning," McGady explains.
The Handtmann DS 551 Depositing Station is a multi-lane filling process using a servo-controlled flow divider to deliver reliably accurate fill weights for pasty, chunky or very soft fillings, McGady says. 

McGady also notes Handtmann's series of VF 800 vacuum fillers are optimized for food safety, hygiene and portioning accuracy. The equipment relies solely on curved external surfaces, rather than hard angles, to ensure complete drainage and provide process monitoring for temperature and pressure.
"The hygiene and safety features of the VF 800 are forward-thinking in every respect and include an advanced sanitation design that includes the latest proven food-grade materials and innovative automatic washing and sanitation systems," McGady says. 
Troiano notes other auxiliary parts such as pocket fillers or multi-head weighers, retort vendors, retort tray handling and end-of-the-line packaging features can be useful to enhance filling and depositing systems.
For pouch applications, Johnson says a vital solution that some processors may not consider is a compressor to blow air into the pouches to open them before the product is deposited, ensuring a proper fill. "Most important to filling will be considering the type of product to be filled, including the consistency and viscosity of the product, run speed necessary to fill and seal the product and the overall texture of the product," she says. 
Optimizing OEE
Automation can address questions of consistency, accuracy and product management for filling systems, but it comes at an investment to the processor. "Equipment that is simpler to operate in the plant requires a more complex combination of mechanical, electrical and computerized systems that can be optimized, but must be maintained for consistent OEE," McGady says. 
"Delivering exact weight to manage giveaway becomes more important as ingredients become more costly and competition increases," says Patrick McGady, Handtmann, Inc.
Some tips for optimizing OEE from Troiano include minimizing downtimes by running multiple filling systems, utilizing one for production while cleaning the other, as well as using cup buffer systems to permit longer run times and allow the operator to complete other tasks while the machine is running. "Ergonomic design should minimize operator/material handler fatigue," Troiano adds.
Easy changeovers and flexibility across a wide range of products at different particle sizes are important to maximize the cost effectiveness of the equipment, McGady says. "Good controls with enough memory to maintain many recipes that can be called up with [one] touch are helpful," he adds.
Johnson says filling systems can be easily adapted to run multiple formulas. "For instance, the filling machine can be emptied and rinsed with hot water for 10 to 15 minutes, allowing all flush material to exit the filler quickly, and then closing the valve to once again fill the tub and start the next batch," she explains.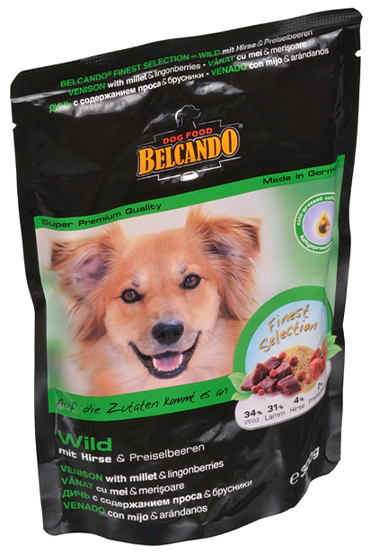 To truly achieve OEE, Troiano says a filling system must offer consistent fill weights and clean, precise cuts to mitigate contamination issues. "Without these critical elements, the waste factor and potential for food safety is jeopardized and the OEE rating of the equipment will drop significantly," he says. 
"Delivering exact weight to manage giveaway becomes more important as ingredients become more costly and competition increases while the ROI on various levels of automation keeps becoming more and more attractive for processors of all sizes," McGady says.
As wet pet foods and treats with visual inclusions become more popular among pet owners, he adds, it's important that a filler handles these inclusions gently to prevent smearing and preserve the premium appearance of the product.
Johnson concluded that OEE can be dependent upon the pet food formula itself, which makes it crucial for processors to work closely with their equipment supplier to determine the best fit for their process. 
Find more articles related to pet food processing equipment on our Equipment page.