This article was published in the September 2019 issue of Pet Food Processing. Read it and other articles from this issue in our September digital edition.
When learning about new technology, there is nothing better than seeing it in action; and that's exactly what attendees will have the opportunity to do at PROCESS EXPO, Oct. 8 to 11, 2019 in Chicago. The leadership team of the Food Processing Suppliers Association (FPSA) is committed to offering a one-of-a-kind opportunity by featuring live demonstrations of a pet food production line.
The pet food demonstration will be producing minimally processed kibble, bites or treats for freeze drying or dehydration. Attendees will see the technology in action with actual protein. This cold kibble production line application maintains ingredient integrity and value while offering the flexibility, speed and gentle product handling processors require to meet the needs of the growing pet food and treat market.
"The concept of PROCESS EXPO's Pet Food Production Line at this year's show is two years in the making, and the result of much hard work on the part of FPSA members," says Jarrod McCarroll, chairman of FPSA and president and CEO of Weber, Inc., Kansas City, Missouri. "This kibble line represents their vision. While this is a simple configuration, it has an efficient design and tremendous capacity. And yet, perhaps even more impressive than the technology on display will be the expertise that accompanies it all. During each demonstration of the line, experts will be on hand to answer any questions and discuss how each component might be applied to your product line."
Something to see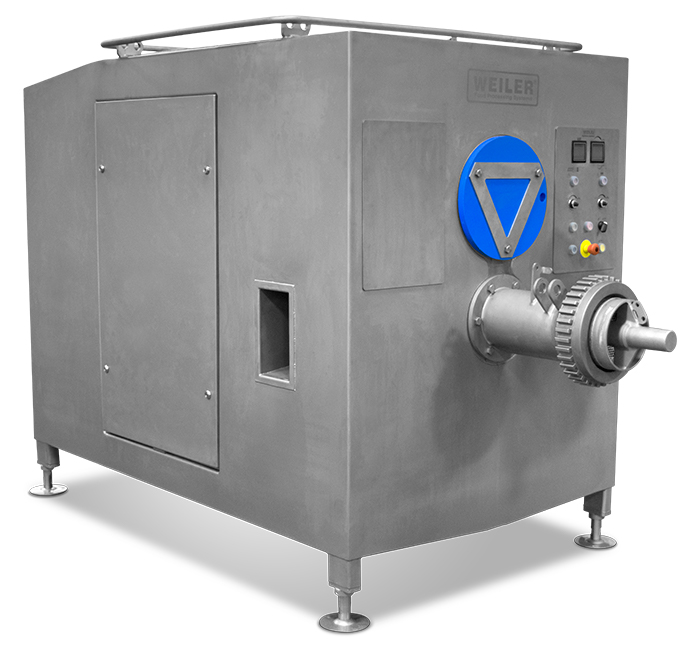 The live pet food production line will begin with grinding frozen blocks of meat with a robust, heavy-duty Weiler® Omni V® 220 grinder from Provisur Technologies. This grinder along with a feed table and vertical block conveyor — also from Provisur — can successfully withstand the harsh demands of the pet food and treat industry. The Omni V220 grinder is a small grinder that employs Dominator® technology for optimum grinding efficiency. It is capable of grinding many forms of material with a wide range of temperatures and reduction sizes from full-size frozen blocks to fresh raw material. Depending on the material being processed, the capacity for the Omni V220 grinder is between 2,200 and 5,000 lbs. per hour.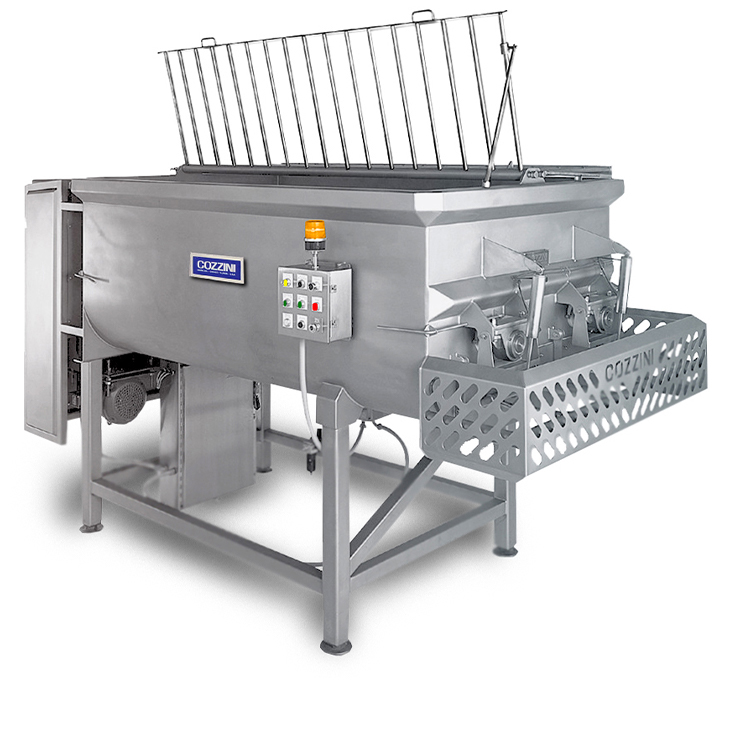 The Provisur equipment will feed to a Cozzini CMB750 mixer with a capacity of 750 lbs. per batch with an average of four batches per hour. Cozzini is a brand of Middleby Processing and Packaging. The CMB750 mixer will combine the ground meat with other ingredients, both dry and in liquid form. The aggressive paddle configuration of the Cozzini mixer reduces mix time and discharges the batch rapidly so the next blend can be started. Production capacity is dependent on the blend cycle time, but a typical blend cycle is 15 minutes or four blends per hour, which would offer a capacity of 3,000 lbs. per hour for the CMB750 Mixer. Other models in this series provide capacities up to 20,000 lbs. per batch.
Each batch will discharge to a Handtmann VF800 vacuum filler with a Handtmann RC600 rotary cutting device. The Handtmann rotary cutting system continuously produces stable pellet-shaped portions. It connects directly to servo-driven flow dividers and sheeting nozzles and operates with wire and cutting blade options to handle a wide variety of recipes for kibble, bites and treats. The Handtmann vacuum filler delivers gram-sensitive portioning with an advanced auger system and optimized feed system geometry for gentle product handling. The VF800 combined with the Handtmann Rotary Cutting System continuously produces up to 1440 cuts per minute in configurations up to 24 lanes in sizes up to 19mm in diameter.
The pet food line demonstrations are scheduled for 10:15 a.m., 12:30 p.m. and 2:30 p.m. Oct. 8 to 10; and at 10 a.m. on Oct. 11. These demonstrations will take place in booth 4324 on the PROCESS EXPO show floor.
Pet food making its mark
This biennial expo offers multiple opportunities for pet food processors to discover new processing technologies for their operations. Approximately 200 of the more than 500 exhibitors are currently serving the pet food industry. Jared Koerten of Euromonitor will present "Premiumization in Pet Care: An Evolving Industry Trend" on Oct. 9 at 1 p.m., a 2.5-day FSMA Preventive Controls for Animal Food course begins Oct. 7, plus an additional 50 educational courses are available to attendees during the show.
A year ago, FPSA launched its Pet Food Council and already it is the largest of the association's industry councils, thanks to the growth of the market and the tremendous opportunity that FPSA members see in
this segment.
Other live production line demonstrations during PROCESS EXPO include a sliced cheese line, a sliced pepperoni line, a frozen pizza line and a ground beef patty line.
Learn more about the global food equipment and technology show at www.myprocessexpo.com.