This article was published in the June 2019 issue of Pet Food Processing. Read it and other articles from this issue in our June digital edition.
Animal food safety standards are now on par with human food processing operations and pet food producers are embracing human-food safety best practices to keep facilities free from bacteria.
Frank Monteleone, president of FoodSafe Technologies LLC, headquartered in Deer Park, New York, says while the process for producing pet foods has improved in the past five years, covering extrusion and better human-food quality control of ingredients and corresponding treatments, there are some problems that still arise.
"The raw diet craze has been the outlier, as raw proteins from processing plants continue to have low level colony-forming-unit (CFU) counts of pathogens that are allowable under USDA Food Safety Inspection Service (FSIS) guidelines," he says. "We take the same approach with these proteins with treatments that are used for human consumption. The stability in treats contamination varies by treat to treat and process to process."
Extruded pet foods have improved somewhat in reducing pathogenic loads. More recent discoveries and recalls have been related to high vitamin D, unknown contaminants and raw diets but there will always be challenges ahead for any pet food process.
Ansen Pond, director of quality assurance at Pilgrim's Pride Corp., a Greeley, Colorado-based supplier of raw materials to the pet food industry, notes contamination control has improved greatly over the last decade in many animal food sectors.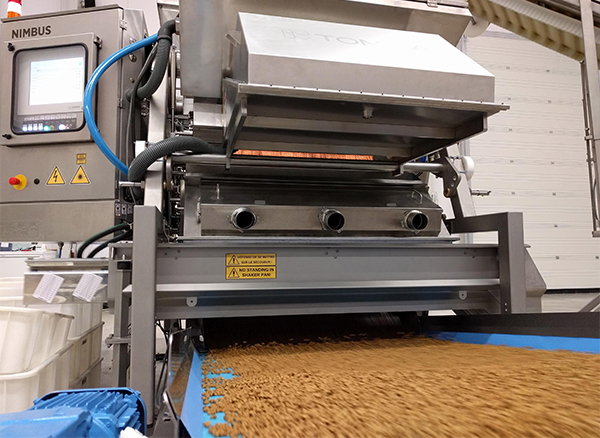 "The pet food industry and their raw material suppliers in particular have made major strides in improving food safety," he says. "For example, the pet food industry is becoming more aware of hazards associated with raw materials and is better at screening raw materials for potential risk. I can see this by an increase in pet food audits and the value placed on developing partnerships with raw material suppliers."
Pond, who is also part of the Pet Food Alliance, which addresses food safety issues affecting the industry, feels the current contamination state is comparable with human food in 2019. "I think pet food products produced in the United States are the safest in the world," he says. "Having Current Good Manufacturing Practices (CGMP) and a well-developed food safety plan to evaluate risk is a very effective way to prevent contamination in pet food."
Communication and education are key factors for reducing risk. Pond says that both are important at the processing plant level and across supply chains as well. "As a raw material supplier, I should always understand what my customers' expectations are and have good communication with them," he says. "In many cases, we work with our customers to develop or modify their raw material specifications so we can create something that is clear and realistic. Using the correct terminology in the specification could save us months of back and forth conversations about a specification."
Challenges abound
One of the largest challenges in reducing risks of contamination in pet food is the diversity in suppliers. As consumer demands change and the industry evolves, pet food producers must continuously seek new suppliers, which can introduce new risks. Other challenges include transportation, which is essential, but introduces risk potential as well.
Another big challenge in dry pet foods are dormant pathogens that may survive heat kill steps. Salmonella senftenberg 775W and E. Coli AW 1.7 are two organisms that are known to be heat resistant, so they cannot be eliminated by pressure and heat during extrusion. "Other challenges include residue of pathogenic organisms in what appears to be a hygienic plant," Monteleone says. "With SQF, seeking to swab and validate will help locate these culprit 'hot spot' organisms."
Rise of tech
"The largest advancements in contamination control lie in the area of whole genome sequencing and evaluation of the microbiome," says Jennifer Martin, Ph.D., Colorado State University.
Over the years, there has been some new technological advancements that have come along to make contamination control within a pet food or treat processing facility easier and better. Jennifer Martin, Ph.D., assistant professor, Center for Meat Safety and Quality Department of Animal Sciences, Colorado State University, says the pet food industry has rapidly advanced control of contamination through their diligence to explore not only novel interventions, but also new testing and analytical technologies.
"This has been no easy feat, but the fruits of their investment in product safety is evident and incredibly important in the global marketplace," she says. "The largest advancements in contamination control lie in the area of whole genome sequencing and evaluation of the microbiome. These tools are not new scientifically but are being utilized in the pet food and treat industry with greater frequency."
With these tools, the ability for pet food manufacturers to monitor contamination — and risk factors — with such a unique clarity has revolutionized contamination control. In the future, Martin says, these technologies will be standard practice.
Pond says the use of magnets and metal detectors have improved the food safety of ingredients as they add more lines of defense and increase the opportunity of removing foreign material from the process. TOMRA, Leuven, Belgium, a manufacturer of in-line sensor-based sorting machines, offers sorting solutions for pet food producers that can remove small particles of foreign materials from dry meat and bone meal, ground frozen meat, biscuits residue, and dry kibble.
Metal detection specialist Fortress Technology, Toronto, has recently introduced a hygienic inspection pipeline designed to be a pathogen cross contamination deterrent. According to Fortress, bacteria, including Salmonella and campylobacter, multiplies by doubling every 20 to 30 minutes depending on the conditions, and prefers high protein foods prevalent in liquid form. The Meat Pump Pipeline from Fortress is designed to assist wet pet food processors inspecting high-viscosity meats to optimize hygiene standards and tackle cross contamination, without compromising metal detection sensitivity. 
Testing methodology is another segment that is always improving, thanks to advancements in tools and tech. "Technology is improving our process very quickly. The ability to capture data and analyze it quickly makes us better," Pond says. "We are currently in the process of implementing tablets in our facility to capture food safety data and document food safety checks. This allows us to capture this data digitally rather than using paper. This will help us verify records faster and alert us sooner if something is out of the norm."
Monteleone says that it's not so much any specific technology that's been a game changer, but more of an improved all-around approach and confrontation of pathogenic bacteria risks. "In terms of confrontation, there is a war going on now between preventative actions and bacteria," he says. "We characterize that as a good thing, since before the processes were more reactive than proactive. FSMA and SQF are the charter."
Also, pet food producers are no longer looking for one silver bullet but winning a war of attrition. They confront bacteria at its earliest detection and may employ multiple steps and methods to ensure product integrity. That culture of thinking is more like a human food producer.
Innovative strategies
Monitoring extrusion time, temperature and pressure validation is one tactic improving pet food quality. "It was previously an overlooked tool that was readily available," Monteleone says. "Also, raw material process validations and treatments. Many producers are looking to receive whole muscle cuts free of pathogens by treating upstream at the processors." Using processing aid washes are another option.
Pond says organic acids are being utilized to reduce food safety risk of pathogens in the human food industry and some are now utilizing these technologies in pet food production to reduce the potential of pathogens in ingredients added post-extrusion.
Overlooked sources
Even the best facilities have problems controlling contamination 100%, and there are still some gram-negative bacteria sleeping in the dust collection points. "Hygiene, process controls and functioning ingredients are still the best resource actions. Also, raw proteins," Monteleone says. "I can remember walking into a state-of-the-art pet food plant that just started with extreme human food safety controls — pre- and post-cook isolations, negative air flow, boot wash stations. That plant manager was wise enough to know these measures could not stop the eventuality of pathogens crossing into their food. But it was comforting to see the effort, and realistic approach."
Martin says transportation vessels seem to be an area of contamination that, while difficult to address, need to be evaluated. "The industry is currently working to establish best practices that are applicable for all manufacturers," she says.
Looking ahead
Colorado State University is studying the building biome of its new meat processing testing facility, hoping to eventually identify advance markers that would classify Salmonella-friendly environments prior to Salmonella being present. Martin notes that the results aren't finalized but this is something she hopes can make a difference in the future.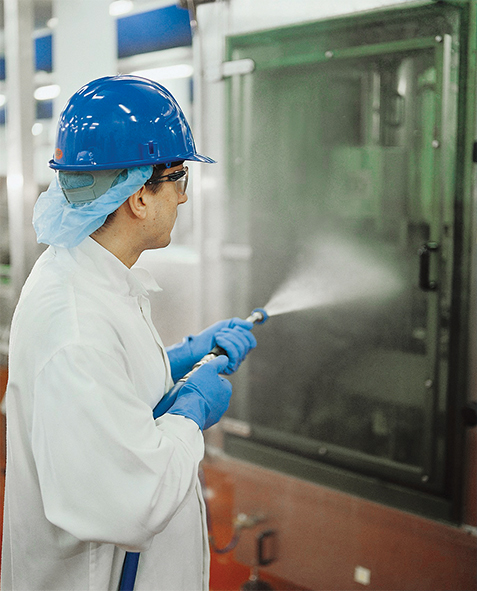 One area that might need further attention in the future is people bringing un-sanitized mobile phones into a facility. This is an issue that is just starting to be addressed in human food processing plants. With more people bringing their personal devices to work with them, it creates a greater risk that those devices could be introducing unwanted and harmful bacteria into the pet food or treat processing environment.
While there are chemicals and wipes that exist to help with this problem — solutions currently being used in healthcare settings — it's difficult to ensure devices are wiped down consistently, in part
because people may be hesitant to use corrosive chemicals on their phones.
"Contamination in pet food processing has been reduced over the years from not only investment in technology and testing or analyses, but also investment in people," Martin points out. "The pet food industry firmly believes in their responsibility to produce safe pet food and have made it a priority to train their employees to keep safety and quality at the top of their priority list."