This article was published in the June 2019 edition of Pet Food Processing. Read it and other articles from this issue in our June digital edition.
Processors are adding an increasing number of ingredients and formulations to their products and are packaging them in a wider variety of sizes and configurations.
This increase in the variety of pet foods and treats can be an obstacle. "Processors need a lot of flexibility from their equipment," says Bryan Hobbs, North American sales and service manager, Ashworth Bros., Inc., Winchester, Virginia. "The ability to change products or run multiple products on single lines becomes a challenge that processors are looking to solve, and they're looking to suppliers to help make their lines more diverse."
Other concerns include product integrity, sanitation, maintenance of processing equipment, and maximizing floor space in a facility. As a result, manufacturers of rotary feeders and conveying and belting equipment have developed a range of new product features for pet food and treat applications.
Prevention of breakage and loss
"Pet food makers spend a lot of time and attention on product composition. If material blend is compromised by inefficient conveying methods, yielding a product that is not what was designed by a nutritionist, the company goals are compromised," says Karl Seidel, marketing director, Cablevey Conveyors, Oskaloosa, Iowa.
To answer this problem, the company has designed conveying equipment with enclosed tubing that uses cables and discs to pull materials and blends in whole form. This prevents separation of product components and minimizes breakages.
Although not traditionally associated with moving fragile materials, modern pneumatic conveyors use lower air velocities to process bulk materials. Through the Clyde Process brand, Schenck Process has developed dense phase pneumatic conveying systems that push material along the pipe in a plug form.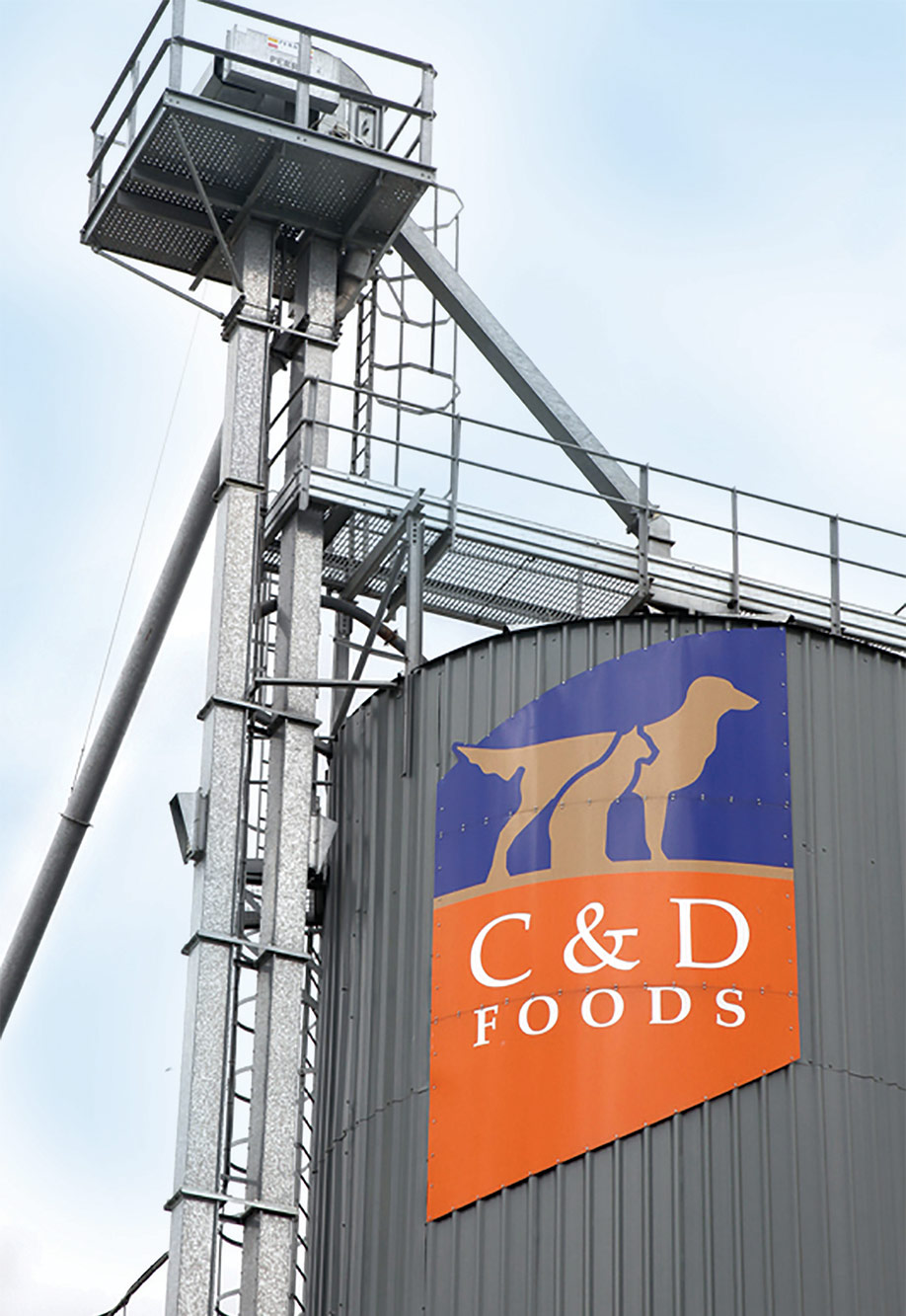 The low velocities and enclosed tubing of dense phase pneumatic conveying systems help prevent breakages and wasted material. However, precautions must be taken to regulate velocity and material feed rate, ensure the dense phase flow is stable, and route the conveying line to avoid material damage.
Horizontal motion conveyors are another solution for minimizing breakage and loss. The equipment uses a slow forward/quick return differential horizontal conveying motion that prevents product degradation or segregation.
The uncluttered construction and gentle material flow of horizontal motion conveyors makes them well suited to pet food and treat applications. Recent product developments have also improved the conveyability of a variety of different materials. "Dimpled stainless steel is being used for Horizontal Motion Conveyor (HMC) pans to enhance the conveyability of certain products," says Tim Talberg, product manager, sanitary equipment, Triple/S Dynamics, Dallas, Texas.
Sanitation
The introduction of the Food Safety Modernization Act (FSMA) has emphasized the need for processing equipment that can be kept sanitary. Manufacturers of rotary feeders and conveying and belting equipment have taken this into consideration by creating products that can be easily accessed for frequent cleaning. Other features that improve sanitation include clean-in-place systems to simplify the cleaning process, and the use of stainless steel for material contact areas.
Eriez, Erie, Pennsylvania, is one manufacturer of mechanical conveyors that has taken steps to improve sanitization. "Eriez offers vibratory feeders and conveyors with trays and material contact areas that are completely stainless steel and continuously welded," explains Ray Spurgeon, product manager, Eriez. "Tray corner radii can be made larger to help make wipe-down or wash-down easier, and any portion of the feeder tray which overhangs a product zone can be made completely stainless."
Traditionally, bucket elevators have been used to transfer materials when processing pet food. However, they can be difficult to sanitize and maintain. "Cleaning conveyors for material and product changeovers has become an important factor," Seidel says. "Clean-in-place options have become time- and labor-saving considerations. Bucket elevators, although mechanical, have more parts to maintain."
Sanitation of equipment is also a major focus for Reading Bakery Systems. "We have put together a program called SafeShield," explains Dulcinea Freymoyer, vice president, marketing, Reading Bakery Systems, Robesonia, Pennsylvania. "The program focuses on ensuring sanitation, food safety, and easy maintenance…on every unit we engineer and manufacture."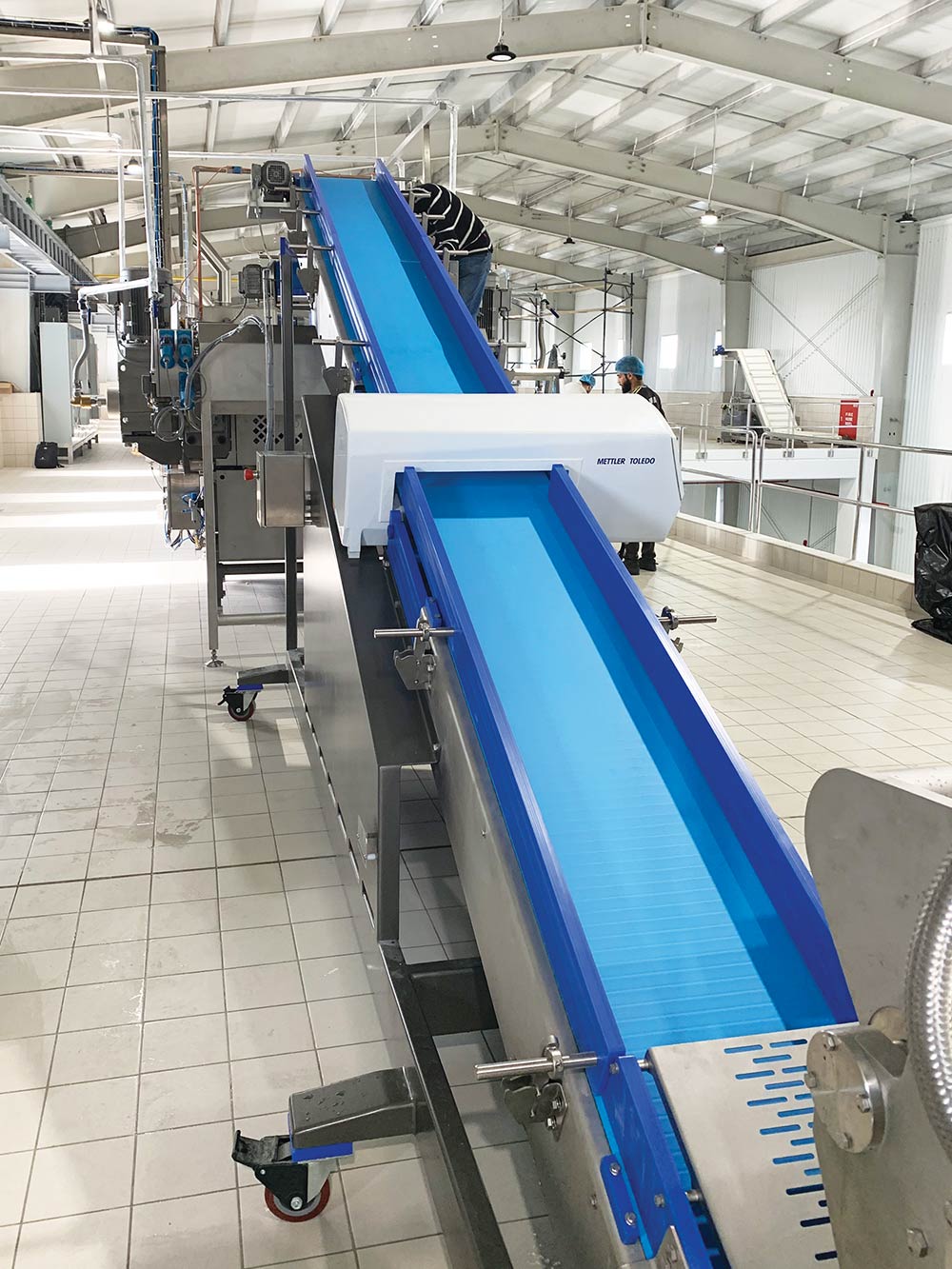 The SafeShield program has led to several product features that allow for easy cleaning and sanitization to ensure a safe end product. All machinery is designed with stainless steel or US Food and Drug Administration (FDA)-compliant plastics for product zones, and welds are ground and polished smooth. Angles and surfaces are also engineered to shed water and debris. Other features include easy access guarding for hard-to-reach areas, and stand-off bearings with side plates. "It is important to us that the equipment we engineer and manufacture provides a safe treat or snack for the end user," Freymoyer says.
The latest rotary feeders have also been designed with sanitization in mind. Wm. W. Meyer & Sons, Inc., Libertyville, Illinois, has developed the KLEAN-IN-PLACE (KIP) II rotary airlock valve with unique design features to meet the most stringent standards set by the US Department of Agriculture (USDA).
"The Meyer KIP II has been designed for quick access to the internals of the machine for easy cleaning," says Fergus Keane, national sales manager, Wm. W. Meyer & Sons Inc. "It gives the producer and customer the safest option to protect against the harboring of any material in cracks or crevices."
As processors run an increasing variety of formulas on a single line, it's often necessary to have segmentation between the different runs. "For a belt to serve its purpose, it needs to be easy to clean," says Jon Lasecki, chief engineer, Ashworth Bros., Inc. "We design our belts like our Omni-Grid 360 Weld line to meet the cleanability standards required by regulatory agencies and certifying organizations. The same belts used to process human food are used to process pet food. We want to make sure that whatever is good for us is good for our pets."
Flexibility
Pet food processors require equipment that is flexible enough to meet the demands of a modern plant. It is also important for many facilities to handle a range of different materials in high capacities. "A primary advantage of electromagnetic vibratory feeders and conveyors is the wide range of materials that can be handled and the high capacities that can be achieved," Spurgeon says.
"For example, an Eriez vibratory feeder or conveyor may be discharging onto a form-fill-seal packaging scale system that may be handling a broad range of pet food or treats as well as packages in various sizes. The flexibility of vibratory feeders allows the feed rate to be adjusted up or down with a solid-state control via a manual potentiometer or analog signal from a PLC. Also, the vibratory units can be cycled on/off rapidly as necessary to handle smaller or larger packages," he explains.
Triple/S Dynamics has included a number of features in their equipment to enhance flexibility and improve efficiency. "Horizontal Motion Conveyors can be modified in the field to add drop gates and/or conveyor pan extensions as packaging lines are added," Talberg says. "They can also be reversed to change product flow direction."
Ashworth's PosiDrive Spiral system makes it possible to cool multiple products simultaneously and keep them regimented in lines so there is no cross contamination between those products. The system incorporates a patented cage design that engages the inside belt edge to minimize product movement so that segmented products can easily exit the cooling equipment and be diverted to different packaging lines, adding an extra level of flexibility.
Equipment maintenance and longevity
Maintaining rotary feeders and conveying and belting equipment can impact productivity and cut into costs. Total cost of ownership is also a major consideration for processors when evaluating different types of equipment. For this reason, manufacturers have placed an emphasis on ease of maintenance and longevity when designing their products.
Schenck Process pneumatic conveying systems take advantage of low velocities to efficiently push fragile materials gently through the convey line. This results in less wear and tear on pipes and joints, allowing for minimum maintenance and long-lasting performance.
Electromagnetic conveyors are also designed to require very little maintenance. "Vibratory units, especially electromagnetic designs, are nearly maintenance-free," Spurgeon says. "Our electromagnetic models use power and magnets to create vibration and convey materials. There are no rotating parts; this means there are no bearings, belts, lubrication, or other wear items."
Maximizing floor space
Another important consideration for pet food processors is maximizing production per square foot of floor space. To this end, they require processing equipment that is both powerful and compact. "Ceiling height, current processing equipment, and other obstructions in current plants can limit choices for new equipment," Seidel says. "Tubular conveyors occupy minimal floor space," he adds.
"The ability to change products or run multiple products on single lines becomes a challenge that processors are looking to solve, and they're looking to suppliers to help make their lines more diverse," says Bryan Hobbs, Ashworth Bros., Inc.
Horizontal motion conveyors are also designed to take up less space in a plant and can be base-mounted on the floor or suspended overhead. "Low profile vertical shaft HMC drives require less floor space and structural support," Talberg explains. "In addition, they do not have vertical conveying motion or base frames which allows them to be placed closer together to minimize drop heights."
The turn ratio of a belt — the radius versus the belt width — becomes an important factor when space is limited. "Our standard belt has a turn ratio of 2.2 but we can make a belt that can turn even tighter so a wider belt can more easily go into a plant that has limited floor space," Lasecki says.
According to Ashworth, the space efficiency of spiral conveyors makes them an attractive option for many processors as well. A typical spiral conveyor belt is 1000 ft. or more and can fit in a 20-ft. by 20-ft. space. "Not only are they more space efficient but they are cost efficient because there is a very small amount of return belt in a spiral application. You are using up to 95% of the belt you purchase for direct contact with product," Hobbs says.
Manufacturers of rotary feeders and conveying and belting equipment specialize in transporting product efficiently through each step of production and packaging. Processors can tap into their expertise to keep their products moving in the right direction.