LAS VEGAS — SuperZoo 2019, hosted by the World Pet Association at Mandalay Bay in Las Vegas from Aug. 20 to 22, was packed with new pet food and treat products from a multitude of brands, from those using all human-grade ingredients to high-meat inclusions and even a new vegan dog diet. Here are some trends and products that stood out to the editors of Pet Food Processing as they walked the show floor. 
Give them grains
In light of the US Food and Drug Administration's (FDA) latest report on its ongoing investigation into the alleged connection between dilated cardiomyopathy (DCM) and grain-free diets, some brands have re-embraced grains as a wholesome and ancestral source of nutrition. 
Wellness released CORE with Wholesome Grains dog food diets, featuring four formulas with high-quality animal proteins and grains such as barley, quinoa and oats. In addition, the brand introduced four other recipes under its new CORE RawRev with Wholesome Grains line, which are formulated with the same grains but include morsels of 100% freeze-dried animal meats mixed in with the traditional kibble.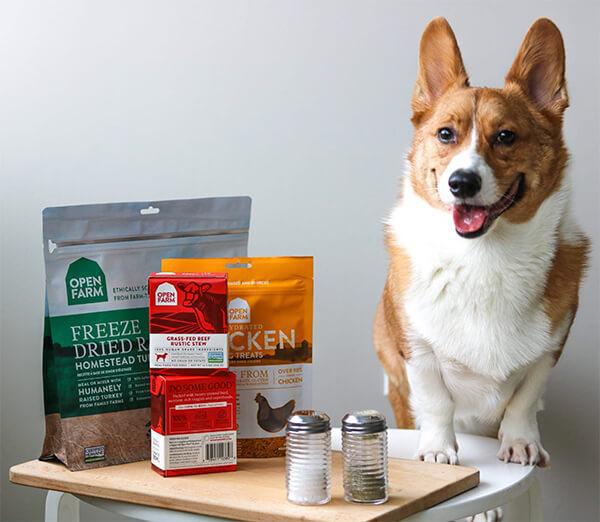 Pets Global is preparing to release a new line of pet food, Inception, which will include selective grains. The food is marketed as "meat first, grain friendly," as well as "legume-free," and will consist of dry pet foods with at least 70% protein in each formula.  
Evanger's new Game Bird Recipe for dogs includes what the company refers to as soft grains – brown rice and pearled barley.
Featuring nutrient-rich ancient grains such as steel-cut oats, quinoa and chia seeds, Open Farm introduced four new ancient grains recipes of dry dog food: Harvest Chicken, Homestead Turkey, Wild-caught Salmon and Pasture-raised Lamb.
More taurine, please
The potential that some of the FDA's DCM cases could be linked to taurine deficiencies possibly attributed to the inclusion of higher amounts of legumes, potatoes and peas in dog diets in place of traditional grains has some brands highlighting the addition of added taurine in their formulations.  
For example, Caru has reformulated its Daily Dish and Original lines of stews for dogs to include added taurine, although the complete-and-balanced diets also offer meat and grain-based protein.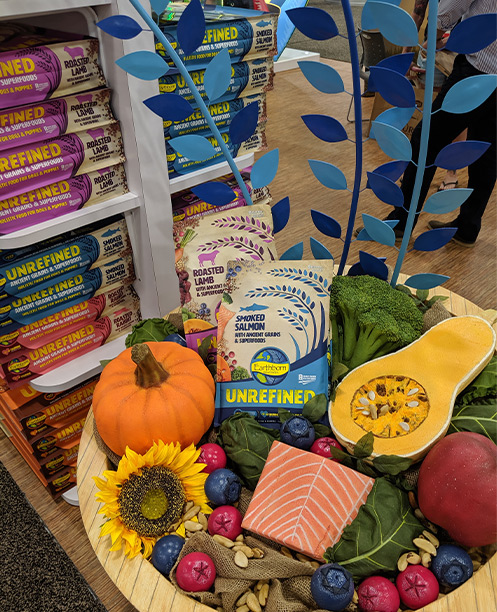 Midwestern Pet Foods brand Earthborn Holistic released its Unrefined line at the show, which is formulated to support heart health and features added taurine, ancient grains and superfoods, such as kale, pumpkin, spinach and blueberries. It will be available in two recipes: fresh salmon and rabbit.
While many brands are pointing out the addition of added taurine, some brands have always had taurine on their radar. Purina's formulas have traditionally been supplemented with the amino acids.
Wild Earth has also supplemented its vegan dog food with taurine to ensure proper nutrition and address consumer concerns. 
Formulas across formats
To promote rotational feeding across wet and dry diets, complementary formulas have been introduced by a few companies. Pairing similar wet and dry diets is a way to ensure pets get the hydration they need.
Zignature, a Pets Global brand, released a treat extension to its dry and wet pet food lines, Ziggy Bars, after years of development and requests from consumers, according to the company. The treats cover the gamut of Zignature's complete-and-balanced formulas, with each formula now including a dry food, a wet food and a matching treat.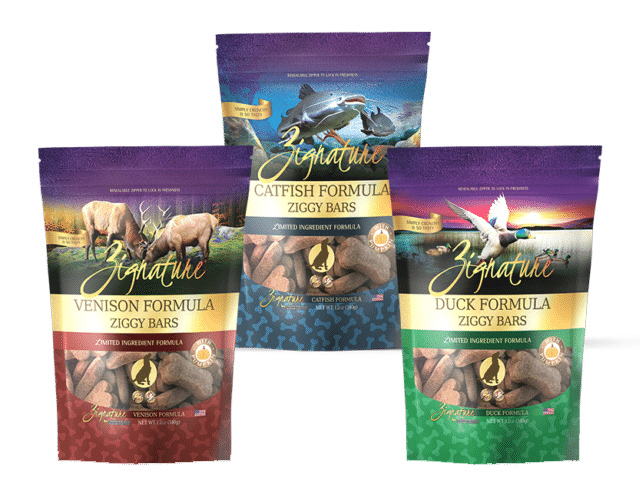 Petcurean revamped its GO! SOLUTIONS line, adding 14 new wet dog and cat food formulas to complement its existing dry formulas. The collection of corresponding wet and dry diets is meant to support combination feeding and add variety. The wet diets feature stew and pâté formats, as well as a new minced format for cats and a shredded format for dogs.
With the addition of four new gently-cooked frozen options from Open Farms, the company encourages rotational feeding across its full lineup of dry food, freeze-dried raw recipes, rustic stews and blends, dehydrated dog treats, bone broths and now frozen recipes. 
Freeze-dried
Some brands are striving for "raw" nutrition by adding freeze-dried diets and treats.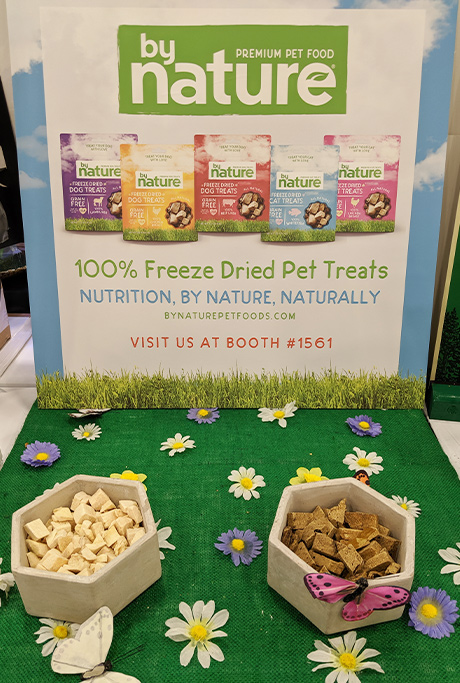 Grandma Lucy's unveiled Moxie during the show, an entirely new line of pet food that is 100% freeze-dried with whole fruits and vegetables mixed in. Moxie dog and cat foods are grain-free, high-protein (93%) diets featuring freeze-dried, human-grade beef, chicken or turkey. The diets are also minimally processed in small batches, another processing trend seen at the show. 
BrightPet's newest line, By Nature, showcased freeze-dried treats for dogs and cats after releasing its dry pet food formulas in May 2019. The 100% freeze-dried treats are grain-free and single-ingredient, featuring lamb liver, chicken breast and beef liver for dogs, and whitefish and chicken breast for cats. 
Spot Farms exhibited three 100% freeze-dried, limited-ingredient dog treats at the show, including organic chicken, cage-free turkey and duck. The ingredients are also human-grade, according to the company.
Health Extension also featured Super Bites, a line of freeze-dried meal mixers for dogs, which includes freeze-dried beef, chicken and salmon. 
Process messaging
Perhaps one of the most prominent trends seen in the New Product Showcase section at SuperZoo was with processing methods for pet food and treats. Many brands have begun to market their products as "small-batch processed," "minimally processed" or "gently air-dried," to name a few, presumably to communicate transparency and an increased bioavailability of nutrients in the formulas. 
Smallbatch Pets, a small San Francisco-based pet food company, showcased its pet foods in the New Product Showcase section of the show. These include "lightly cooked" beef, chicken and turkey formulas for dogs and cats, with each cat diet including 96% animal protein, chicken and turkey dog diets at 85% animal protein and the beef dog food at 80% animal protein.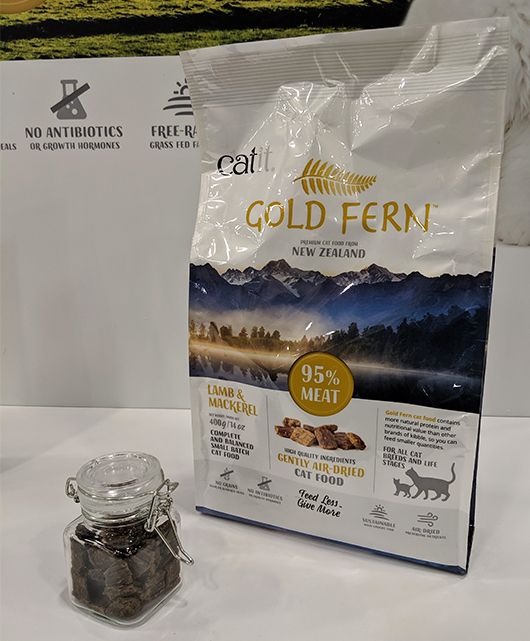 Sunshine Mills, Inc. brand Wild Spirit presented five varieties of age-specific dog biscuits at the show, which are "slow-baked" in small batches.
Gently air-dried is also a processing method being utilized by many brands.
Ziwi, a company sourcing its animal ingredients in New Zealand, released four new air-dried, small-batch dog treats: liver coated lamb ears, chicken gizzards, venison green tripe, and venison lung and kidney. Ziwi also released four new gently air-dried cat diets, including a mackerel and lamb formula, free-range chicken, beef, and lamb formulas, as well as two new wet cat foods formulated with New Zealand hoki and mackerel.
Canadian company Zeal showcased its gently air-dried diets for dogs, which include 96% of protein from natural animal meat and organs and are grain-free.
Catit released three new high-meat, gently air-dried cat foods under its New Zealand brand Gold Fern. The diets feature 95% meat and are formulated with beef, chicken, and lamb and mackerel.
Plato Pet Treats drew attention to the fact that the company has been air-drying its dog treats since 2006, taking extra time to air dry them in batches to help retain more of the foods' inherent nutrients and to maximize palatability.
Hooked on hemp
A number of pet brands have released full- and broad-spectrum cannabidiol (CBD) products over the past year as the therapeutic benefits of the plant have taken the market by storm, although the regulatory environment is still somewhat unclear.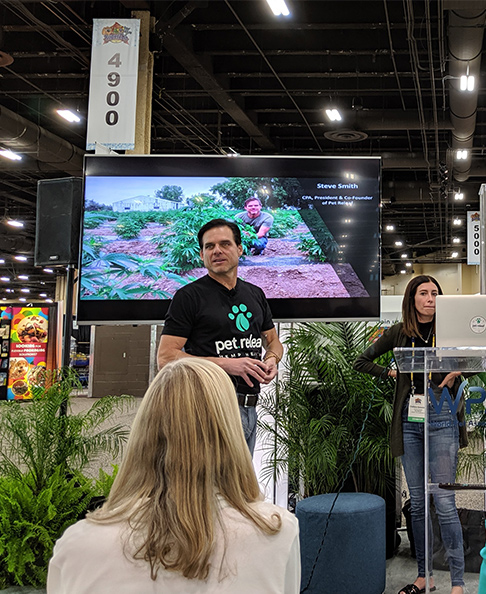 Steve Smith, CEO of Pet Releaf, presented "Current State of CBD and Hemp Legalization and Legislation" during the show, in which he said the US Food and Drug Administration is on track to set clearer standards for the production of hemp-based pet industry products. Smith is a member of the board consulting with the FDA to develop fair standards for safety and quality for these products.
Pet Releaf showcased a new hemp supplement bar for dogs, Boom Bar, in three varieties: Recovery, Longevity and Energize.
Vital Essentials released its first line of hemp dog chews, freeze-dried beef chews formulated with a "custom spectrum" of cannabinoids to provide targeted health benefits. The line includes a Relief formula to relieve pain, inflammation and improve mobility; a Relax formula to ease stress and nervous behavior; and a Revive formula to increase energy, stamina and focus. 
Protein proliferation
High-protein is not necessarily a new trend in the pet food and treat industry, but it has continued to grow as consumers pay closer attention to labels and demand higher quality ingredients. 
Blue Buffalo released its Carnivora line of "optimal prey nutrition," in which 90% of protein is animal-based. Each grain-free diet is formulated with a combination of animal sources, such as its Woodland blend for adult dogs, which includes dried and fresh raw chicken, organs, turkey, saltwater fish and duck. The brand features Prairie, Coastal and Woodland formulas for dogs, as well as Coastal and Woodland formulas for cats.
Essence, a relatively new brand from Pets Global, released a line of limited-ingredient diets for dogs and cats, each with 85% animal, fish or protein ingredients. The grain- and legume-free diets, Landfowl Recipe, Ocean Recipe and Ranch Recipe, are available in wet and dry formats for dogs.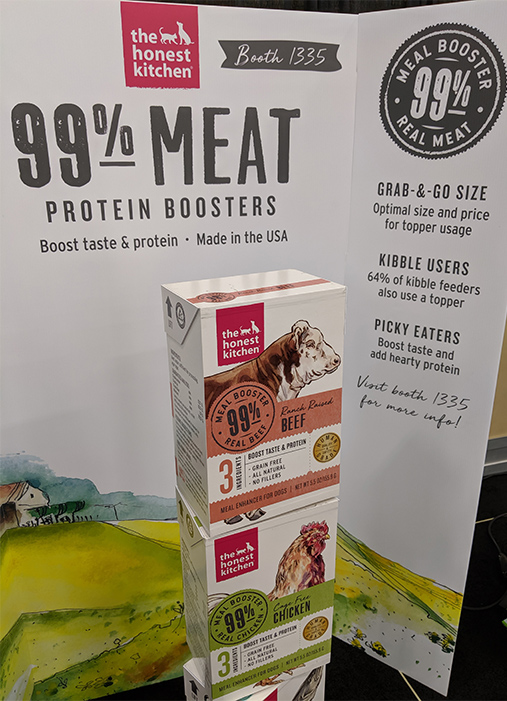 The Honest Kitchen promoted limited-ingredient wet protein boosters for dogs in beef, chicken, fish, and turkey and duck formulas. Each booster contains 99% real meat and is meant to supplement a kibble diet for palatability and nutrition. The beef and chicken recipes contain three ingredients and the fish and turkey and duck formulas are made from four ingredients.
Aside from traditional proteins, insects and nutritional yeast have been utilized in new complete-and-balanced diets for dogs, appealing to more sustainable "animal" proteins that still offer optimal nutrition.
Jiminy's, a pet treat manufacturer using crickets as a sustainable source of protein, developed its first insect protein-based dog food in two formulas, Good Grub and Cricket Crave, which are manufactured in small batches in the US. The diets are hypoallergenic and sustainable, according to the company.
Wild Earth, maker of the koji-protein dog treat, debuted its vegan dog food formula, a complete-and-balanced diet incorporating nutritional yeast as its main source of protein. The dog food, which offers 31% protein, requires fewer resources for processing compared to traditional animal proteins, and is highly scalable, according to Wild Earth.
Head-turning rebrands
Finally, pet food and treat brands took this opportunity to present a fresh face with new package designs and branding. 
PetGuard redesigned its packages and logo to appeal to a wider breadth of consumers, from Millennials to Baby Boomers. The new designs are still featuring images of real pets on the packages to allude to the old packaging.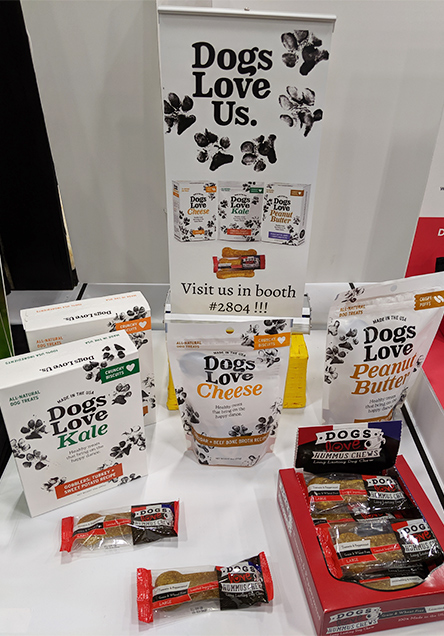 Dogs Love Kale officially rebranded to Dogs Love Us to communicate its range of dog treat offerings, which include hummus chews, kale, cheese and peanut butter treats. The new name accompanies a new logo and package designs as well. 
Grandma Mae's Country Naturals revamped the product packaging for its grain-free and grain-inclusive products. The independent retailer-owned brand also released two new grain-inclusive dog food formulas for SuperZoo this year.
Therabis showed off its new product packaging at the same time that it released its best-selling Mobility formula soft chews for dogs, formerly only available as a powder supplement. The new package designs include all the company's hemp-infused dog and cat products.
Read more articles about new pet food and treat products or industry trends.