Tobyhanna, Pennsylvania-based pet product distributor, Dog Goods USA LLC, expanded its pig ear dog treat recall on Sept. 3 to include 30-count packs of Berkley & Jensen pig ear dog treats. The pig ears, sourced from Brazil, were sold in BJ's Wholesale Club stores in the US.
The recall was expanded when the Rhode Island Department of Health found Berkley & Jensen pig ear treat products tested positive for Salmonella.
Dog Goods voluntary recalled Chef Toby Pig Ears Treats on Aug. 16 due to a potential risk of Salmonella contamination. The Chef Toby treats were also sourced in Brazil.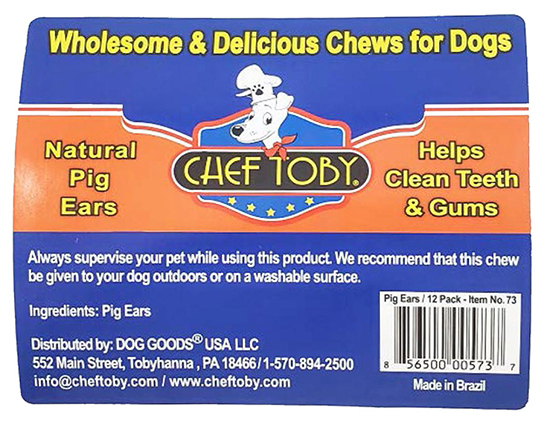 The US Food and Drug Administration (FDA) took a sample of the Brazilian pig ear treats and found one that tested positive for Salmonella, prompting the initial recall.
As of Sept. 5, 143 people across 35 states have been infected with Salmonella, of which 33 have been hospitalized, according to the FDA's Centers for Disease Control and Prevention (CDC) and its open investigation in to the Salmonella outbreak in connection to contaminated pig ear dog treats distributed across the US.
Pet Supplies Plus was the first to recall its bulk pig ear pet treat products on July 3. Lennox Intl Inc voluntarily recalled its pig ear dog treats on July 26, then expanded the recall on July 31.
Read the latest details on the FDA CDC's investigation into the Salmonella outbreak linked to various pig ear dog treats.
Stay up to date on news about the pet food processing industry on our News page.