Honest Paws will unveil its latest product innovation — new, convenient packaging for its CBD-infused peanut butter for dogs — at SuperZoo 2019. The company launched the product during Global Pet Expo in March 2019 and is now introducing a single-serve portion.
The idea behind the single-serve packaging of its Happy Tails CBD Blend Pouches is to provide convenience for pet owners when they are traveling or on-the-go with their dog. Honest Paws also said the innovation is meant to attract dog owners who are interested in trying CBD products for their pets but not willing to make a huge investment.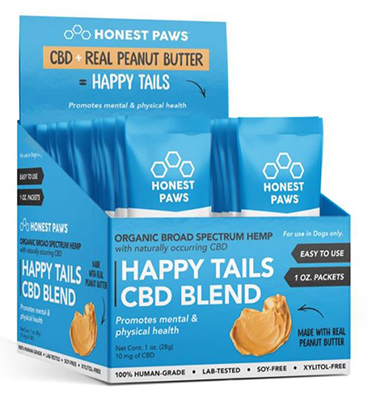 "It is an attractive option for those customers that have heard about CBD but just haven't tried it yet. This is a chance to try it for very little commitment," says Min S. Lee, president of brand development for Honest Paws.
This speaks to an overarching packaging trend in the pet food and treat market, offering convenient, single-serve portions and sample sizes to entice pet owners to try something new with little risk.
Using the company's original formula, Happy Tails pouches are made with organic, full-spectrum cannabidiol oil sourced in Colorado and human-grade peanut butter. The product claims to ease anxiety, pain and inflammation, allergies, insomnia, digestive issues and seizures.
Honest Paws will showcase its new product format at booth #4178 during SuperZoo from Aug. 20 to 22 in Las Vegas, Nevada.
Read more about product development, ingredients and formulation.