This article was published in the March 2019 issue of Pet Food Processing. Read it and other articles from this issue in our March digital edition.
We are reminded regularly to eat our fruits and vegetables — that Mother Nature has loaded them up with good-for-you nutrients, everything from antioxidants and enzymes to vitamins and minerals, compounds critical to health and wellness. Most provide a decent dose of fiber, and therefore assist with digestive health. Depending on the form, application and inclusion level, fruits and vegetables often deliver their own unique color, flavor and texture to prepared foods. So, if they're good for humans, they must be good for our furry friends.
"When formulating pet foods with fruits and vegetables, pets receive well-balanced nutrition and an added boost of energy," says Yien Saechao, research and development, quality manager, Jain Farm Fresh Foods Inc., Merced, California. "In addition to being a great supplement to a healthy diet, fruits and vegetables are affordable and environmentally sustainable. They are also easily grown [and prepared] with no additives or preservatives and provide the benefits of improved digestion and absorption of nutrients."
Deborah Payne, consultant for the US Highbush Blueberry Council, San Mateo, California, says, "The humanization of pet foods has become an industry trend. As consumers, we have been encouraged to eat more fruits and vegetables. This resonates into the pet food kingdom." She says it was not too long ago that it was considered highly unusual to find fruits and vegetables in packaged dog and cat food. Now they are prominently featured by many brands.
Viewed as holistic
"When we started talking to companies about formulating pet foods with fruits and vegetables, they were intrigued by the health research and consumer studies. Fruits and vegetables are all about holistic health," Payne says. "Pet parents worry about age-related declines, such as joint health, eye sight, memory and gut health. The pet is considered a family member and keeping a dear one well and comfortable is important. For a treasured companion, food is not something to skimp on."
"In addition to being a great supplement to a healthy diet, fruits and vegetables are affordable and environmentally sustainable," says Yien Saechao, Jain Farm Fresh Foods Inc.
Skimping is unheard of by Kate McCarron, founder, Portland Pet Food Co., Portland, Oregon, a manufacturer of pet foods that are made from only human-grade all-natural ingredients, including fruits and vegetables. Portland Pet Food was born out of necessity by McCarron, whose background includes 20 years of running her own consulting firm providing medical expertise for human food companies. When Rosie, her 14-year-old standard poodle, lost interest in regular dog food and her health began to decline, McCarron decided to introduce her to an antioxidant-rich homemade diet. McCarron's meal innovations brought back Rosie's appetite and energy, helping her live for another two and a half years. 
McCarron worked closely with the Oregon State University Center for Food Innovation in Portland to develop a line of all-natural, fully cooked and ready-to-eat dog meals, which are shareable with pet owners. The unopened pouches last for up to two years at ambient temperature. Varieties include Beef N' Rice with peas and carrots, Chicken & Yams with kale, Pork N' Potato with green beans, and the Thanksgiving feast, Turkey & Yams with apples, cranberries and green beans.
The company also bakes hand-made treats. One variety features pumpkin and peanut butter. The "brew" variety uses a base of spent barley grains from local breweries, while the grain and gluten-free variety relies on garbanzo bean flour. 
Fiber-packed garden vegetables and antioxidant-rich fruits are key ingredients in the refrigerated cat and dog foods from Freshpet Inc., Secaucus, New Jersey. The company blends fresh meats, fruits and vegetables farmed locally and delivered daily to the company's kitchens in Bethlehem, Pennsylvania. The whole fruits and vegetables are steam cooked in small batches at low temperatures to preserve nutrients.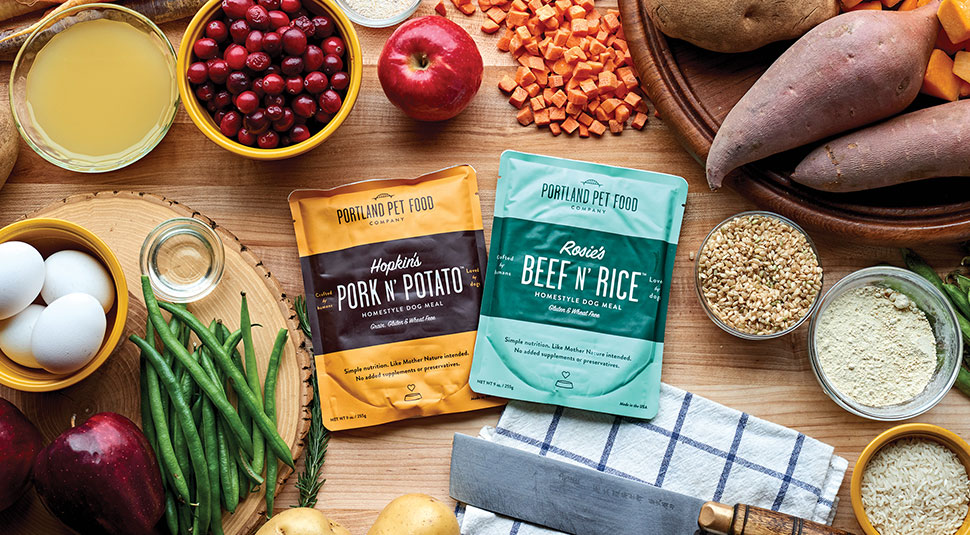 Blue Buffalo Pet Products, a brand of General Mills Inc., Minneapolis, includes a medley of fruits and vegetables in most of its dog and cat foods. The most common inclusions are blueberries, carrots, cranberries, peas and sweet potatoes. The amount varies by the formulation.
Manna Pro Products LLC, Chesterfield, Missouri, which recently purchased Dallas-based VetScience and its Fruitables brand, puts produce center-stage in its premium natural pet treats, toppers and supplemental foods. The Fruitables brand grew out of university research addressing pet obesity and using low-calorie pumpkin as a fortified pet food supplement. The research produced a successful weight loss program and the underlying philosophy became the foundation of the company's product range.
Fruitables canned supplements are for cats and dogs. They are described as a holistic pumpkin and sweet potato base fortified with fruit and vegetable fiber, including apple, blueberry or spinach, along with soothing herbs and vitamins to naturally support food transition, digestive issues and weight loss. For dogs only, there's a line of low-calorie chewy treats that come in combinations such as apple bacon, pineapple bacon, pumpkin berry, pumpkin mango and watermelon. Crunchy baked pumpkin treats have an extra layer of flavor from apple, banana, blueberry, cranberry or sweet potato.
Most popular
Pumpkin is likely the most popular fruit to be used in pet foods and treats. Adding a spoon of canned cooked pumpkin to kibbles has long been the advice from veterinarians for constipated dogs. In addition to being a concentrated source of fiber, pumpkins contain numerous antioxidants — beta-carotene, lutein and zeaxanthin — associated with eye health. They have been shown to slow macular degeneration in aging dogs. Sweet potatoes have a similar claim to fame, while also having anti-inflammatory properties.
Blueberries are increasingly being added to pet food recipes. Payne explains that blueberries are a superfood for humans and pets alike. They are loaded with vitamins and important minerals, such as iron, potassium and manganese. However, what they are best known for is being a concentrated source of anthocyanins, the antioxidants that give them their deep blue color. "Blueberries are well known by consumers and when asked what is good about them, they usually respond 'antioxidants,'" Payne says. "Consumers view blueberries as a healthy food that they personally enjoy and are excited about providing their pets the same healthy, delicious enjoyments."
"Consumers view blueberries as a healthy food that they personally enjoy and are excited about providing their pets the same healthy, delicious enjoyments," says Deborah Payne, consultant for the US Highbush Blueberry Council.
"Blueberries are found in many pet food formats," Payne says. "There are whole blueberries in canned food, as well as in refrigerated pet foods. Whole dehydrated blueberries, as well as powder and fiber, are used in kibbles and snacks. There are liquid formats (juice and concentrates) to consider as well as blueberry purees, which are seen as pet food toppers. Frozen blueberries in canned products provide whole-fruit identity as the product is poured out into a bowl for feeding."
Saechao explains that ready-to-eat, reduced-moisture, individually quick-frozen fruits and vegetables are harvested at their maximum maturity and are loaded with nutrients. Being partially dehydrated, they are a concentrated source of color, flavor and nutrients.
She agrees that blueberries, pumpkin and sweet potato are very healthful inclusions in pet foods, along with others. "Watermelon, which is high in lycopene, is also a perfect fruit for pets," Saechao says. "And, we certainly understand the value of spinach in our own diets, but luckily this green, leafy vegetable can be just as powerful for dogs, as it helps fend off inflammatory and cardiovascular issues, along with cancer."
Some produce, however, can be detrimental to pet health. Ellis Liu, technical lead-pet and animal nutrition, Ingredion Inc., Westchester, Illinois, says, "There are some fruits and vegetables that should definitely be avoided. Fruits like grapes and raisins and vegetables like garlic and onion should never be fed to pets as they are toxic to the animals."
A role in processing
For decades, Tree Top Inc., Selah, Washington, has been providing fruit solutions to the pet food industries, before it was trendy. "Our fruit purées, dried fruits and fruit concentrates add sweetness, fiber and nutritional value to pet product formulation," says Jeannie Swedberg, director of business development, Tree Top. "With several different processing methods and a team of skilled product developers, we can produce custom fruit ingredients that meet your needs for color, viscosity, flavor and texture requirements."
Van Drunen Farms, Momence, Illinois, also offers a variety of whole food ingredients to the pet food industry, including drum-dried and freeze-dried fruits and vegetables, as well as individually quick-frozen vegetables. Freeze dried products retain the color, shape, flavor and nutritional value of the original raw material better than products produced using other drying methods.
"Much of what we supply to the pet space are powders; however, with the growing demands of consumers who want to not only know what is in human food but what's in their pet's food, having visible pieces or particulates plus a clean label resonates well with pet owners," says Darrell Hanson, senior key account executive, Van Drunen Farms. "Not only can they read about the ingredients in the product they are buying, but they can see them, too." 
Liu adds, "Fruits and vegetables may also provide functionality in texture and processing." Their inclusion may provide a two-fold contribution to a cleaner label. Fruits and vegetables are added, while fillers and stabilizers may be removed. "Carrots, for example, in powder form, can often be used to replace other fiber ingredients, such as wood-derived cellulose, which has a negative consumer perception," Liu explains. "Sweet potato can also be used to replace starches used in the manufacture of treats.
Sweet potatoes are a trending ingredient with today's pet parents. "Consumers naturally transfer their taste preferences to their pets, and we know that today's consumers love sweet potatoes in their own foods, so they tend to purchase based on that transitive property," says Paul Verderber, vice-president of sales, Carolina Innovative Food Ingredients Inc., Nashville, North Carolina. "Promoting sweet potato ingredients grown domestically supports preferred positioning and promotes consumer confidence."
He explains that for a kibble or biscuit, sweet potato flour is a desirable ingredient for its nutritional benefits and its superior water-binding properties. It comes in a variety of grind sizes to match the needs of the application. "We juice our sweet potatoes before drying them, producing a lower-sugar product than the typical process of drying whole sweet potatoes," Verderber says.
"Many pet owners are trying to move away from white flour, as it adds no nutritive value and can contribute to weight gain," Verderber says. "Typical alternatives to this ingredient are whole grains, such as corn, oats or brown rice. However, for pet owners looking to decrease or eliminate grain from their pet's diet in order to improve digestion, our sweet potato flour is a grain- and gluten-free clean-label replacement to get your pet the complex carbohydrates they need to thrive."
Carolina Innovative Food Ingredients is working directly with its customers to uncover new opportunities for sweet potato ingredients in pet foods and treats. Sweet potato syrup, for example, can bind granola products. Dehydrated products have been shown to enhance the flavor, nutritive benefits and natural color of meat-based treats.
On top
Kibble toppers are becoming the latest rage in the premium pet food sector. They allow pet parents to feed their furry friends a familiar and nutritionally proven recipe, but with a little twist.
"Toppers are generally wet mixtures poured over dry kibble. They contain fruit and vegetable purees, often with better-for-you grains like oats and quinoa," Swedberg says. "Powdered toppers can be sprinkled atop kibble or mixed into wet foods and are made with fruit and vegetable powders. These are mixed and matched to provide pets with different benefits, such as plant protein, fiber and antioxidants with all the same benefits we're seeing in people foods."
"Consumers naturally transfer their taste preferences to their pets, and we know that today's consumers love sweet potatoes in their own foods, so they tend to purchase based on that transitive property," says Paul Verderber, Carolina Innovative Food Ingredients Inc.
Tree Top has developed numerous kibble topper recipes. Its apple pumpkin cranberry formula with chicken powder is designed to appeal to the pickiest eaters, while its apple butternut squash spinach with quinoa variety adds plant protein, iron and lots of fiber. "The berries and pears with oats formulation provides important gluten-free carbohydrates for energy," Swedberg says. "Oats are also full of linoleic acid, a type of omega-6 fatty acid that helps keep skin strong and healthy. And they are a good source of heart-healthy soluble fiber."
As pet owners focus more on the quality of the food as well as the meal experience, processors are rapidly expanding the options they offer. "The pet food market has come a long way as pets have risen to family member status," Payne says. "Pet food today is more than about functionality and basic survival. It is also about self-actualization. Health, taste, likeability, ease of use, political correctness all come into play. While pet food continues to be scooped out of a can or poured from a bag, there are differences in ingredients and packaging over the last decade with products designed to appeal to owners and their values."