Thorough mixing is an important production step in all pet food processing. Whether combining a solid in a liquid, a liquid in a liquid, or a solid in solid, consistency of the final product directly affects the efficiency of the processes downstream. In addition to the quality and quantity of ingredients, good results require the proper mix time and control of temperature, humidity and ambient air temperature. If one or more of these steps is missing or incomplete, processors run the risk of disrupting downstream processes.
Within the pet food industry, processors must troubleshoot complicated mixes that include a wide variety of grains, vegetables, fats, meats and other protein-based inclusions. Consistency is important to the finished product and can be a critical element in food safety compliance. The right mixer will enhance pet food processors' operations by ensuring food safety through repeatable mixing processes that result in better, safer finished products.
"Mixing can be an imperfect science, so it's important to keep variables constant," says Jeff Zeak, national development manager, bakery for Reiser, Canton, Massachusetts. "Such consistency is important because downstream machinery will be sensitive to changes, affecting resilience and formability."
Considering the many choices of mixers available, it can be challenging to know which equipment will work best for a specific mix or supplier. The Middleby Corporation's subsidiary Cozzini, LLC, Chicago, Illinois, a supplier of food equipment solutions, integrations and technologies, has worked with pet food processors since 1998. During that time, the company has held a front-row seat to the industry's evolution, from the implementation of changes following the 2006 and 2007 pet food recalls to becoming a trusted source of all-natural and super-premium pet food products made with high-end ingredients and US Department of Agriculture-inspected meat.
"Mixing can be an imperfect science, so it's important to keep variables constant," says Jeff Zeak, national development manager, bakery for Reiser.
The growing range of applications requires flexible meat slurry mixing solutions for processors. This could include a need for heat in the form of a live steam injection for kibble production as well as the need to chill a product before forming it into a desired shape. While Cozzini finds most mixing applications in the industry are well suited to the standard paddle stainless steel mixers, the company has often designed, built and delivered highly customized processing lines that are tailored to its customers' individual processing requirements. Cozzini works with customers to match the right equipment to each application from a single mixer to an entire processing line capable of more than 40,000 lbs. of meat slurry per hour.
"A mixer can only process the volume inside it so it's important to always keep the mixer mixing," says Jim Gaydusek, US and Canada sales director for Cozzini. "By providing the proper buffers and storage for incoming materials and finished blends, you can create a continuous process that's right for the customer."
Look across industry lines
Pet food processors are also working with mixer manufacturers known for their expertise within the baking and meat and poultry industries.
One company working to share cross-industry knowledge is Nu-Meat Technology. Using its 23 years of experience as a supplier of heavy-duty industrial food processing and packaging solutions, Nu-Meat is teaming with pet food processors to supply equipment suited for meat and protein mixes in wet product.
"When it comes to selecting a mixer, some guidance is required because a lot of companies aren't sure what they need," says Jay Parker, South Central territory manager, Nu-Meat Technology, South Plainfield, New Jersey. "There will be different needs depending if the mix is all-protein versus grain."
For many pet food applications, Nu-Meat recommends Laska mixers, which have an intermeshing paddle and paddle/spiral or Z-arms. Mixing is most efficient with intermeshing paddles which create a better mix in a shorter amount of time, Parker explains. The stainless steel mixers are easy to disassemble with cleaning carts and trolleys and can integrate with conveyors, belts or screws.
"There are so many crossovers in these industries," Parker says. "I recommend pet food processors work with and ask questions of others working with protein-based products and to get to know the resources from the Food Processing Suppliers Association and the North American Meat Institute when they're ready to learn more."
Match the application
Many pet food and treat formulations can be thick, sticky and difficult to handle. Hauppauge, New York-based Charles Ross & Son Co. offers small-batch processors special features designed to handle challenging formulations. The 150-gallon Double Planetary Mixers feature patented high-viscosity blades that move in a planetary motion, rotating on their own axes as they orbit a common axis. In 36 revolutions around the vessel, the two blades pass through every point in the product zone, physically contacting the entire batch. According to the company, these mixers can turnover thick, sticky or putty-like materials with great efficiency making them a standard workhorse in many industries.
Depending on the scale of the producer or manufacturer, Reiser also offers a full range of mixer options. Small-scale producers can opt for a vertical 1-quart to 160-quart bowl mixer that offers a variety of attachments or a spiral wendel mixer. Larger manufacturers will benefit from a horizontal mixer using a sigma-type mixing blade, a vertical spindle mixer or ribbon and paddle blenders, each offering a wide range of capacity. The sigma-design blade is ideal for mixing developed and undeveloped mixtures. Some processors may also benefit from the use of continuous mixers.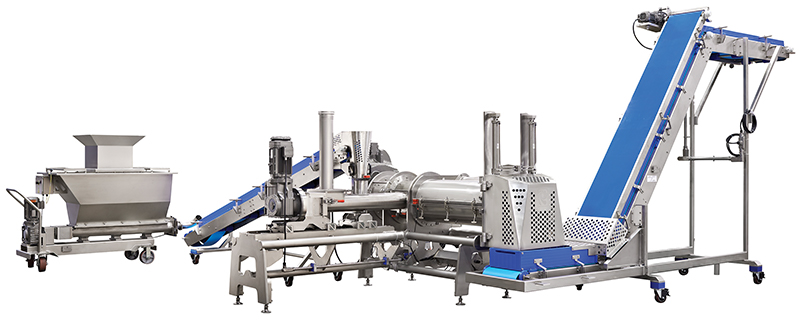 Fitting the bill
When it comes to choosing a mixer, Zeak recommends picking one that allows for a range of mix sizes to fulfill required production quantities. The production process is dependent on the mixer size, agitator type and speed as to how much mixture can be provided and how fast.
Reading Bakery Systems, a long-time supplier of mixing equipment to the baking industry, also promotes continuous mixing for rotary-molded and non-baked products. Continuous mixing suits pet food products because the kill step can be achieved in the mixer. The higher throughput of continuous mixing equates to more economical mixer options, says Jim Warren, vice president of Exact Mixing for Reading Bakery Systems, Robesonia, Pennsylvania. The company's continuous mixers feature an easy-to-clean-and-inspect design and more available surface areas per pound of product mixed, offering better heat transfer and improved temperature control.
Other desirable traits of pet food mixers include those that provide improved sanitation, ease of use and reliability, Warren adds. He suggests processors also consider the choice of stainless-steel grade 316 over grade 304. While the grades look similar, the 316 grade contains molybdenum, which is used to strengthen and harden steel and to fight corrosion.
Scale up for consistency
With so many options to choose from, it helps to start by defining the typical volume that will need to be produced. When working with a new customer, Terry Bartsch, president and CEO, VMI North America, Kansas City, Missouri, always inquires, "How much do you want to make?" VMI North America, an equipment supplier to the baking industry, often advises pet food processors to transition from small-batch, high-speed mixing to continuous mixing, which provides a level of consistency unmatched by small-batch processes.
Bartsch recommends vertical mixers for certain processors who are ready to transition from small-batch mixing. These mixers do smaller batches more frequently and can mix in one bowl while charging or loading ingredients in another, speeding up the process of transporting batches to the production line. Vertical mixing also allows processors to create homogeneous product without leaving any dead spots of unmixed ingredients.
"As the pet food industry grows, they will be refining their needs and looking at what mixers are best from the standpoint of industry needs and a price point," Bartsch says. "It makes sense that pet food processors would begin to look for examples in the baking and meat and poultry industries as a model for efficiency and sanitation standards."
Determining the right mixer will always be unique to the individual needs of each processor and will depend on the type of ingredients, needed batch size, finishing processes, production needs, true throughputs and the amount of material passing through a system or process. To find the best mixer solution, processors should establish networks across industries to learn from the mixing successes and failures of others.
Find more articles related to pet food processing equipment on our Equipment page.