Watch the news today and it is clear that US food and agriculture producers and exporters are living in interesting times. Every day seems to bring new developments in trade policy, tariffs and renegotiated agreements, but what does this mean for pet food and treat manufacturing? The Pet Food Institute (PFI), the national trade association and industry voice for US pet food and treat makers, has been active in promoting the export of dog and cat food products. Exporters today face unique opportunities and challenges in light of recent trade developments such as the renegotiation of the North American Free Trade Agreement (NAFTA) and escalating tariffs between the US and China.
The domestic pet food and treat market is mature. Data from American Pet Products Association (APPA) and market research firm GfK show that manufacturers have seen a predictable and steady increase in domestic sales over the past 10 years while total volume of pet food sales has experienced a slight decrease, indicating that pet ownership rates have held relatively steady while demand for premium pet food has grown. This new reality means that access to foreign markets will be critical for future growth for US pet food and treat makers.
Canada, Japan and Mexico alone account for almost 60 percent of total pet food exports.
According to the US Department of Agriculture (USDA), the top export markets for the US pet food and treat industry are Canada ($640 million), Japan ($95 million), Mexico ($85 million) and Australia ($84 million). With the exception of Mexico, these are developed markets and, while growth in these countries will continue, real opportunities for significant growth will be in new and emerging markets. The United Nations notes that urban populations worldwide are growing, resulting in increased economic opportunity and smaller family units. Paired with a cultural shift in which pets are increasingly part of the household, these developing markets are where many US pet food makers will be looking for sustained business growth in the coming decades.
A Partnership with USDA
USDA is a key partner in efforts to broaden export access and success. Exports are facilitated by USDA's Animal and Plant Health Inspection Service (APHIS) and the Foreign Agricultural Service (FAS). Pet food's largest export markets are a testament to the success of USDA in negotiating access for manufacturers and are excellent examples of the ability of US pet food makers to compete and thrive in these markets.
Canada, Japan and Mexico alone account for almost 60 percent of total pet food exports. PFI applauds USDA for its work over many years to lay the groundwork for US pet food product exports around the world. Their work has allowed pet food and treat makers to establish and expand their presence in these important markets, providing pet owners in these countries with more options when choosing what to feed their cat or dog.
The Value of NAFTA
Two of the top three pet food export markets are trade partners through NAFTA, a 1994 trade deal that reduced barriers and facilitated access for businesses throughout Canada, Mexico and the US. NAFTA allows for a predictable flow of goods and services, including both pet food ingredients and finished products. PFI has been a steadfast supporter of NAFTA, which has eliminated tariffs for pet food trade and created a significant North American market, with manufacturing, supply and distribution chains that span three countries. NAFTA has enabled synergistic relationships among companies in NAFTA countries, resulting in more than $820 million in bilateral (Canada and US) trade in pet food products.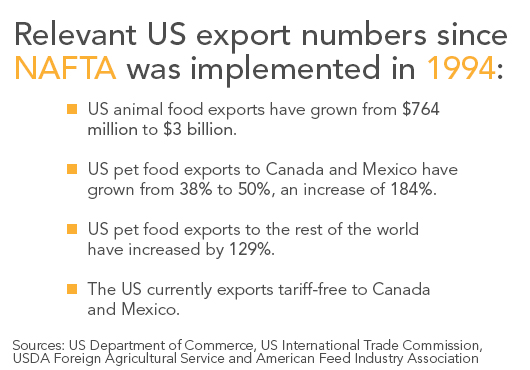 PFI agrees with many food and agriculture stakeholders that NAFTA has greatly benefited growers and producers and that, as with any 24-year-old agreement, it can be improved. That said, PFI is eager to see a successful conclusion to the NAFTA renegotiation. PFI has met with policymakers, federal administration officials and USDA leadership to advocate for a trade deal that improves the existing agreement while retaining the provisions that allow US pet food makers to continue to serve pet lovers across North America.
Challenges in China
While NAFTA has been an unqualified success for US pet food makers, access in other key markets has been hampered by unscientific and onerous regulations that serve as barriers to entry. A prime example is China, a country with a middle class the size of the entire US population that has imposed regulations and practices to effectively keep US pet food products out of the market. Last year, US exports to the growing Chinese pet food market were merely $6.5 million. At the same time, China exported to the US almost $148 million in pet food products. US beef recently regained access to the Chinese market, though with strict requirements, and the time is now for China to reopen its pet food market to the US pet food products.
Newly enacted tariffs pose yet another hurdle for the few American pet food makers exporting to China and those seeking market access. US pet food exports to China are now subject to a 25% tariff. PFI fully supports US government officials' efforts to reach an agreement with China that does away with their unscientific restrictions on ruminant-origin ingredients and gives Chinese pet owners the option to choose safe US pet food products for their dogs and cats. 
Advocacy for American Goods in a Global Marketplace
While the road ahead for US food and agriculture is filled with challenges, these sectors seek the opportunity to compete for consumers' business around the world. American pet food and treat makers have the ability to provide high-value products globally for new generations of pet owners. With access to developed and emerging markets, along with science-based, transparent and predictable regulatory systems in these countries, this can happen. 
PFI is committed to remaining engaged on trade issues and is active in coalition efforts and legislator outreach to communicate the value of international market access. If exports are important to the future growth of your business, PFI encourages you to share with member of Congress what trade means to your business.
Read more articles from our September 2018 issue inside the digital edition, or view the web version.