The pet food processing equipment market is projected to grow at a CAGR of 3.5% in the next few years to reach a market of $4.27 billion by 2022 according to the Food Processing Suppliers Association's (FPSA) Pet Food Processing Equipment Market — Global Forecast to 2022. Although global demand for pet food processing equipment is expected to increase from growing economies such as China, Brazil, Argentina and India, the North American market is leader of the pack.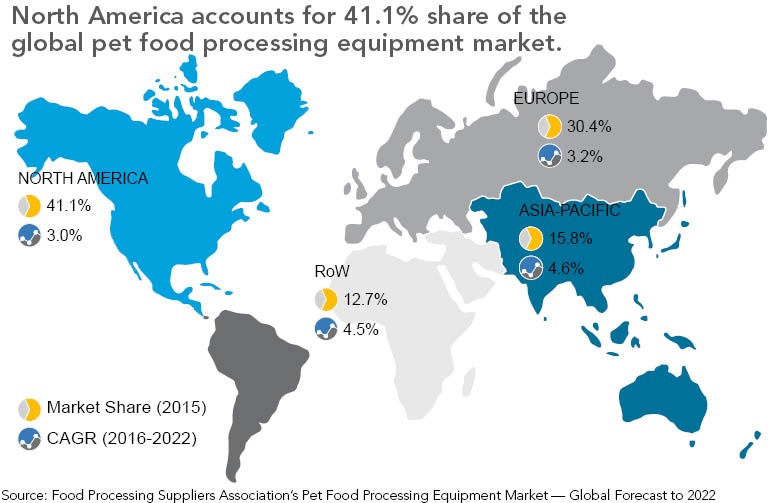 North America accounts for 41.1% share of the total global pet food processing equipment market. By category, North America has 43.5% share of the mixing and blending equipment market, 37.3% of the forming equipment market, 43.1% of the baking and drying equipment market, and 39.2% share in other equipment, including coating, cooling, pumping and stuffing machines, related to the pet food industry.  The market for baking and drying equipment is projected to be the fastest-growing segment globally, at a CAGR of 3.6%, and will lead growth of the pet food equipment market in North America as well by nearly $100 million.
"This region [North America] has observed greater health consciousness among pet owners and has given rise to new health-driven options for pets, such as organic and natural pet food, as well as innovations in functional and fortified products," stated MarketsandMarkets' Pet Food Processing Equipment Market – Global Foreast to 2022 report. "These premium products require processing of novel ingredients that require high-end technology support."
Within North America, the US leads the pack; in 2015, the US pet food processing equipment market was worth $1.62 billion, compared to $181.8 million in Canada and $134.9 million in Mexico.
Find more articles related to pet food processing equipment on our Equipment page.