The tendency for pet owners to spend increasingly on their pets has given way to a new trend in the US stock market: pet investment funds. Pet Care from ProShares and Pet Parents from NextShares are the first two funds to hit the market, giving investors the option to buy into top companies, as well as those gaining momentum in the industry.
The ProShares stock (PAWZ), which launched in November 2018, is an index of the biggest players in the pet care space, with its two biggest holdings being Trupanion Inc., a pet insurance firm, and Zoetis Inc., a pet-drug producer. The NextShares option, which is managed by Mario Gabelli's Gabelli Funds, represents 30 companies with potential for future growth.
"There are a lot of fundamental reasons that are driving this growth," said Dan Miller, portfolio manager for Gabelli Funds. "There is humanization, which means that we are essentially treating our pets as children. There is the fact that millennials are remaining childless for longer, and are getting pets in the meantime. Meanwhile aging baby boomers are getting pets as well, because of the need for companionship."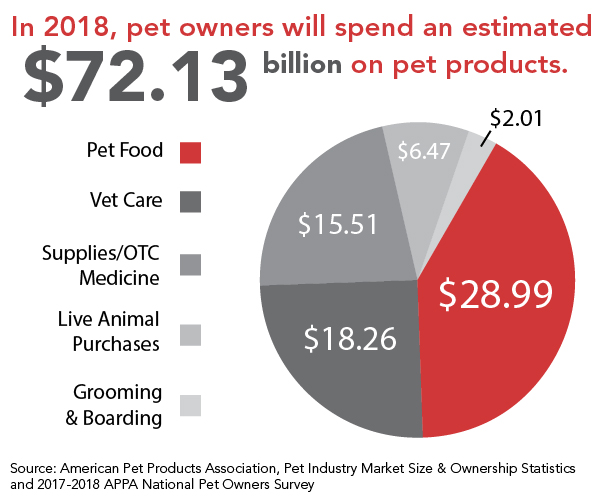 According to the most recent Pet Owners Survey from the American Pet Products Association (APPA), 84.6 million US households include at least one pet and US pet owners are expected to spend more than $72 billion on pet care by the end of 2018. Pet food accounts for nearly $30 billion of those sales, while veterinary care comes in second at approximately $18 billion. As this spending steadily increases, pet food and treat manufacturers, along with the rest of the pet care industry, must raise the bar to compete in an increasingly competitive market as premiumization, innovation and digitization drive growth in this segment.
"We've been watching this space for a long time," said Steve Cohen, managing director for ProShares. "Every pet owner knows how much they spend on their pets. We treat them better than we treat ourselves, and there is nothing we wouldn't do for them… It's one of those growth stories where you hit yourself on the head and say, 'Of course!'"
Keep up with the latest pet food trends on our Trends page.